A number of people have been demanding for an update in here. Yeh, I feel as if I've been neglecting this whole site. haha. School has been a drag, that's why. Funny, but for my last couple of posts, all I've been mentioning is how draining school is. I would go and say otherwise, but that'd be a complete lie, so yeh. =)
Here's a wonderful piece of writing someone lent me… I'm sure a lot of you guys will be able to relate. ^_,~;;
Are you on the lookout for a significant other?
Everyone longs to have a deep soul relationship with another and to be loved thoroughly and exclusively.
But God says: "No, not until you are satisfied, fulfilled, and content with yourself totally and unreservedly to Me, discovering that only in Me is your satisfaction to be found, will you be capable of the perfect human relationship that I have planned for you.
Stop planning, stop wishing, and allow Me to give you the most thrilling plan – one that you cannot imagine.
I want you to have the best. Please allow Me to bring it to you. You just keep watching Me, expecting the greatest things. Keep listening to what I tell you.
Don't be anxious. Don't worry. Don't look at things others have. Don't look at the things you
think you want. Just keep looking at Me, or you'll miss what I want to show you.
And then, when you're ready, I'll surprise you with a love far more wonderful than any you would dream of.
Until you are ready and until the one I have for you is ready – until you are both satisfied
exclusively with Me and the life I prepared for you – you won't be able to experience the love that exemplifies your relationship with Me, and this is the perfect love!
—–
Truly beautiful, yeh? ^_,~;;
"My faith is like shifting sand changed by every wave. My faith is like shifting sand, so I'll stand on grace…"
– Shifting Sand by Caedmon's Call
Just a couple of pictures of Tippi before I go.. ;)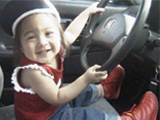 In the driver seat of the car. Isn't she adorable? ;)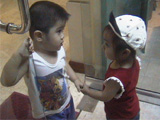 haha! She was flirting with this other baby in mom's office. So cute!! =)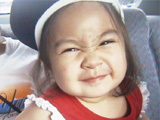 *___*;;