Out of town trips are something that I enjoy quite a lot. Being able to get away from, not just the school work, but also from the hustle and bustle of city life, is such a treat. Emptying your mind from all the worries and just having fun is something everyone must do once and a while.
Heading off to a beach in Zambales with my batch was great last Saturday. The beach itself wasn't exactly like that of Boracay's, but being in the company of some wonderful people made everything fun. Talking, laughing and getting to know our batchmates a little bit more was perfect. Somehow, the whole trip bonded the batch a little tighter.
What better way to describe the entire trip, than through pictures, right? So, here you go…
:: click here ::
Oh, and inlight to the recent exhibit, which some of my batchmates and I had in Glorietta, we were featured in several local newspapers. It's just funny seeing your name and face plastered on the paper! haha! XP
Here are 2 shots of those…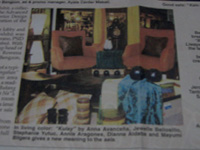 A shot of our platform, "Kulay," with our names below it. From the Philippine Daily Inquirer.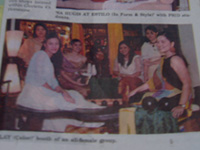 My group members and I. Taken from the Manila Bulletin.
And because I'm feeling extra vain right now, here's a shot of Steph, me and Jewelle, taken around 2 weeks ago….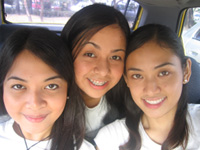 =)