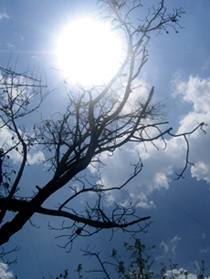 I love nature tripping. I love walking in a jungle, or simply seeing a group of trees around. That's why when my parents told me that they were heading off to our family farm early on a Saturday morning, I knew I just had to go.
We've had the farm for a little over 2 years already. My parents go there at least twice a month (a lot of times, with my brother and sister), but it was actually my first time to visit yesterday. Yes, that's how busy I've been.
Despite not getting some sleep the night before (thanks to my twisted sleeping habit!), I enjoyed every minute of the experience. Never mind that I got itchy all over. Never mind that I was practically toasted under the sun. Never mind that I went home with my white slippers looking like I dyed them light brown. I still had fun.
I went black pepper picking with my mom and our 2 house helpers. I never knew peppers looked like this before they turn black. Apparently, they need to be dried under the sun before they turn black and are ready to be served. Interesting!
The entire land was filled with different trees: santol, coffee, bananas, avocado, lanzones, durian (just planted a year ago), coconut… and a few others. Too bad avocados and lanzones weren't in season. I shall go back to see how those are harvested. :)
The soon-to-be rest house is still in its pre-planning stage. I can't wait for it to be built. We sure need a place to stay to relax, unwind and get away from the our busy lives back in Manila.
I loved the entire place and I can't wait for it to be fully developed. Looks like I found a new place to love going back to. :)