Throughout the many years I've been blogging and making personal websites (almost 7 years!), I've already made quite a number of online friends. But, among the long list, I've only actually met a handful.
I love meeting new people and I get thrilled at just the thought of seeing all my online friends. But, most of those I've met in person were actually just accidental meetings. Bumping into them at the mall, at a restaurant, or even just seeing them from a distance. Rarely do I make actual plans of meeting up and getting together with anyone.
That's why when I got a meesage from an online friend that he was in town, I quickly grabbed the opportunity and planned for a dinner date.
Wanna know who I met up with?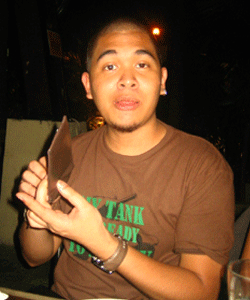 Oh yes, that's
Jigz
! I know he's going to kill me for posting this! haha!
JR and I met up with him, his girlfriend and his friend for dinner last night, and he actually treated us! Thanks, Jigz! Anyway, it was a fun night. It was short, but it was definitely better than not seeing him at all.
And because I believe pictures speak better than words…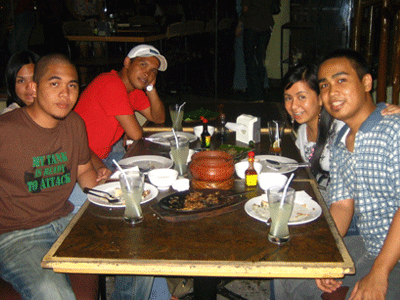 Dinner at Gerry's Grill, Glorietta 2
Jigz, Vani, Joey, me and JR
Jigz and his <3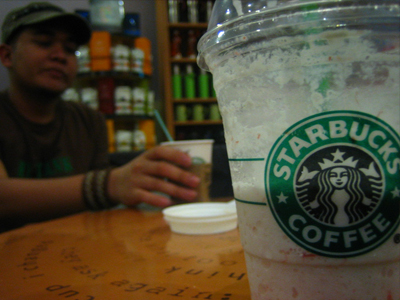 Starbucks before heading home.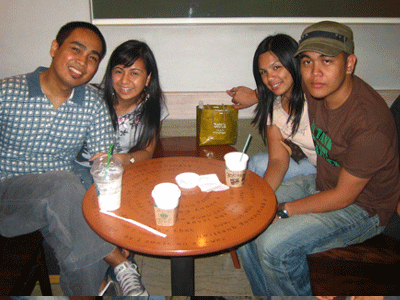 Couple pic! I look too happy! haha!