Staying at home almost everyday has altered my eating habit drastically. Gone are the days when I could last a whole week (even a few months!) of going rice-free. Gone are the days when I could resist without hesitation even just a bite of sinful chips or a slice of some scrumptious cake. Gone are the days when I would be heartily satisfied with a small portion of meat with vegies, or a simple tuna sandwich.
I have lost discipline over my taste buds. I have lost discipline over temptation.
And because of my unhealthy eating for the past few months, it was definitely not a surprise to start feeling my thighs suffocating beneath a couple of my jeans that are now about a half size too small. Even a double chin is starting to develop!
So in hopes of attempting to get back into shape, I promised myself to eat healthy today.
I had a light breakfast of toast, then prepared myself a sandwich for lunch. I enjoyed every bite of each meal.
Dinner was delicious (and healthy!) because I grilled myself some chicken breasts and had it with salad on the side.
My plan was going perfectly well, until I had a crazy idea of whipping out my spatula and baking tray. One thing led to another, and the next thing I know is that I had baked and filled up an entire jar of double chunky chocolate chip cookies!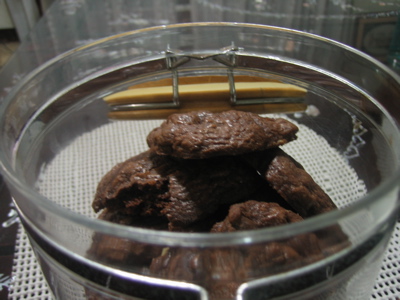 With that crazy idea, I had broken my plan for the day. I must've already had about 4 cookies, but even if it's already past midnight, my feet are itching for me to walk to the kitchen to grab a couple more! 8-}
Oh Lords! Tomorrow, I promise not to make any more promises about going on a diet.