Living majority of my teenage years in a different country from where I am now has quite a lot of disadvantages. For one, all of my closest friends are scattered all over the world, making it quite difficult for me to find someone to run to when I need comforting. Don't get me wrong, I do have a handful of really wonderful friends in the country right now (the boyfriend included), but really, there's truly nothing like being with old friends.
Another disadvantage is seeing other people with their own set of barkadas, and being envious that they have friends they can hang out with anytime they want. I get jealous of my sister when she hangs out with her Highschool buddies, because it makes me miss Brunei even more.
But if there are disadvantages, of course there are definitely some advantages too. Like having the perfect excuse of flying off to another country to see one of your friends get married. Waiting almost 7 years just to see each other again made everything more wonderful.
And there's also the opportunity of organizing reunions everytime old friends fly into the country.
Last month, on the day we arrived back from Singpaore, I had to rush off to ATC for a mini-reunion with some people. Two of my guy friends were in the country on vacation, and even if I was exhausted from my flight, I went to see them anyway. Jeremy and Tan treated the bunch to a late night dinner at Sinangag Express.
Cheap food + great company = fun!
The only picture of the night: Michelle, Marck, Jeremy, Amador, Tan, my sis and me.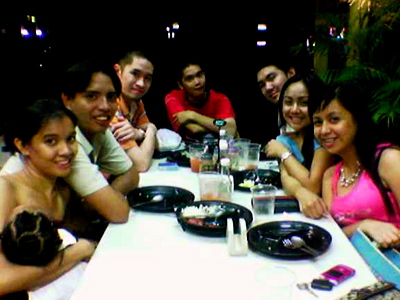 Then last Friday was another reunion, because Matet (who's getting married next month!) was in the country to fix some papers. She had to leave early, and because I arrived late I only got to see her for 10 minutes. I still enjoyed coffee with the rest who stayed. No pictures of the night, because I was too tired to take pictures.
Another opportunity to get together happened when I got a text message from Sean (who's actually the first-bf-slash-ex) that he and his girlfriend were on vacation in Manila.
A bunch of us met up with them in Greenbelt where we had dinner at Fuzion.
Here's the bunch: Ting, Sean. Amador, my bro, me, JR, Melvin and Harold.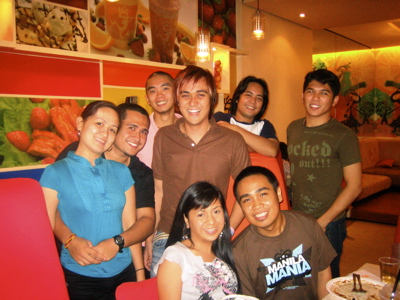 And because I gave my brother an "I'm-gonna-kill-you" look after he bluntly attempted to make "teasing" remarks about meeting "the old and the new," he resorted to taking our picture instead. Here's Sean, Ting, me and JR.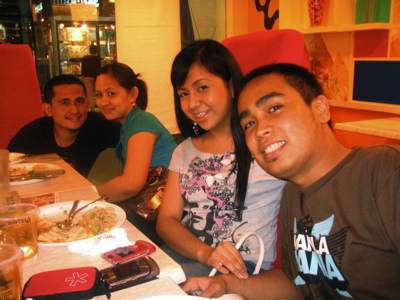 We wanted to do something different, so we dropped by Timezone and played a few games. The others ran off to shoot some hoops and race cars, while JR and I played our favorite airhockey and Time Crisis.
Here's a stolen shot of us. Check out our mouths. Like boyfriend, like girlfriend! Haha!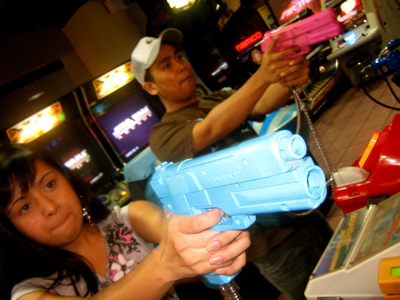 Afterwards, we chilled at Segafredo where my brother treated us to one round of drinks.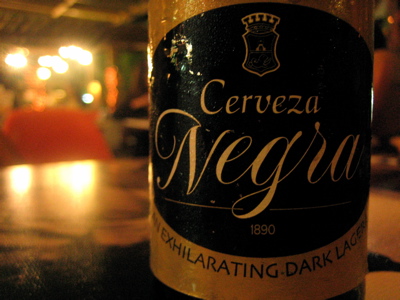 I was the driver for the night, so I was stuck with coffee. Not so nice because I had been craving for alcohol since last week! But the coffee was nice anyway.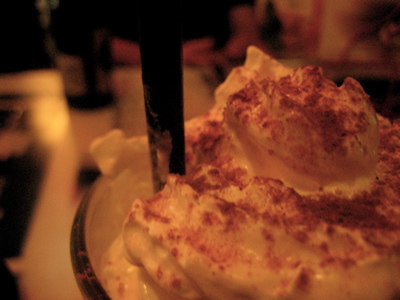 The rest of the evening was spent talking, laughing and remembering the old times. I had initially thought that it was going to be an awkward night especially for me, but it wasn't at all. I actually had a great time!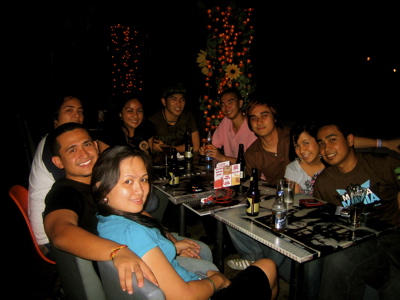 And because of the fact that I still have my friends scattered all over the world, I will continue anticipating the days when I will have the chance to meet up with them again. :)