Being exposed to numerous different cultures while my family lived in another country gave us the opportunity to try out and appreciate various delicacies. From Asian palates of Malay, Thai and Vietnamese, to those of French and Mediterranean, among others.
From the variety of flavors, I have to say that Indian is one of my favorites. There's something about its distinct tang and aroma that makes my mouth water, even with just the thought of it.
During the weekend, I took JR and Andrea to an appetizing palate adventure. Andrea, who was back in Manila after studying in Canada for 2 years, was craving for Indian cuisine. I thought it was just perfect, because I had been craving for the same taste since our last Indian dinner in Singapore.
We thought about going to Bollywood in Greenbelt 3, but decided otherwise because we didn't want an overly commercialized restaurant. Then I remembered a small kitchen hidden among offices along Rada St. in Makati (my brother brought us to dinner there 2 years ago, I think) that served Indian cuisine, prepared as-you-order by the owner herself – SWAGAT!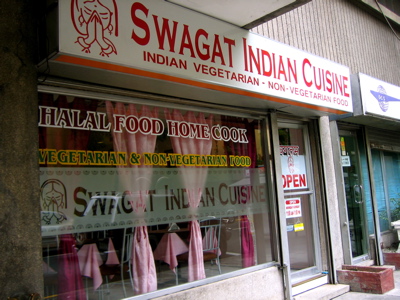 Our adventure started as soon as we entered its door.
The generally pink interior – pink walls, pink curtains, pink tablecloths and pink placemats, portrayed a pretty feminine vibe. The walls and ceiling, decorated with authentic Indian pieces, brought out a lot of color – something that Indians love and can be commonly associated with (just look at their colorful clothes!).
The TV in the corner of the small restaurant played Indian music videos, and even if we couldn't understand a thing, our eyes remained glued to it. We were amazed at the creativity of the different videos. From the set design, their colorful costumes, and even the choreography. The production was grande and superb!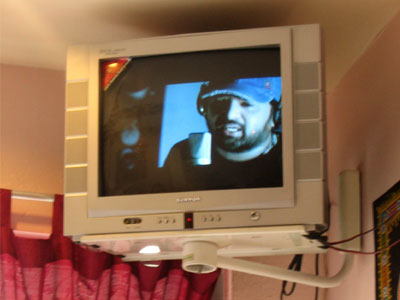 But our eyes moved from the TV to our table as soon as our food was served, and it didn't leave the table until we had devoured everything.
We ordered three main dishes.
Murgh Korma: Tender skinless boneless chicken marinated in a blend of ginger, garlic, yogurt and various spices. Sautéed with tomatoes, and butter & cream.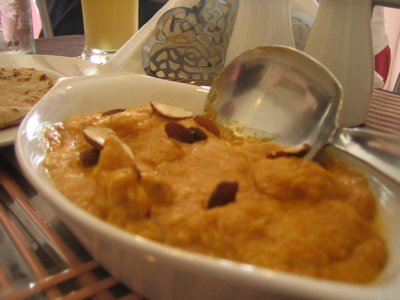 Roghan Josh: Goat meat cooked with cream and butter, and flavored spices.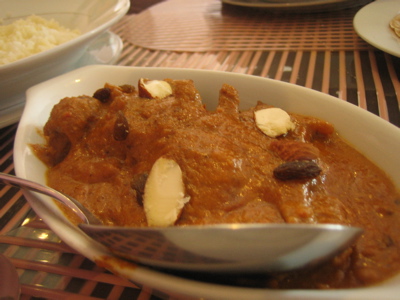 And Shrimps Curry: Shrimps cooked in mild spices curry sauce.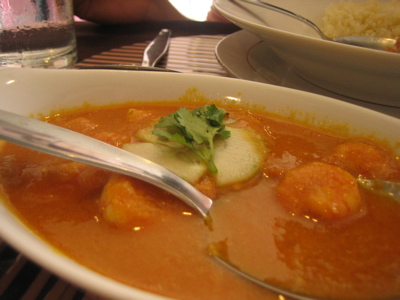 The latter was a little disappointing, but the first two dishes satisfied us more than we had expected. Each spoonfull burst with zing and zest in our mouths, but surprised us with a tinge of sweetness and creaminess too. We savored every dish with our buttered rice and lassi (a sweet lassi for me, a rose lassi for JR, and a mango lassi for Andrea). The food was so delicious, that we even wiped our plates clean with extra orders of roti!
We ended the meal with dessert: two orders of Gulab Jamun (cheesy cake balls dipped in syrup). We wanted them so bad, that we willingly waited for a little over 15 minutes so that they could be made fresh for us. We definitely weren't disappointed! Its soft and creamy texture was the perfect end to a perfect meal.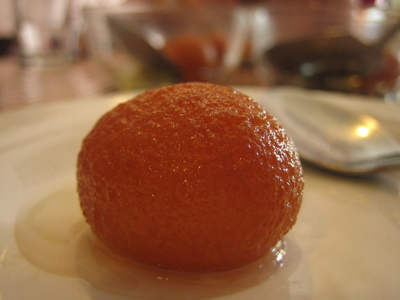 The whole meal was mind-boggling and toothsome. And with the distinct aroma oozing from the kitchen, as well as the simple, yet homey Indian ambiance, the entire experience was just wonderful.
Here's a shot of us with our satisfied smiles. Oh, and it was really just plain coincidence that the three of us wore pink (well, I wore purple) on that day. We obviously blended well with the restaurant's interior!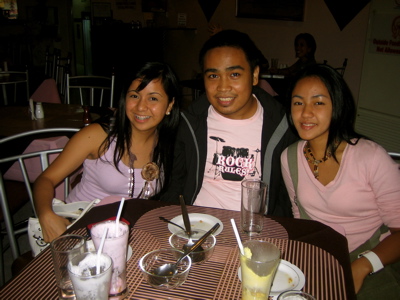 I suggest you go visit Swagat too. I promise, you won't be disappointed! Or, visit their website and check out their menu. I'm sure that reading through it will be an adventure itself!