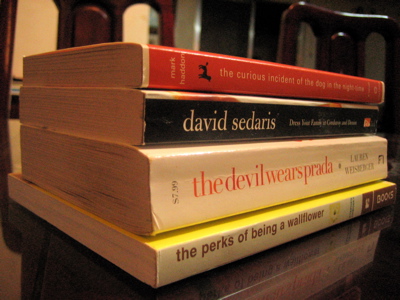 The yearly Manila International Book Fair is something that no bookworm would dare to miss. I had been talking quite a lot about it, even a few weeks prior to the actual event, but I figured I'd let it pass this year since I was flat broke. My bank account has just seen too much shopping in the last few months.
But lucky enough, the ever wonderful boyfriend took pity on me and treated me to a book shopping spree. I know, I am forever spoilt by that boy! :)
A semi-detailed info about my four picks:
The Curious Incident of the Dog in the Night-Time

by Mark Haddon

– I've been eyeing this book for some time. Hearing and reading some wonderful reviews about it made me even want it more. With its mathematical and analytical tone, I'm sure it'll be an interesting read. I also read somewhere that a movie version is coming out soon.

Dress Your Family in Corduroy and Denim

by David Sedaris

– Another book with some promising reviews. I can't wait to start reading it and enjoy laughing 'til my sides hurt. Reviews have been commending about the author's wonderful sense of humor.

The Devil Wears Prada

by Lauren Weisberger

– I chose this because I need girly-girl books like this once in a while. I'm a lover of fashion, makeup, shoes and all the girly stuff, so I knew I just had to read it. On top of that, I want to see the movie too. I've always been one to enjoy book versions more than movie versions (The Da Vinci Code being an example), and I knew I just had to read the book before actually seeing it on the big screen. I finished reading it last night, and actually liked it. I just hope the movie is good too.

The Perks of Being a Wallflower

by Stephen Chbosky

– This book has been on my wishlist for years! I've been searching for it for as long as I can remember, and apparently I wasn't alone. Tina had been dying to get it for ages as well, and she was beyond ecstatic when she surprisingly came across it in a local bookstore. Thanks to her little tip, I finally got my copy too! I'm almost half way through it, and I just can't seem to put it down.
Now, that's four down my book wishlist, and over a hundred more to go! =P