Who would've thought that a simple bet made between two platonic friends, would actually be the spark plug to a wonderful romantic relationship? Or the simple fact that the internet and the world of blogging could actually bring two people together?
I would've never thought it possible, but amazingly on October 16, 2003, it happened to us.
A number of those who still read my blog are actual witnesses to our love affair. From the time that we were just friends, to the times we started hanging out, and eventually to the day we officially got together. They've read about our happy moments together, and have given advices and support during our tough times too.
Last Monday marked the third year of our relationship, and I guess I owe those people – our friends, a post about how we celebrated our special day.

Monday was indeed a very special day for us. So special that he even took the day off from work, just so we could spend the entire day together. <3
I cooked lunch for the two of us at home. And bebe happily posed with them. =P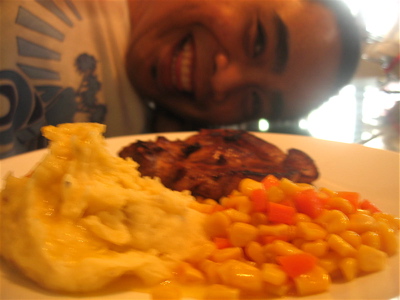 Pork steak, mashed potatoes, and corn & carrots. I also made chocolate mousse for dessert, but we devoured them before having the chance to take a picture. =P
After lunch, bebe watched TV (and eventually dozed off to sleep) while I went to take a shower, curl my hair and get dressed.
Like my curls? I loved them! =P
Curling my hair was a long and tedious job! When I was finally done, I woke bebe up and we drove off to ATC. We had some time to pass, so we did a bit of shopping.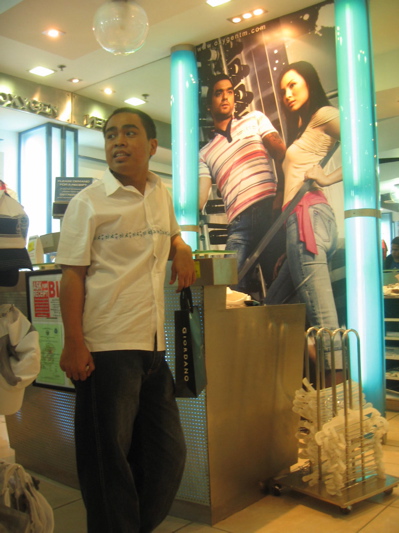 Actually, bebe went shopping. I just followed him and enjoyed the camera and myself. =P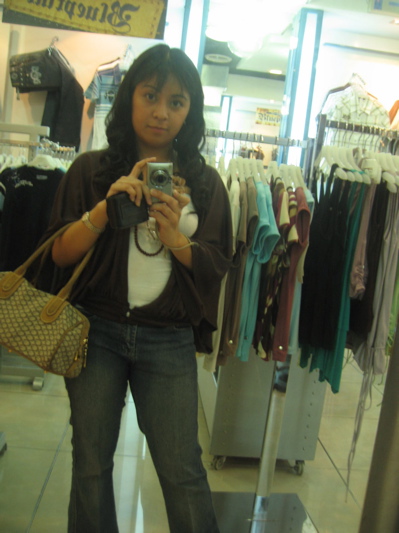 We had more time to pass, so we just went to Food Choices and took obligatory couple shots. Hey, it was our anniversary. I wanted to take as many photos as I could! =P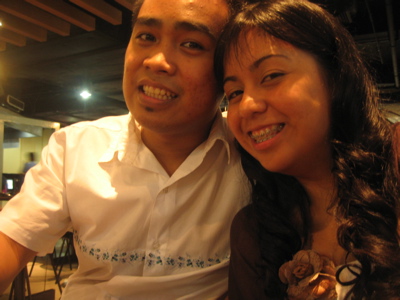 We then drove to Vivere Suites just in time for our 6:00 dinner reservation at Vivere Skyline. Our table was right next to the infinity pool.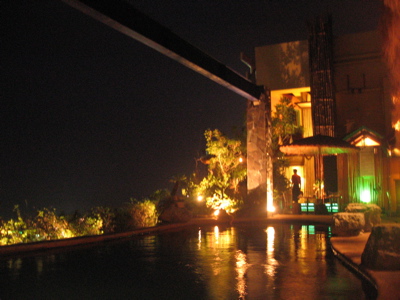 And on the other side, we had this breathtaking view of the city! The perfect ambiance for a perfect date!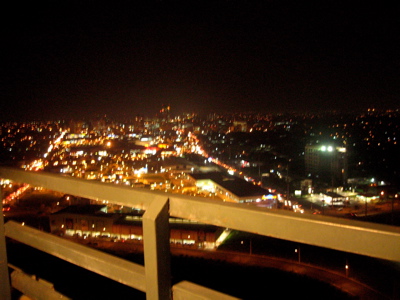 The place was just great! While waiting for our orders, we enjoyed our view and took pictures while we sipped our milk shakes.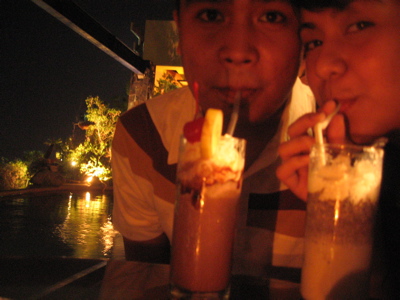 Our soup arrived first: French onion soup.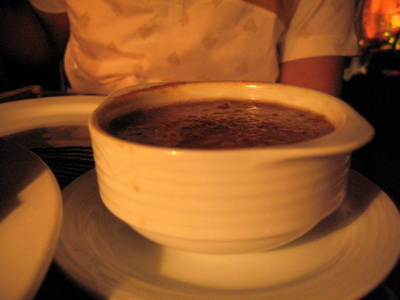 Then our salad: Mesclun with BBQ chicken.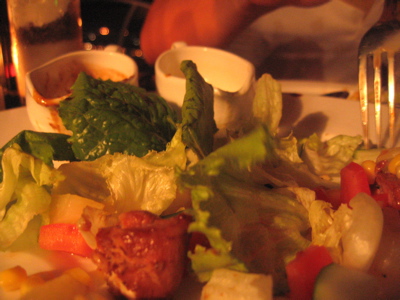 They were both delicious! We were actually quite full after emptying the salad plate, but we still craved for our main course. =P It took a while for those to arrive, but we didn't mind because it allowed our appetizers to be digested well enough for us to feel hungry again. Oh, and we had more time to pose for the cam too.
He posed.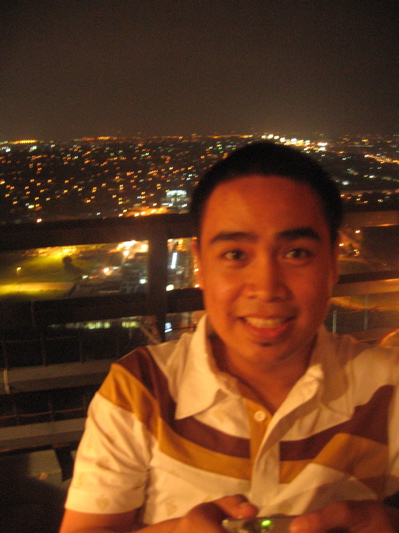 And so did I. =P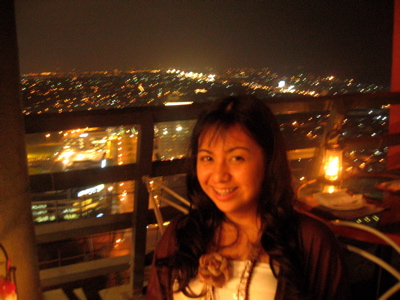 Our photo session was put on hold when our main course arrived. =P I got lamb chops with mint gelatine sauce.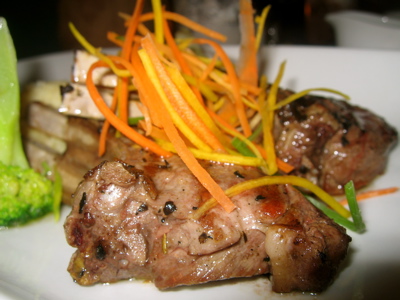 And bebe got the beef mignon with red wine mushroom sauce (something like that).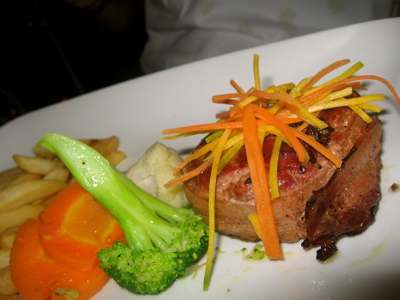 I was satisfied!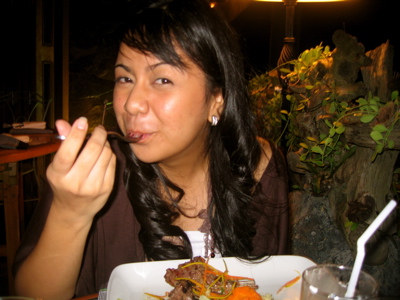 So was he. So satisfied that he didn't feel like posing for the cam anymore. =P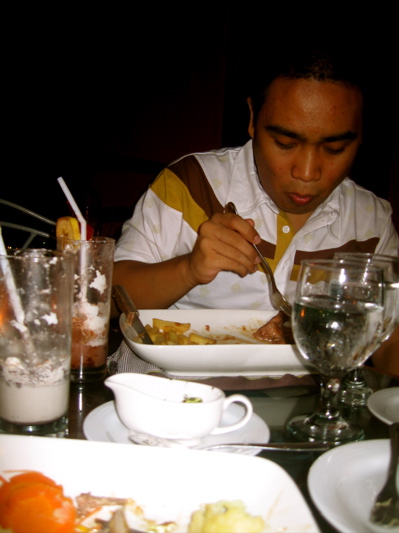 By the end of dinner, we were so full that we even ended up saying no to dessert! We didn't feel like leaving right away, so we fooled around at the hotel lobby instead.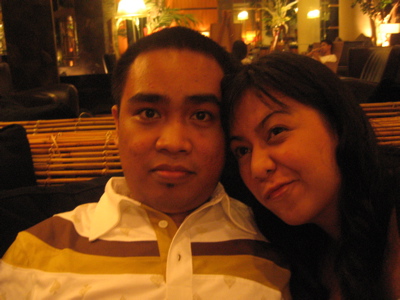 Because we didn't want to head home too early, we decided to go back to ATC for some coffee. There, we just talked and then ended up taking more photos. =)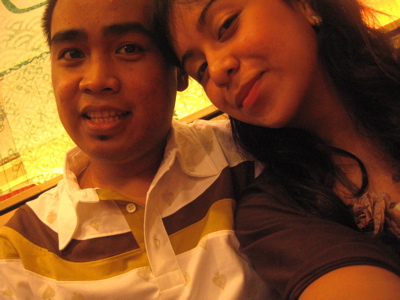 But the night didn't end there! Before going home, we dropped by Yellow Cab to buy pizza for my mom and sis. We took more photos there, but after posting over a dozen here, I'm getting tired of it. =P hahaha! When we got home, we lazed around in front of the TV and finally had our dessert (pistachio icecream!). =)
A few minutes after the clock struck twelve, we were already in bed, bloated from the day's escapade. We ate so much, but laughed even more. It was definitely our best anniversary to date. =)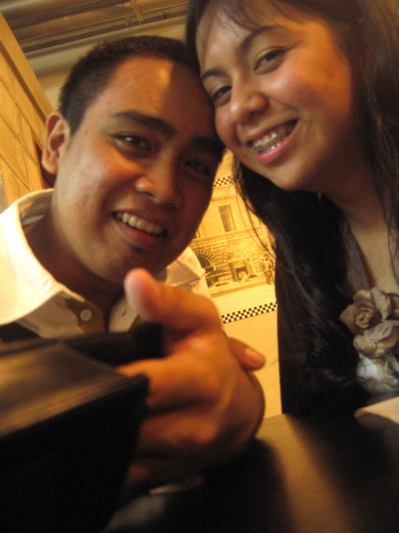 Happy three years, my bebe! You know I love you so much! :-*
Of course, there are more photos here.