The last few days before the weekend was quite busy for me. I was working on the design for a project that my architect uncle and I are doing. It entailed several late nights rendering perspectives with markers, soft pastels and color pencils. It was actually the first time in weeks that I was engaged in something related to my line of work.
Now that all the designing is over (for now), I've been pretty much idle.
To save myself from utter boredom, I took out my camera and decided to take pictures of my bag's contents (yes, I am that bored!). I actually remember doing this in one of my old blogs a couple of years ago, but I just felt like doing it again.
Wanna see what's inside? =P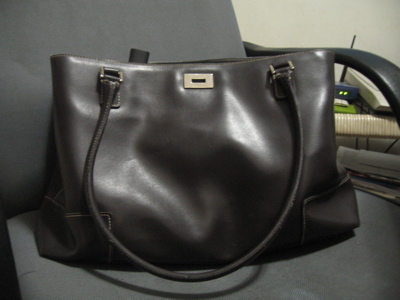 My BIG (okay, it's not really that big =P) Liz Clairborne bag. I only use it when I need to carry my MacBook around.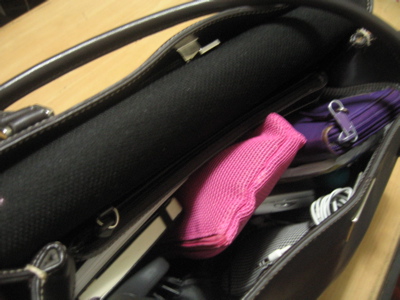 A sneak peek inside. I love how the bag can fit quite a lot of my stuff. It gets quite heavy though. =P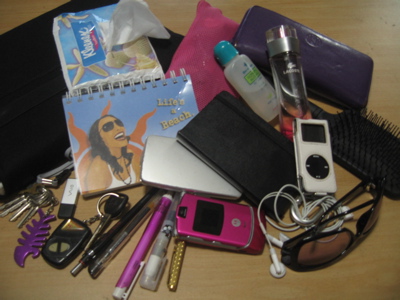 With all my junk! =P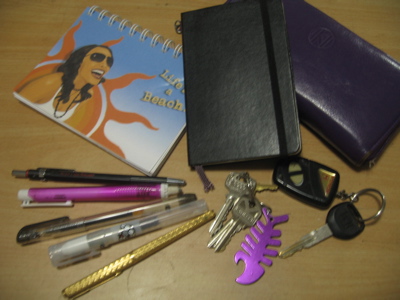 The essentials clockwise: my gold Parker 180 Guirland fountain pen (this has been sitting in my pen drawer for years! I re-discovered it a few days ago); a cheap Inoxcrom fountain pen; my favorite black 0.5 Dong-A My Gel pen; retractable eraser; clutch pencil; the spiral sketchbook I made where I sketch my design ideas; my moleskine where I write my thoughts and other random stuff (the boyfriend bought it for me!); my purple wallet; car keys; house keys.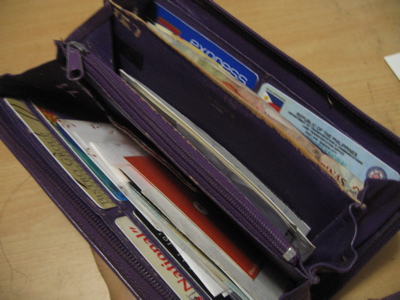 The insides of my wallet. It's an old Anne Klein II wallet that my mom has had for years. I found it while rumaging through an old chest.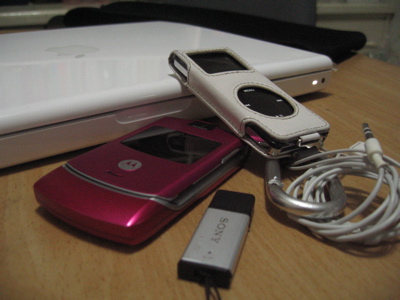 The gadgets: my MacBook, the black sleeve (a great affordable find from PowerPee!) from the boyfriend behind; my Pink Razr; 4gb iPod nano; 4gb flash drive.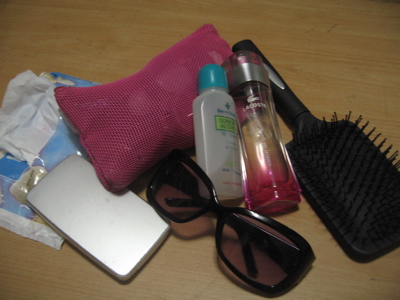 Kikay stuff: tissue (I always have tissue in my bag); Neutrogena powder; pink mesh makeup pouch; my big shades (another must- my eyes are sensitive to too much sunlight); a bottle of isopropyl alcohol (I'm an alcoholic! =P); Lacoste "Touch of Pink" perfume from the boyfriend; my paddle brush (it's really big, and I just love using it on my long hair)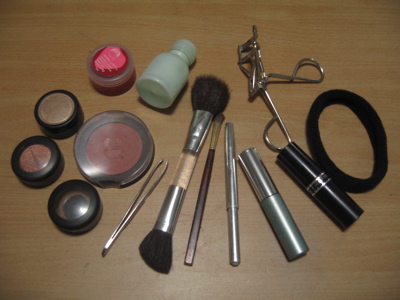 Inside the mesh pouch: my almost empty MAC concealer (the boyfriend got it for me. I love it!); MAC eyeshadow (again, from the boyfriend =p); Mimi eyeshadow; Body Shop blush; Body Shop's Born Lippy in strawberry (my favorite lip balm); small bottle of lotion (Bath & Body Works in cucumber melon); tweezers; double blush brush; shadow brush; lip brush; Clinique mascara; lipstick (which I hardly ever use); eyelash curler; hair tie.
And after posting all that, I noticed a few things:
I have A LOT of things in my bag!
It's obvious that I like pink. =P
I don't bring my 2006 Starbucks planner around anymore. But I'm still planning to earn my 2007 planner – I'm gonna start tomorrow! =P
We have quite a lot of vintage finds lying around in the house: the gold fountain pen and my purple wallet. I should look out for more finds! =P
JR likes to buy me things. Like I always say, I am forever spoilt! =)
Anyway, what's inside YOUR bag?