I've had quite a lot of free time lately. Free time to rest. Free time to wander around the city. Free time to make some art. And free time to be able to sit down and read.
In a span of two and a half weeks, I've managed to read two books, and even started on a third: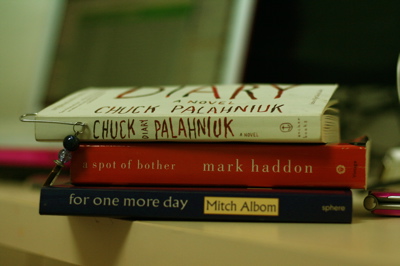 For One More Day by Mitch Albom: Read.
Spot of Bother by Mark Haddon: Read.
Diary by Chuck Palahniuk: Currently reading.
I'm planning to buy Eat Pray Love by Elizabeth Gilbert once I'm done with my third book. =)
What book are you reading?