Last Saturday, my mother was messaging me at seven in the morning telling me to go online. She was so excited that she wanted me to go on skype right away.
The reason behind it was because I was featured in the Philippine Daily Inquirer. =)
Philippine Daily Inquirer (07/19/2008) – Part of the first page.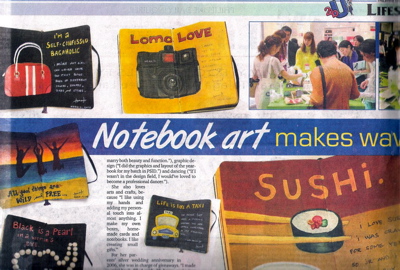 Philippine Daily Inquirer (07/19/2008) – Part of the second page.
Here's the article (from inquirer.net):
Notebook art makes waves
By Pam Pastor
Philippine Daily Inquirer (07/19/2008)

MANILA, Philippines—The next time you find yourself doodling in class, don't stop. Your notebook art might take you far.

Just ask 25-year-old Anna Marie Viduya Avanceña, whose Moleskine artworks were showcased recently at the London Book Fair and the Tokyo Interior Life Style Exhibit.

Anna has always loved bookstores and art even as a child. "The smell of paint and the sight of colorful tubes hanging on display shelves amazed me. I enjoyed looking through cartoon and fairy-tale books, and admired the colorful drawings in each one," she recalls.

Soon, she was making her own works of art.

"This love of color and drawings quickly transformed into an urge to create my own when I started taking up art classes in grade school. It didn't take long until I realized that art is my life."

Avanceña eventually became an interior designer, getting her degree from the Philippine School of Interior Design in consortium with DLS-College of St. Benilde. She recently began working as an interior design consultant in Singapore.

"Now is the perfect time to take risks and explore my horizons as an artist and as a designer. And Singapore just happens to be the nearest and most convenient place to go to for that. It's both far enough for me to gain a wider world perspective and near enough that I can come home if the homesickness bug bites me."

Needing an outlet for creativity, Avanceña started picking up Moleskine notebooks which she used as a diary. But she needed more than just words to document her days.

"I needed an outlet for my creativity. I bought a Moleskine Sketchbook and fell in love with the thick pages."

Rich and vivid

She especially loves how her book's thick pages work very well with her gouache paints.

"I've been doing gouache paints since high school. I love the rich and vivid colors! For additional touches, I use markers, soft pastels and colored pencils."

She's painted everything from food and cars to her favorite fashion pieces. "I post my artworks in my Flickr account. I also joined the Flickr group Moleskinerie and posted several of my artworks there."

Marsida Shyti, who works in the Moleskine headquarters in Milan, Italy, eventually took notice.

"She chose several artists and moleskine users to participate in The London Book Fair and the Tokyo Interior Life Style Exhibit. I was beyond thrilled when I found out that I was one of them."

Avanceña was among the 30 chosen from thousands of Moleskine artists. She was the only Filipina.

"It was such an honor being on the spotlight with other artists from Europe and the US. It made me a proud Filipino, being able to show others that we too can be world class artists," she says.

Which artworks in her sketchbook are her favorites?

"It's quite hard because all of the themes that I used are very personal to me," says Avanceña. "Each one is actually a piece of who I am. Like pieces in a puzzle, put them all together. Look at the entire book and you will see who I am as a person."

Avanceña is filling up one more sketchbook that she's sending to the Moleskine Headquarters this month.

"They've asked me and two other artists to work on another set of artworks, which they will keep and use for their future exhibits."

Arts and crafts

She encourages others to create their own Moleskine art. "Just go for it. My mom always says "You should just try and try." You might be surprised with your own creativity."

Painting on her sketchbook's blank pages isn't Avanceña's only outlet for creativity. She enjoys interior design ("Not just because it's my work, but because I enjoy being able to weave and transform my ideas into spaces that marry both beauty and function."), graphic design ("I did the graphics and layout of the yearbook for my batch in PSID.") and dancing ("If I wasn't in the design field, I would've loved to become a professional dancer.").

She also loves arts and crafts, because "I like using my hands and adding my personal touch into almost anything. I make my own boxes, homemade cards and notebooks. I like creating small gifts."

For her parents' silver wedding anniversary in 2006, she was in charge of giveaways. "I made a mini-book filled with 25 home makeover tips."

It's her passion for life that keeps Avanceña inspired. "I'm passionate about life and everything it has to offer. I embrace everything that happens in my life, be it positive or negative, believing that one day I will reach my full potential. I've always believed that my life—and everyone else's—is a masterpiece in progress. "

Visit www.flickr.com/annings
It was an article spread out in two pages. Both covering half of the page, with an ad in the first page and other articles at the bottom of the second page. To be honest, I didn't expect it to be that big. When Pam messaged me on flickr asking if she could interview me for PDI, I had the impression that it would just be a small part of a bigger article. Instead, I had the space all to myself. Thanks, Pam! You really surprised me! =)
When I make art, I don't make them in order to be known, or to be put on the limelight. I make my art, because it's basically just one of my favorite ways to express myself. That's why when I made my moleskine paintings, I didn't expect that I would be chosen to be part of the exhibits in London and Tokyo. Furthermore, I totally didn't expect to be given the chance to be featured in the local newspaper. Sometimes things really just fall into place.
It was funny, because I think my mom showed more excitement among anyone else. She woke me up so early so she could show me the newspaper through the webcam. And fifteen minutes later I received several emails from my relatives, both in the Philippines and abroad (USA and Canada), congratulating me for the wonderful article. I know she gave everyone the heads up, because I could see her texting away through the webcam!
It's a nice feeling being able to see your name and work on the paper, but it's an even wonderful feeling seeing your whole family being proud of you. =)
___
P.S. Thanks to Yam for scanning and uploading the article for me. =)
—
Oh, and the article was recently featured on moleskinerie.com too. =)