BoNa Coffee, located in BF Parañaque, is one place that a lot of bloggers (including Venice) have been raving about recently. Since I myself am a sucker for good coffee, and because it's just a quick drive from my house, I vowed to try it out while in Manila.
On my second day back, I found some time to spare, so I headed straight to BoNa to spend some quality time with myself. As soon as I entered the door, I was greeted by a group of extra friendly baristas behind the counter. I'm quite used to baristas greeting customers upon entering, but somehow the ones at BoNa were different. They were sincere with their greetings, speaking softly with genuine smiles on their faces; totally different from the "hello" and "good days" baristas usually just shout out to entering customers in more commercialized coffee shops (eg. Starbucks).
The place itself was slightly different from other coffee shops. It was dimly-lit and was embellished with eclectic furniture pieces and accessories. Contemporary chairs and sofas were paired with antique coffee tables and display cabinets. I loved it's small and cozy ambiance, and how it made me feel so much at home.
The coffee and food didn't disappoint me either. My order of skinny latte and chocolate orange muffin were a perfect combination. And they (everything that they serve, actually) were also low in fat and calories! My palate was overwhelmingly pleased for something quite healthy!
Another perk that made me stay longer than planned was their free Wi-Fi! Before leaving for Singapore I was always in a constant search for coffee shops around the metro with free internet services. For a geek like me, nothing gets better than being able to surf while having my cup of coffee. I've tried many other coffee shops with free internet, but have always been disappointed with their slow connections. BoNa's Wi-Fi was F-A-S-T! No Page Timeouts! I was on cyber heaven! My MacBook was just as happy as I was! Maybe next time I should bring a Bluetooth headset, so I can watch one or two videos too. =P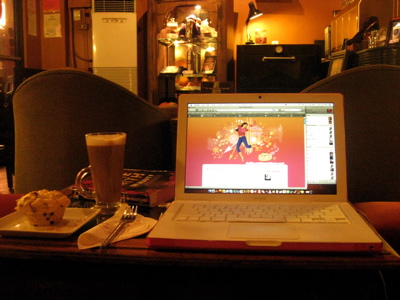 I enjoyed my BoNa experience so much that I'm sure I would probably become a regular there if I still lived in Manila. I should drop by again before we head back to Singapore on Sunday. There are a lot more drinks on their menu that I want to try out. =)