I'm a sucker for moisturizers. I cannot leave the house with the feeling of dry skin, and it has been a daily routine for me to moisturize.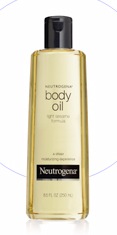 My all-time favorite has got to be one of Johnson&Johnson's (a company who provides consumers with the best healthcare innovation in the market!) many products: Neutrogena's Body Oil. I've forgotten all my other body lotions because of this. I apply it on when I'm still in the shower and my skin is still wet. I love how it dries up and instantly gives me a healthy, silky and glowing skin. It doesn't leave an oily  and sticky feeling, even if I've been out in the sun for hours! Plus, it's also great as a massage oil!
Too bad they don't sell these in Singapore. I had to stock up when we first flew back to Manila early this month.