What's an anniversary date with no dessert, right? Right. So, after our dinner at Equinox Restaurant, we walked all the way to Esplanade to have our toothsome fix. The 10 minute walk (or was it 15?) did us good, because as full as we were from our belly bulging meal, we were hungry again by the time we reached our destination: Max Brenner.
Ah yes, Max Brenner: The famous dessert haven for chocolate lovers like me. With its tag line "Chocolate by the Bald Man," I was expecting to see cleanly shaved waiters bustling from one table to another, just like back in Manila. But as soon as we entered, my excitement dwindled down to plain disappointment. What?!? No hunky bald men servers? Boo!!! Instead, the staff was composed of young waiters, in probably their early twenties, and an older guy who looked like the owner. They were all dressed casually, in their own and separate style of jeans and t-shirts, with no hint of uniformity whatsoever. We could only pick out the servers from the customers, because they were the only ones up on their feet. Other than that, it would've been impossible to spot them.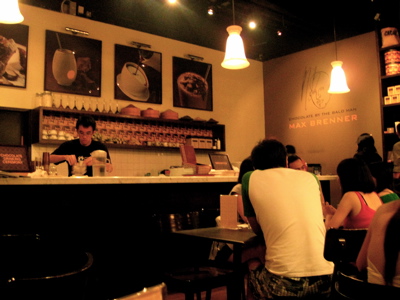 The interior was rather ordinary. Unlike the branch back in Manila, this branch simply lacked the homey and cozy ambiance. Aside from the rich color of the dark wood seen throughout the space, it simply did not bring about the chocolate heaven vibe to it. There were no big chocolate mixers, nor where there any pipes with chocolate running through them. Definitely not a trace of the Willy Wonka atmosphere that I was expecting.
The place was also quite cramped, with very little clearance between tables. I sat in my seat comfortably, but if I moved my chair half a feet more, I would've already been rubbing backs with the other customer behind me. Really, I would rate any other Starbucks' interior better than this Max Brenner branch.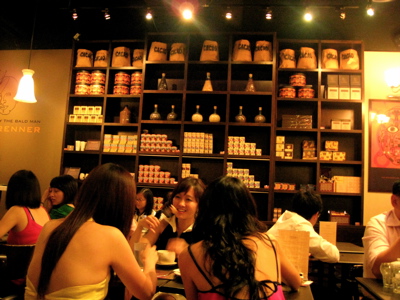 But with my complaints aside, I was glad that our dessert made up for it. We shared an order of Strawberry White Chocolate Smoothie: White chocolate truffle with yogurt and strawberries. It turned out just as we expected it: cold, rich and creamy. It tasted just like the ones being served in Manila, and I loved it!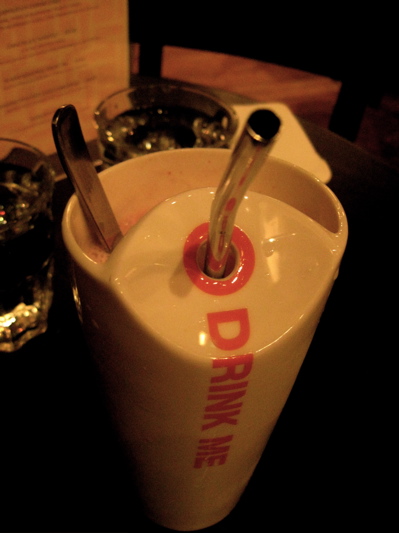 The Chocolate Soufflé, served with chocolate sauce, strawberries and ice cream (SGD15), was also a treat. The mix of the hot chocolate fudge filled cake and the cold vanilla ice cream was a real buzz to the taste buds. Plus, with the slices of strawberries and the crispy chocolate bits sprinkled over the ice cream, we were incredibly satisfied!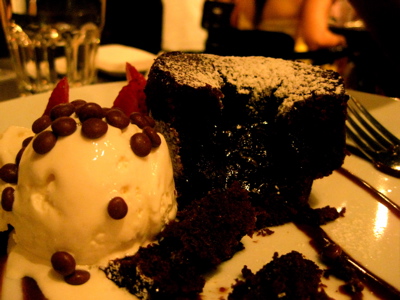 I guess the Max Brenner branch here in Singapore is a place we will visit again for nothing else but its dessert. And when that time comes, I will no longer bring along with me expectations of a whole chocolate experience, because really, the only chocolate-y thing about the place is in its food.