We love food, and as a couple we enjoy trying out new places to dine. Every year, on the day of our anniversary (except for our first year, because we were technically not together for two days then — long story), we like to dress up and treat ourselves to a romantic dinner. On our second anniversary, we had a two-day celebration where we had dinner at MyLK, Greenbelt 2, followed by lunch at Conti's the following day. On our third year, we had dinner at Vivere Skyline in Alabang, which I blogged about here. And on our fourth anniversary last year, we had a scrumptious meal at Le Souffle, at the Fort.
For the past years, we celebrated in different restaurants in Manila, but this year however is the first time we spent it in Singapore, our new home (well technically it's only new to me, because JR has been here for over a year).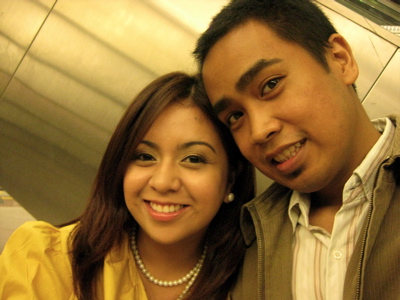 We chose to have our dinner at the Equinox Restaurant, and boy, did we make the right choice! Situated on the 70th floor of Swissôtel The Stamford, the restaurant with its three-storey high windows gave us a spectacular view of the city. When JR reserved our table a couple of days before, we were disappointed when told that all window seating were already full for the night. But when we arrived that evening, we were lucky enough to be able to grab one of the tables for an extra charge of SGD20. Not bad, because it was wonderful being able to sit next to this view: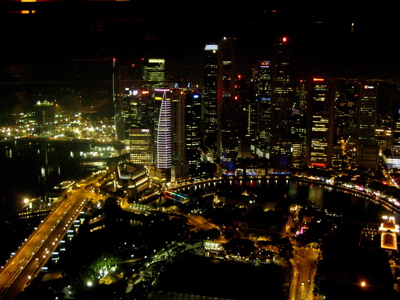 The panoramic view was amazing. In the distance, we could even see lights from what we presume (and confirmed after reading reviews online) were already Malaysia and Indonesia. Seventy floors above ground also made us see another beautiful side of The Esplanade which we had never seen before: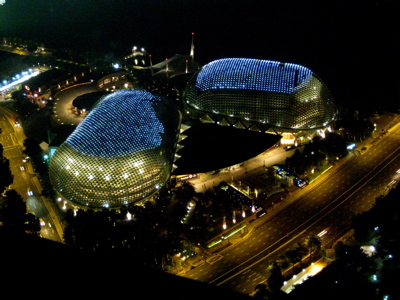 But aside from the fantastic atmosphere, is of course, the food.
JR and I aren't really into wine that much, so we opted to get ourselves fresh juices. I ordered the Mango juice (SGD10). Being Filipino, it was of no surprise that my drink would be disappointing. Truly, nothing beats Philippine mangoes! The juice that was served to me tasted like one of those bottled mango juices which one can just buy from any grocery. Not that great, but I managed to finish it anyway.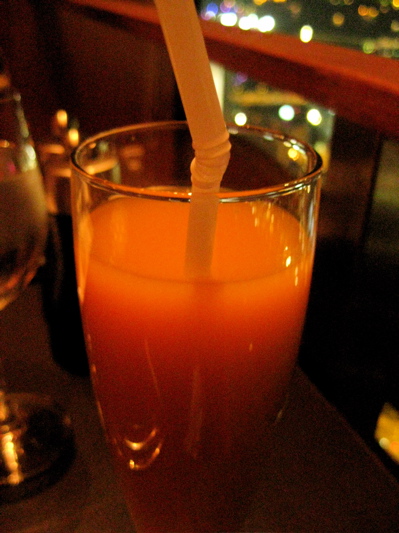 JR, on the other hand ordered guava juice (SGD10). It was better than my order.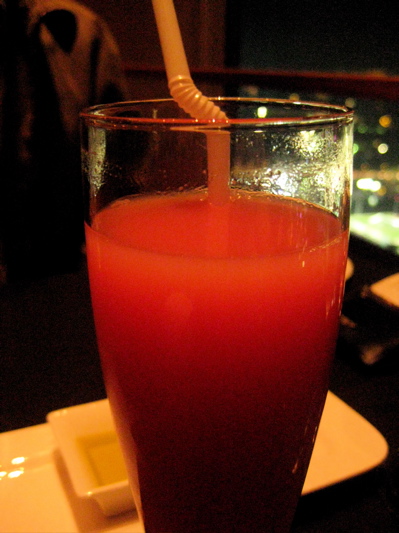 While waiting for our meal, we were treated with an assortment of bread with servings of butter, olive oil, and a creamy spread which I couldn't make out, for free.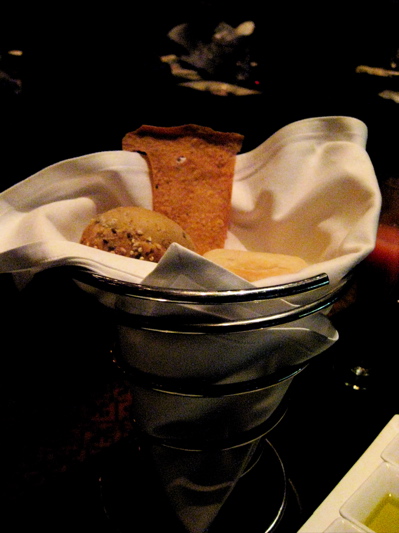 And shortly afterward, our salad arrived: baby romaine salad hearts, Caesar dressing with roasted garlic croutons, marinated beef tomato fillets and shaved aged Parmesan (SGD26). It was so good that I can genuinely say that it's one of the best Caesar salads I've ever had!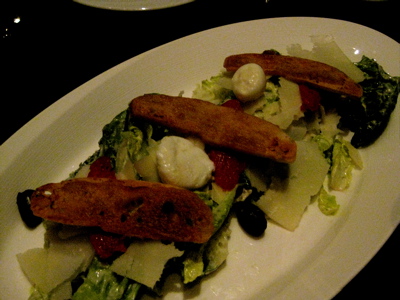 Our soup made of organic tomato broth simmered with young ginger, shallots, aromatic, tumeric leaf and coriander (SGD18 each), wasn't a disappointment either. The presentation that made the soup look like it was just chopped tomatoes swimming in water, did not do it justice, because the different spices combined was a great treat to the palate.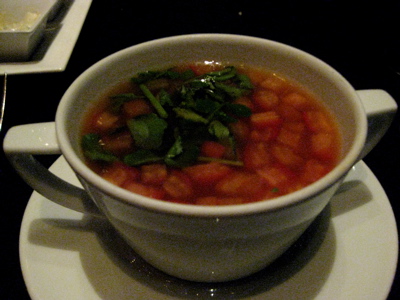 Our main course took quite a while to arrive. I even made a trip to the restroom and returned with still no food on our table. The restroom itself was situated not so conveniently, as one had to walk out of the restaurant and down one floor where it was tucked away in one corner. But the long walk was forgotten as soon as I entered the restroom, because it was just darn gorgeous! The long wait for our main course wasn't too much of an annoyance either, because sitting in a restaurant with a spectacular view right next to us was just too romantic. Plus, it was an opportunity for us to snap a few photos of each other. =P
Me with my drink: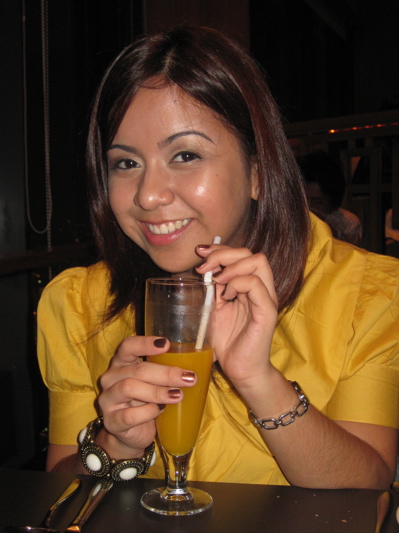 And JR with his: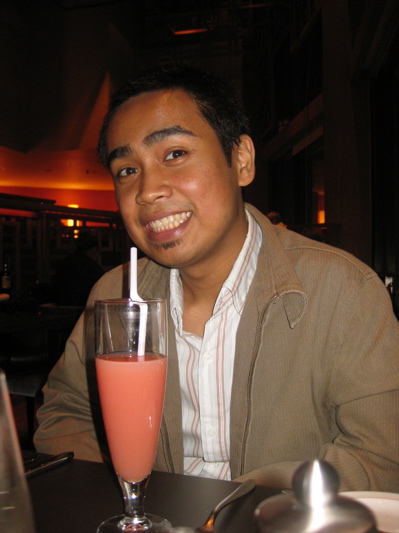 And as soon as our food arrived, we asked our server to take a shot of both of us too. Excuse my fluffy top; I look like a balloon! Lol!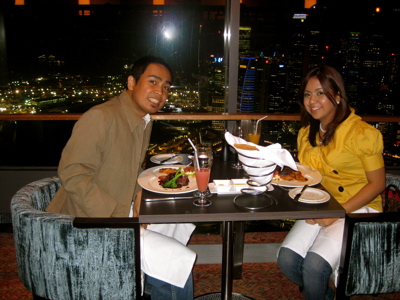 Our main course: Char-grilled 250g grain fed Black Angus beef fillet, with cheese quesadillas and tequila, lime and roasted cumin jus (SGD68 each). Forgive me for the crappy photo, the food was too inviting that I didn't bother taking a gazillion photos! =P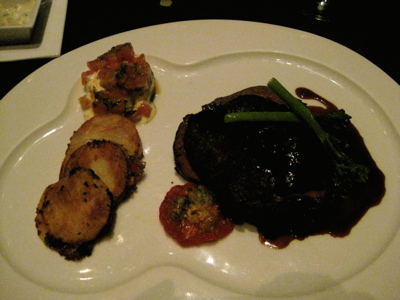 I happily posed with my plate: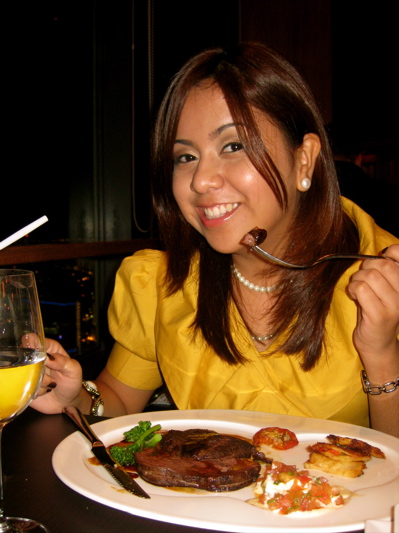 While JR was too busy digging into his own to even look at the camera!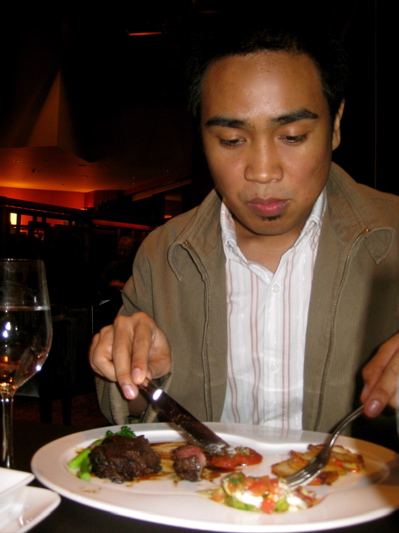 The main course was the biggest winner of the night. The beef was cooked just right, with its juice and flavor bursting in my mouth with every bite. I was already quite full half way through my meal, but my mouth watered just by looking at it, that I ended up finishing it to the last forkful! Here, this is a better shot of its succulency: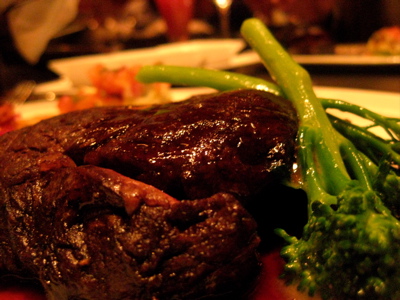 By the end of the meal, we were full, satisfied… and still taking photos. =P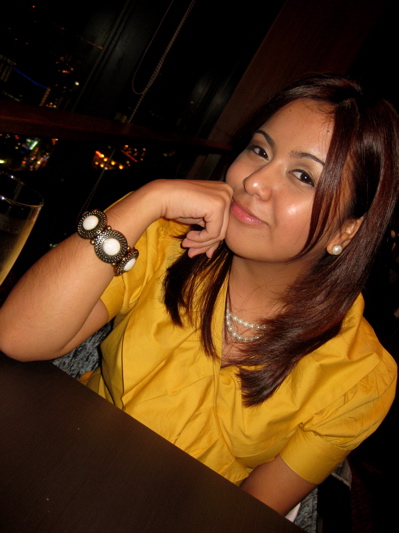 He's obviously full and happy!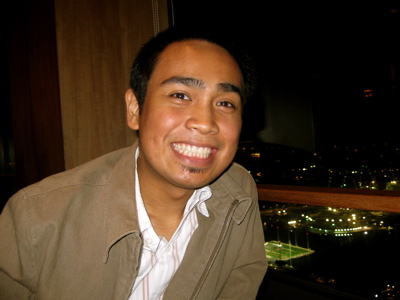 We were offered dessert by our lovely server, but we declined, because we wanted to try out the Max Brenner at the Esplanade (blogged here).
All in all, our dinner tops all our other anniversary dates. Equinox Restaurant deserves 10 thumbs up with its great view, romantic atmosphere, prompt and friendly staff, and delectable food! Our dinner was quite pricey (the most we've ever spent on food alone), but the experience was definitely well worth it (plus, JR's Citibank got us a twenty percent discount too!).
We left the restaurant very happy and contented! =D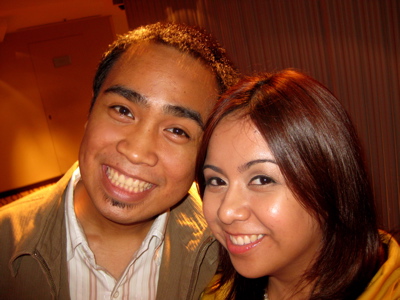 Happy 5th year to us! <3
More photos here.