I am a girl who loves clothes, shoes, bags, mirrors, makeup, and everything that can be classified as kikay. Don't get me wrong, I am actually quite a geek who likes to bury my head between books, but I love being girly too. And I'm very lucky, because the boyfriend supports my love for pretty things. Try reading through my archives, and the proof is there.
A few days before our fifth anniversary, the boyfriend even took me to a MAC shopping spree! Look at what I took home: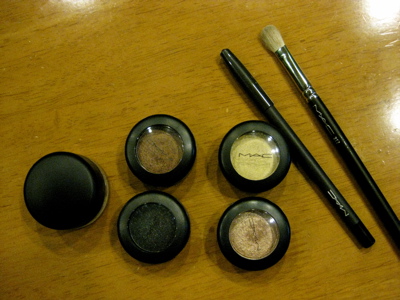 Paint Pot in Painterly. I use it as an eyeshadow base, and it keeps my makeup intact. I even fell asleep with my makeup on one afternoon and woke up with my eyes still looking all glam.
Eyeshadow 1: Bronze (Frost).
Eyeshadow 2: Black Tied (Velvet).
Eyeshadow 3: Dreammaker (Starflash).
Eyeshadow 4: Honey Lust (Lustre).
Powerpoint Eye Pencil in Engraved.
Blending brush #217. Before heading off to the Mac store, I was already set on getting the #222 brush, but it turns out that they don't even sell it here in SIngapore. :-/ I'll have to ask my cousin in Canada to get it for me instead.
I am a spoilt little girl, aren't I? <3