Lifehouse has been my favorite band for the longest time. Their songs, no matter how old they are, still find its way on my iTunes' most played. If you even take a peek at my music library on Last.Fm, it would be of no surprise to find Lifehouse on the top of my artist list. I just never get tired of their music.
They had a huge concert back in Manila a month after I moved Singapore. It was disappointment at its best, because I told myself that I wouldn't miss them play if they came to Manila after I missed the Maroon 5 concert (they're also one of my favorites) a few months earlier. Going back home just for the concert was not even an option, so I resorted to listening (and reading) to friends share their concert experiences. In the end, I was even more jealous.
I had forgotten about the missed opportunity of seeing them live, when the biggest surprise came just two days after we arrived back from our Manila trip; Lifehouse performing in Singapore! JR didn't even have to ask me if I wanted to go, because he bought us tickets before I even found out about the whole performance. I was in the middle of an afternoon nap and was still half asleep when JR sent me a text message about it. I got up so fast that I almost fell off the bed (oh my dear life, time to check out life insurance rates, perhaps?).
So, how was my Lifehouse experience, you may ask?
FANTASTICALLY MIND-BLOWING!
October 4, 2008: Lifehouse at St. James Powerhouse.
With a few friends and Jeff, our housemate, we walked to the concert venue from Vivo City 45 minutes prior to the gate opening. Before we could even get 100 meters from the front door, we were already greeted by a long line of people. Apparently, the line started when a few people arrived 3 to 4 hours earlier. Intense! It was hot and humid, but I didn't mind having to wait in line. I was able to meet friends of friends, who happened to be the same people JR and I ended up standing with at the concert itself, as well as seeing id in line.
Waiting in line and standing at the exact place that we were was also a bonus, because the bus that transported the band to the back entrance drove passed us. Okay, so they passed everyone that was in line, but what made it more worth it was when Jason Wade and the rest of the band looked out the balcony that was right above us. He gave a quick wave and hello with his wide smile, making our little group shriek (yes, we sounded like young High School girls!) in delight! We were all too slow to whip out our cameras to be able to capture the moment, so I took a shot of the balcony instead. =P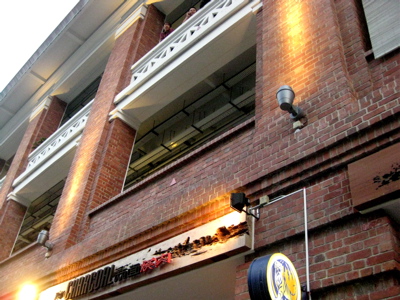 By the time we got inside, it was already half past seven in the evening. The club, not the best place for holding quite an amount of people (it had a bad layout for a concert venue with posts in the middle blocking several views of the stage), was already jam packed. We stood way back near the bar (where id and I were able to exchange a few stories), before moving to the VIP corner (again, thanks to our connections!). Our friends settled up to the VIP area, while JR and I decided to just stay below, for a better view.
Just before eight, my world almost stopped when the band finally walked on stage!
The Set List:
Make Me Over
"I'm losing myself just to find a place in your mind." The crowd wasn't as fired up as I hoped with this opening number. I didn't know the entire lyrics of the song, but managed to remember the chorus, and sang along while I could.


Spin
The transition to this song was awesome, because I didn't even realize that they were already playing the second song until Jason actually started singing the first line! Finally, the crowd (or at least on our side) was all hyped up, jumping around and singing along.


Am I Ever Gonna Find Out
Not one of the most popular Lifehouse songs, which I guess is why the crowd became rather silent.


Simon
After three upbeat songs, the band took it a little slower and softer with this song, bringing the crowd singing again. The funny thing was that while I was taking a video of this song, I realized that my camera's lens was dirty (which explains why dozens of the photos I took beforehand were blurry!). I had to cut the video short so I could clean my lens! Watch the video on my youtube.


Hanging By A Moment
This was when the crowd went wild. The song, being the band's claim to fame single, had everyone singing from start to finish! Video from my camera here.


Blind
This was the perfect song right after Hanging By A Moment, as it kept the crowd alive. Again, everyone sang from start to finish. One of my favorite songs of the night! I was able to take a video, but I had to cut it short, because one of the security guys told me off (and 3 others) for recording the performance (but you can guess what I, and the others who also got told off, sneakily did a few songs after that. =P.


Somebody Else's Song
"Ive Never been this lonely, Ive never felt so good, I Can't be the only one misunderstood"


From Where You Are
The crowd goes quiet again as the band gave the crowd a chance to just enjoy listening to them with this slow song.


Bridges
The right side of the stage where Bryce, the bassist, stood was blocked from our view (because of the big column smack in the middle!), so there was a quick exchange of puzzled looks from our crowd when someone started singing while Jason was obviously far away from his own mic stand. It turned out to be Bryce, who sang the entire song. It was a fresh change hearing one of the other band members singing.


Better Luck Next Time
The band rocking it again. JR and I were staring at Rick, the drummer, the entire time. He was so good! JR was so inspired that as soon as we arrived home, he headed straight to his electronic drums to practice! XP


Whatever It Takes
She said "If we're gonna make this work, You gotta let me inside even though it hurts. Don't hide the broken parts that I need to see." She said "Like it or not it's the way it's gotta be, You gotta love yourself if you can ever love me." My favorite and most awaited song of the night!!! Again, the crowd is alive and singing! And I did say that I did something sneaky, right? Over here! I just couldn't help myself. The whole recording is a bit of a mess, with the camera pointing to the ceiling in some parts. That's because I was discreetly recording it, trying not to get caught at the same time! Lol!


You and Me
A second or two into the intro and the crowd goes wild again! Some hands were up in the air, and a couple of cellphones too. This song made me want to cuddle up into JR's arms. "I don't know why, I can't keep my eyes off of you." <3 Video, again a bit rocky (still trying not to get caught! =P), here.


First Time
"Maybe I'm wrong, I'm feeling right, Where I belong with you tonight, Like being in love to feel for the first time." This song has been playing again and again in my head since the concert, which is why I used part of its chorus as my title. The crowd gets more alive with Jason screaming out "Singapore" before the end of the song. A perfect finale, only it wasn't really over. Our side of the crowd started clapping and shouting out for an encore, and soon enough the entire audience joined in.


Encore:
Storm
Surprisingly, only Jason came out with his guitar in tow, and that gave away this next song. It was a treat just having his guitar and no other musical instrument in the background, as it highlighted Jason's strong and husky voice which I truly love. I enjoyed singing along with the crowd too. Video here.


Disarray
The rest of the members come back on stage, with the audience cheering them on. They were meant to sing just one more song, but they were feeling the crowd's excitement, so Jason promised two more. I jumped and sang along with my side of the crowd, enjoying every minute of it.


Broken
I was anxiously waiting for this song, and was blown away by how they were able to bring out a powerfully grandiose sound from an otherwise mellow song. The extended ending truly rocked the house down as the perfect finale. I absolutely loved it, and managed to voice that out by screaming and cheering on 'til the last note was played. I was literally on cloud nine! Video here (cut-off at the end, because my camera ran out of memory).
The experience made me fall in love with Lifehouse even more, and the concert is now mentally listed as one of my favorites ever (now at par with the Janet Jackson and the two Michael Jackson concerts I watched back in Brunei). Everything, from Jason Wade's singing to the band's instruments, to the sound and lighting engineers, was excellent. Even the spot where we stood, blocked view included, was just perfect, as it blended us with other Lifehouse fans who sang along with us to every single song! The small venue (I'm guessing the entire audience was under 500) also made the entire performance more intimate, as felt with the band's interaction with the crowd. They really took the time to engage with us.
It was truly one of the best nights of my life!
And now I leave you with a few photos: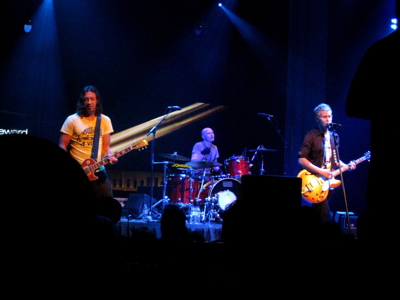 Ready to rock the crowd.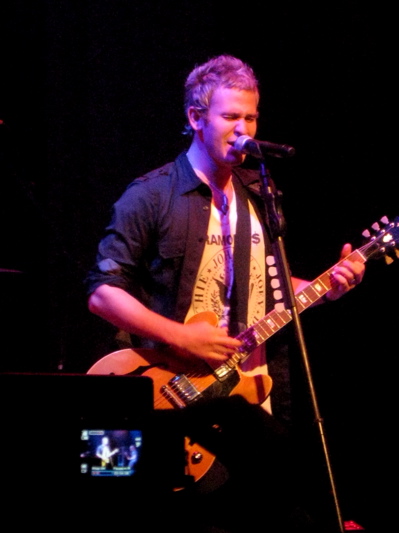 You could really tell that he sang the songs with all his heart and soul.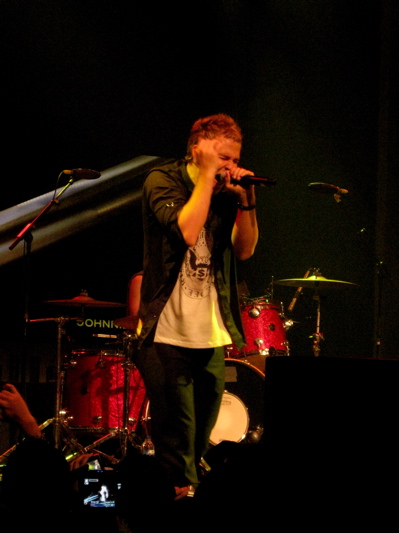 I love this photo of Jason Wade.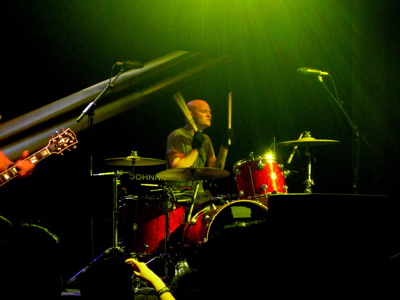 Rick Woolstenhulme Jr. on Drums. Drummers are generally hard to photograph, which explains why I have very little shots of Rick.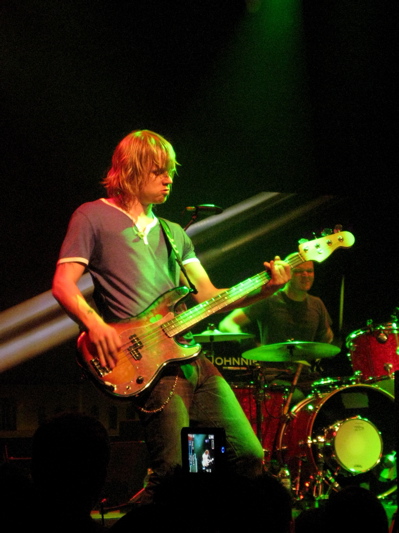 Bryce Soderberg on bass. He was awesome! And I didn't know he could sing too.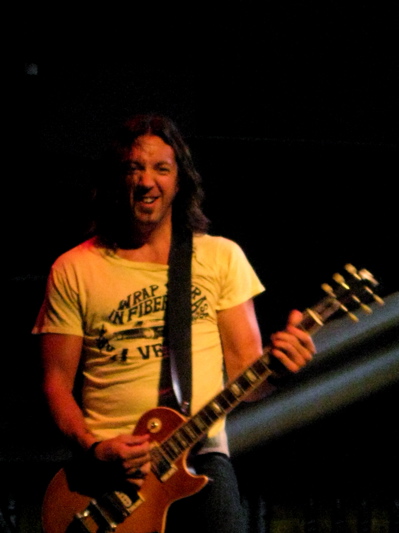 Australian guitarist, Ben Carey. He's been touring with Lifehouse.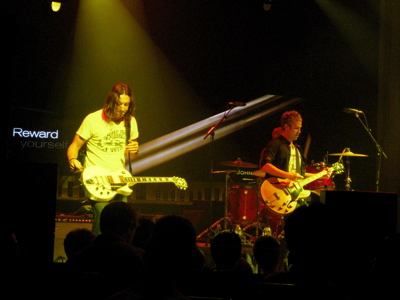 Awesome lighting effects.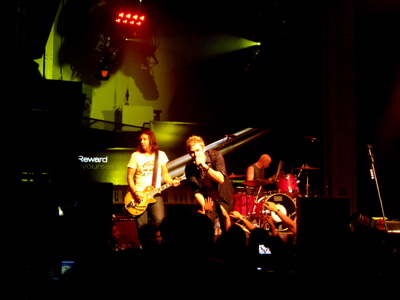 Jason engaging with our side of the audience.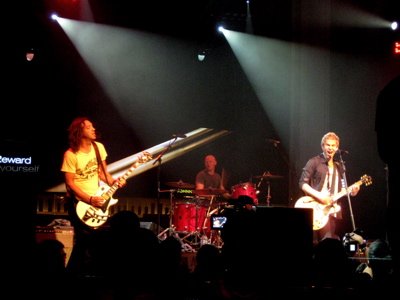 I love Jason's expression in this photo!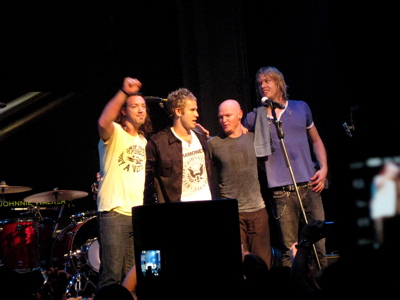 The band after their finale. <3
More photos in my flickr and multiply.
Videos on my youtube.
—
P.S. A Belated Happy Birthday to Bestest! Check out her spanking new blog! =)