I promised to do a review on the Coastal Scents 88 Eyeshadow Palette that I recently purchased, so here it is. I'm not an expert with makeup, and come to think of it, this is actually my first time to share a look that I made. But I do like to play around with colors, and with the wide range that the Coastal Scents palette offered, I just had to share the fun.
I have to say that the palette is a great starter kit for those who are fairly new to makeup and eyeshadows, and need something to play around with without burning a hole in their pockets. One could probably create hundreds of different looks with just this palette.
The eyeshadows come in fairly small pans. They're not as big as MAC eyeshadows, but I doubt anyone can finish an entire pan that easily anyway, so I say it's still a steal. This is how small they are next to a Singapore Dollar and a Philippine Peso: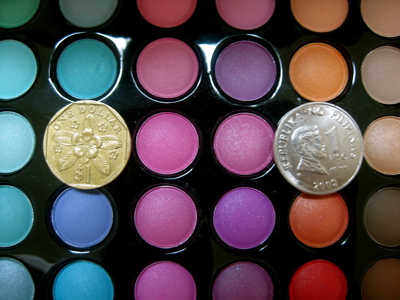 They're a little more powdery than MAC or Clinique eyeshadows, but definitely less than most drugstore brands out there. For something so affordable, it is a big surprise that these are wonderfully pigmented.
I used my MAC Paint Pot in Painterly underneath as a base, and I tried this on during the boyfriend's band's gig last Saturday. I was very happy with the color payoff, as well as how easy it was to blend, but I was even more thrilled with its staying power! After sweating a little during the gig (it was held outside a mall), taking a bus ride to have dinner, heading out to Clarke Quay for a round of drinks, and coming home for another few hours of drinking with some friends, the colors on my lids were still intact at five the following morning! No creases and no re-application needed!
Using shades of purple and lightly adding black at the crease and outer V, and using one of the light/creamy colors as highlight, this is how my eyes looked: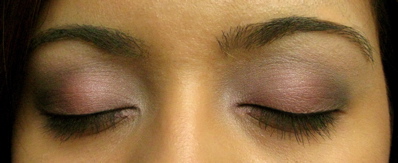 Please excuse my dark and bushy eyebrows. This was taken prior to grooming and bleaching them. =P
The colors don't look as bright in these photos (somehow, my camera also made it look very neutral), because I chose not to look too overpowering. Even my eyeliner (I used MAC Powerpoint in Engraved) is thinly done. I wanted a light and subtle look. =)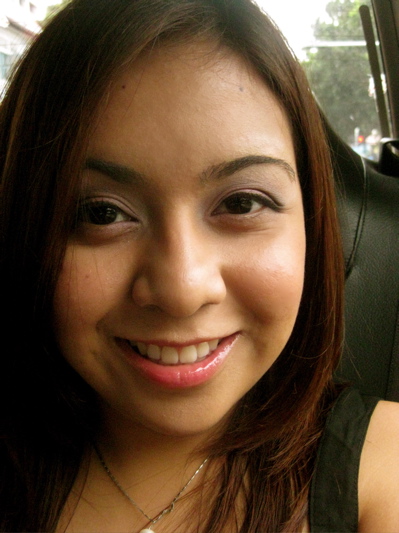 Overall, I'm very satisfied with the Coastal Scents 88 Eyeshadow Palette. For only Php1,350 (around SGD45), it was definitely worth buying. I'm sure this will keep me from buying expensive MAC eyeshadows for a couple of months (I can see the boyfriend nodding in delight! haha!), because I know I'm still going to have lots of fun playing with the colors of this palette. ^_^