My all-time favorite drink at Starbucks is Toffee Nut Latte, and I find that it's such a bummer that it's only available during the Christmas season. The rest of the year, I always order a cup of caramel machiatto and ask for hazelnut syrup instead of the usual vanilla. I learned it from a nice barrista who shared the tip with me several years ago. It almost tastes like Toffee Nut Latte, and I love it.
Either way, I am still one of those who perk up when I know that the Red Cup Season is near. Yesterday officially started the season, so I rushed out to finally have my favorite fix. Seeing the red menu board and the barristas in their red polo shirts was as much of a treat than having coffee itself.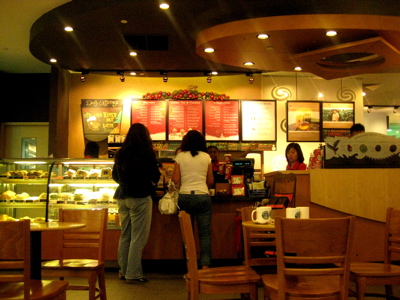 Toffee Nut Latte, I missed you! I enjoyed an hour in my comfy seat reading my book, munching on my Floss from Bread Talk and sipping my cup of goodness. <3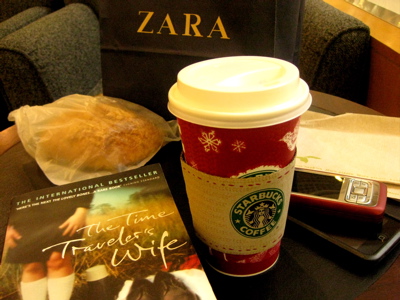 Unfortunately, Singapore doesn't have the Starbucks Planner gimmick like in Manila, so I guess I'll have to break my yearly tradition of collecting stickers to get one or two (I collected three back in 2006!) planners. But I'm not too concerned about it, because from the photos Venice shared in her blog, it's not as inviting as I hoped. I'll probably just get another Moleskine planner for 2009.
On other news, my brother and his partner are going country hopping (no Outer Banks rentals though) for two and a half weeks, and they're flying into Singapore tomorrow for three days. =) I'm excited to see them, and excited to get my goodies too! Haha! I'll share what I made him bring me in my next post. =)