Work has kept me really busy that on my days off, which are unfortunately only Sundays, I usually take advantage and sleep in the whole day. For the past three Sundays, the bed has been my lovely companion.
I realized that I haven't been out to really enjoy my only work-free day of the week, so today I finally headed out to treat myself. :-)
I came home with these goodies: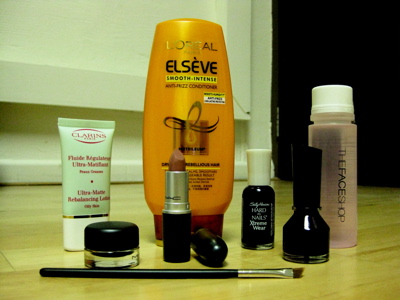 Clarins Ultra Matte Balancing Lotion. I got this for free through their 7-day trial. I have combination to oily skin (must really try out more healthy grilling options), and this product promises a long-lasting oil-free face. Will see how it goes.
L'oréal Elsève Smooth Intense Anti-Frizz Conditioner, because the bottle in my bathroom is almost empty.
Sally Hansen Xtreme Wear nail polish in Black Out, which I'm wearing right now! :)
The Face Shop's Fragrant Nail Enamel Remover in Pink. I love the smell of this!
The Face Shop Nail Polish in RD303.
MAC Fluidline in Blacktrack. I got tired of having to sharpen my MAC Powerpoint all the time. =P
MAC #266 Small Angle Brush, for the gel eyeliner.
MAC Lipstick in Hug Me (Lustre).
I also got myself new black flats from Schu: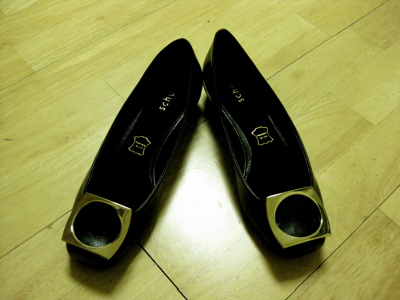 These were at 50% off! I love shopping during Sales! =)
I'm also anticipating the two-week trip back home to Manila for Christmas, because it means more time to relax and to go shopping! =)