One of my goals for 2009 is to be able to read more. I'm targeting to read about 50 books by the end of the year. Although the amount seems quite far fetched, I am still hopeful that I will really accomplish it.
Two months into the year and I've already read 8 books: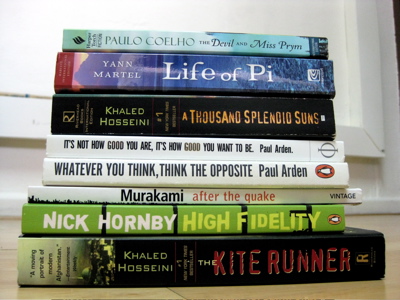 (Not in the order I read them)
"The Devil and Ms. Prym" by Paulo Coelho
"Life of Pi" by Yann Martel
"A Thousand Splendid Suns" by Khaled Hosseini
"It's Not How Good You Are, It's How Good You Want To Be" by Paul Arden
"Whatever You Think Think The Opposite" by Paul Arden
"After the Quake" by Haruki Murakami
"High Fidelity" by Nick Hornby
"The Kite Runner" by Khaled Hosseini
Not a bad start, I must say.
I also have these books waiting to be read: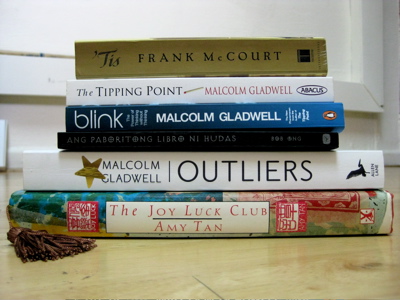 "'Tis" by Frank McCourt
"The Tipping Point" by Malcolm Gladwell
"Blink" by Malcolm Gladwell
"And Paboritong Libro Ni Hudas" by Bob Ong
"Outliers" by Malcolm Gladwell
"The Joyluck Club" by Amy Tan
Once I finish these, I'll need to do some more book-shopping to be able to reach my 50-book goal. Searching through Amazon books has been a great help too. If only I had all the money (and time) in the world, I'd gladly buy and read all the books that I can! =P
If you want to see my book-reading progress, you may check out my netvibes. I actively tick out everything I read in my page there. =)