Books are generally quite pricey, but being the bookworm that I am, they are the things that I simply cannot live without. I find pleasure in flipping through pages and pages of the different experiences the characters encounter in the stories: may it be sickness in the family, romantic love affairs, adventure rv camping or excessive shopping sprees. Getting hooked and anticipating every turn of the page is something that I enjoy, even if it means getting a little less sleep.
In order to be able to regularly indulge myself with the luxury of buying books, I often go into used bookstores to check out titles that may tickle my fancy.
Over the weekend, I spent some time in Books for Less in Mall of Asia and managed to take home these two books: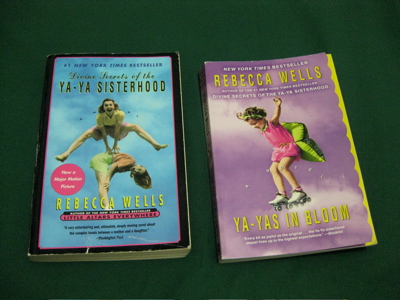 Rebecca Wells' Divine Secrets of the Yaya-Sisterhood, and Ya-Yas in Bloom.
The former was P98 (around $2.95SGD), while the latter was only P75 (around $2.26SGD). Such a steal considering they are both in perfect condition! The second book even looks brand new!
Now I have these to keep me busy for the next couple of days. I just love used bookstores! :)