Our Caramoan Getaway was actually sandwiched between several days in Legazpi City in Albay, Bicol. Another couple of days well-spent with a wonderful group of people!
Thanks to Shella's warm, generous and extremely hospitable family, our group was well taken care of during our entire stay. We were driven around the city, fed to the brim and were given the luxury of comfortably staying in their beach house too. Such a lovely family! :)
Legazpi welcomed us with great weather, awesome food and this breathtaking view on the plane: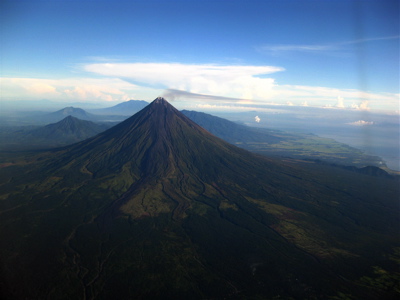 The beautiful Mayon volcano as seen on the plane, a few minutes before we landed.
It was raining in Manila when we left, so we were all praying for sunny weather in Legazpi. See how strong our combined prayers were? :)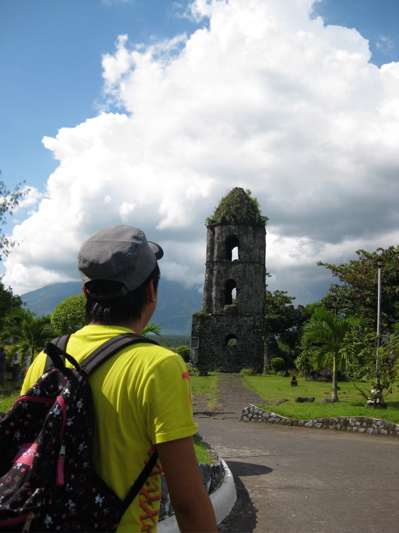 Visiting Cagsaua Ruins.
More under the cut: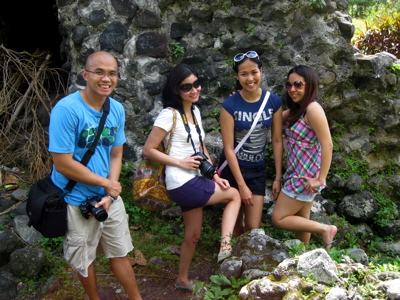 Mother nature was too generous with the sunny weather that day. Milo, Nina, Shella and I hiding behind the bell tower, because the sun was too hot! Haha!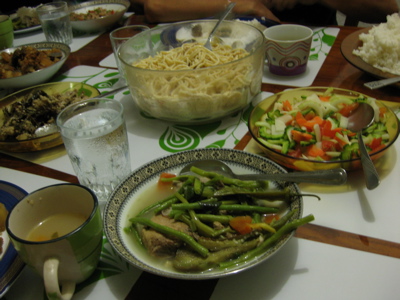 The Moyano family served us a feast during our first night in Legazpi!
Fried fish, laing, sinigang, bicol express, adobo (Bicol-style), veggies and pasta. *drools*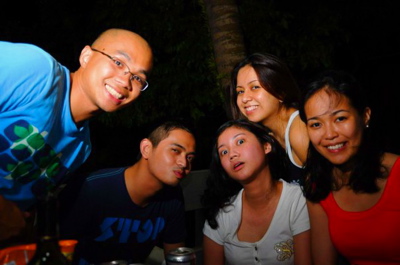 The night before we left for Caramoan…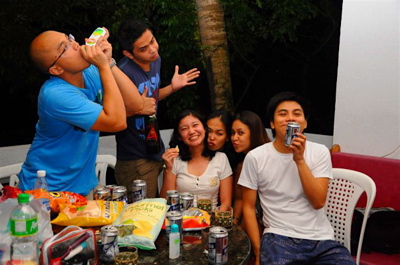 …we decided to cut down on our sleeping hours by having a few drinks and fooling around in the beach house. HAHA!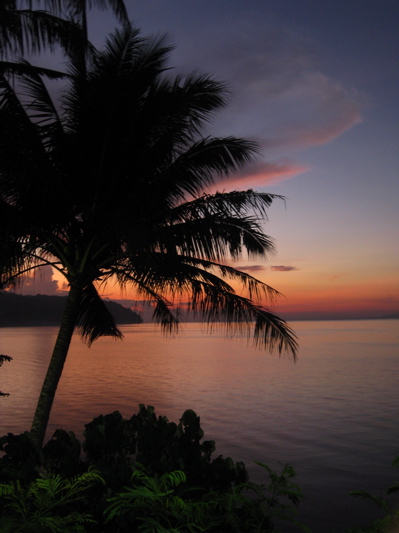 Orange skies greeted us early in the morning before leaving for Caramoan. I would love to wake up to this majestic view every day!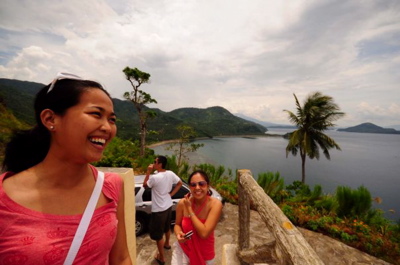 After two days in Caramoan, we head back to Legazpi City still high from our escapade. We made a quick stop at the viewing deck along Tiwi Sangay road. See how happy we were? Every minute of the trip was filled with moments like this. :)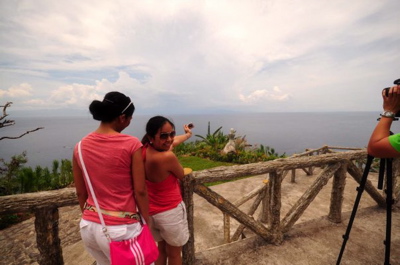 Now that's what you call a real camwhore! Posing for three different cameras, all at the same time!!! Hehe!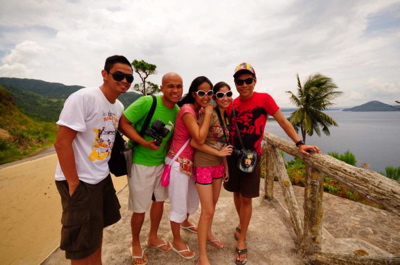 These people overdosed me with belly-aching laughter for five days. :)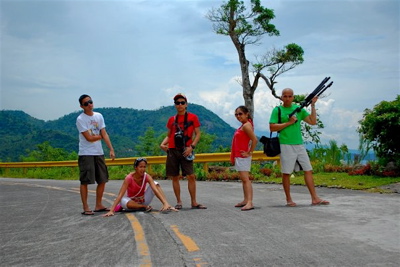 I like being with people who enjoy the camera as much as I do! =D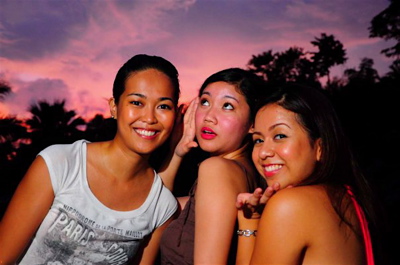 Back at the beach house. Mini photo shoot before driving to the Moyano's villa. =P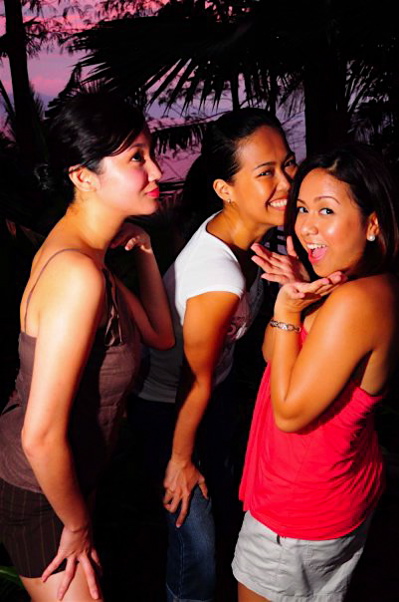 Never a dull moment with these ladies. <3
Group shot! Abed, Nina, Shella, me, Milo and Carlo. :)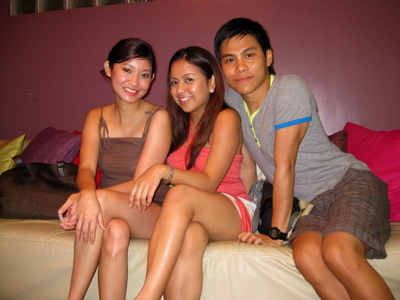 Nina, Carlo and I at Shella's villa. Ready to dig into more yummy food. =)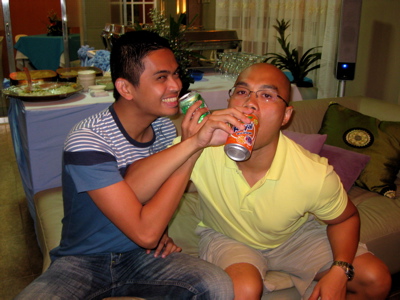 Broments with Abed and Milo. 'Nuff said. HAHA!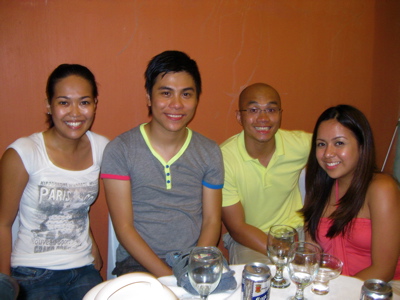 Having drinks: Shella, Carlo, Milo and I.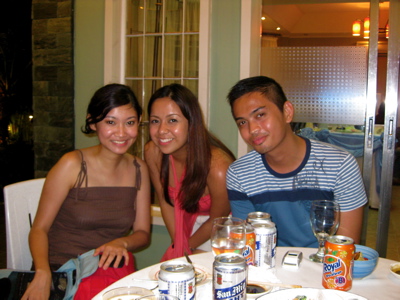 With Nina and Abed.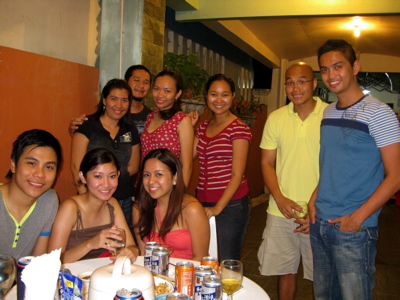 With Shella's siblings, cousin and sister-in-law. :)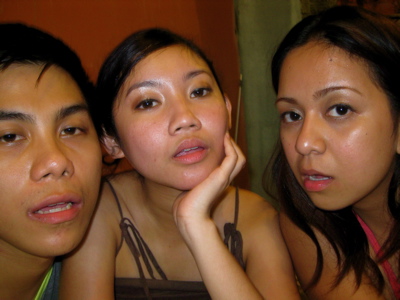 Doing our official Bicol-Caramoan face: the Lady Gaga look. XD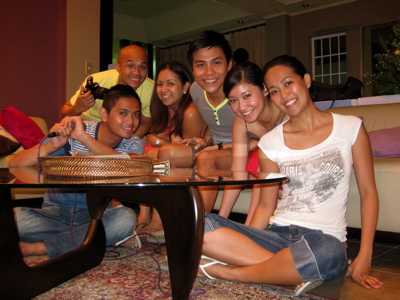 Karaoke Time! :)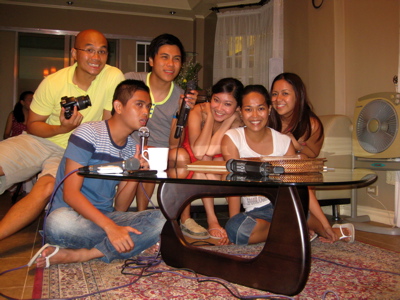 Thanks to the Moyano's high-tech entertainment system (complete surround sound and a big LCD TV — no need for plasma mounts), we spent the night singing.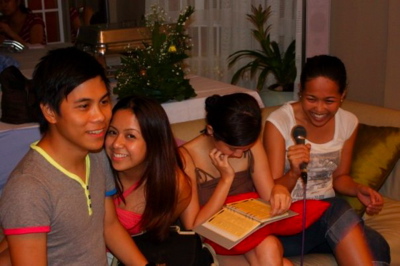 Well okay, THEY sang. Milo spent the time taking loads of photos, while I just happily posed in most of them, smiling the night away. =D LOL!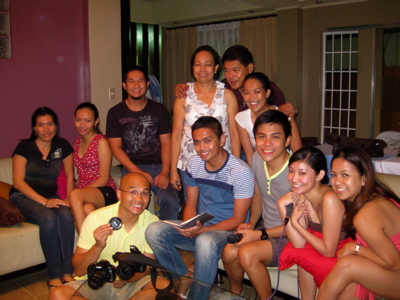 With Shella's family (minus her sister). <3 Thank you so much for taking care of us!!! <3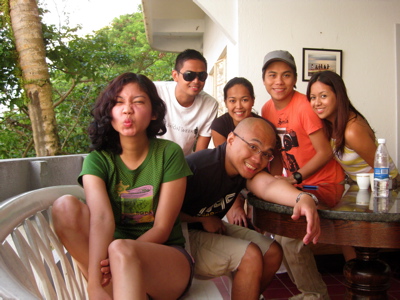 Rise and shine! Up extremely early (5AM!) on our last day.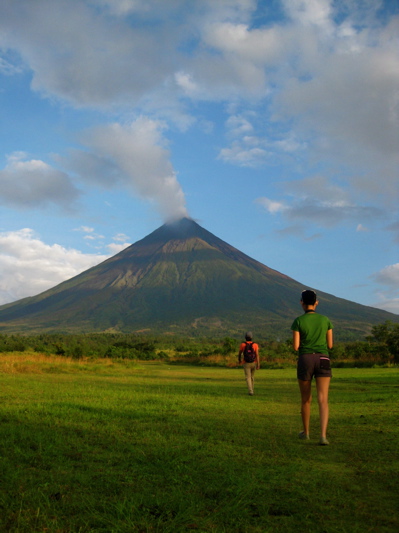 Woke up mighty early to catch the morning sun in front of  Mayon. <3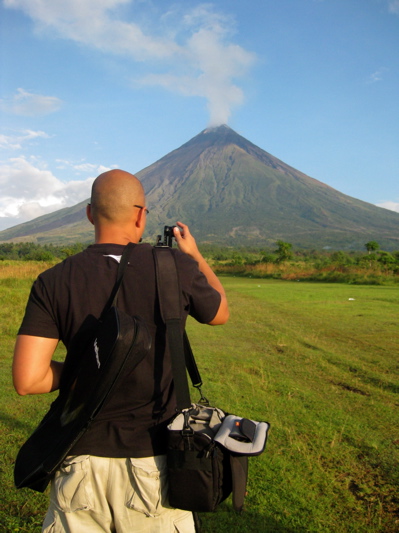 More 360 panoramas from Milo! 360philippines.com: Mayon Volcano.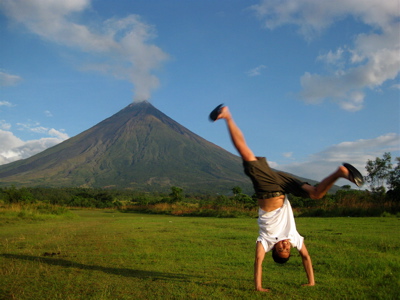 We went shutter-happy! Abed doing the cartwheel.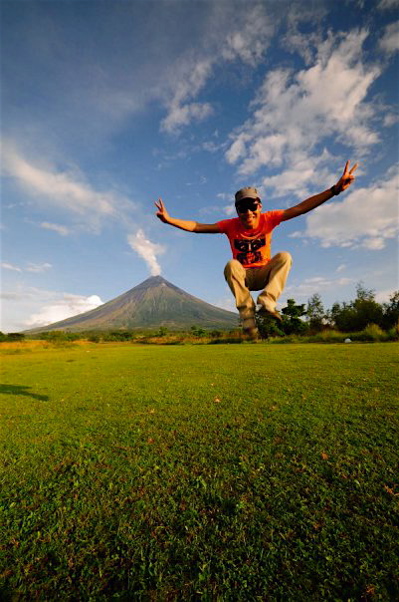 Carlo skateboarding the Mayon.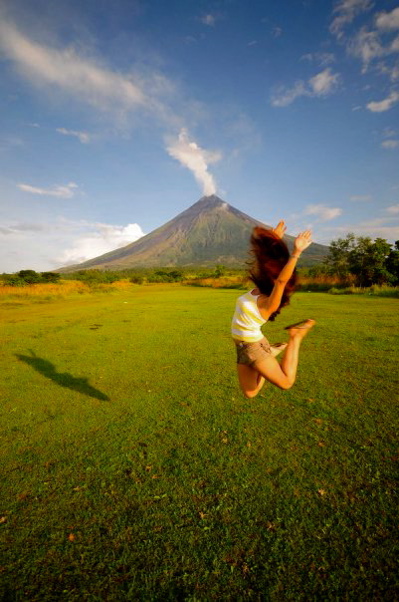 And me, blown away by Mayon. Literally.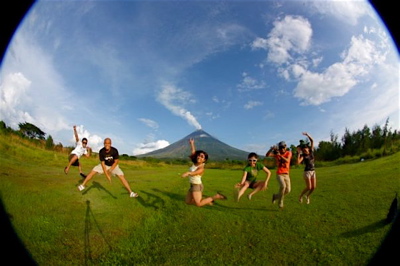 And of course, an obligatory group jump shot is a must in every trip.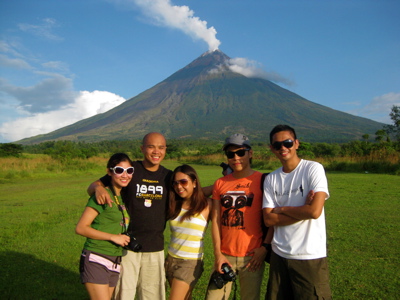 The tourists. We loved Bicolandia! <3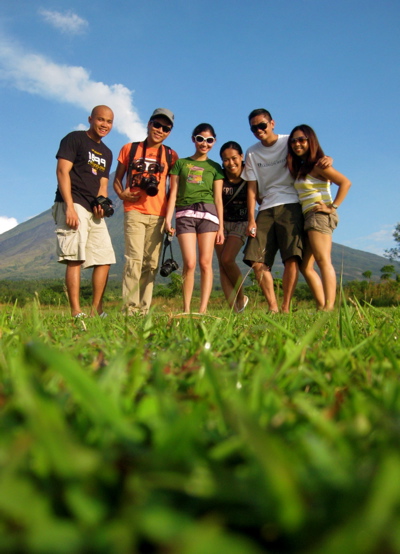 Milo, Carlo, Nina, Shella, Abed and I. Thank you for the wonderful trip, guys! <3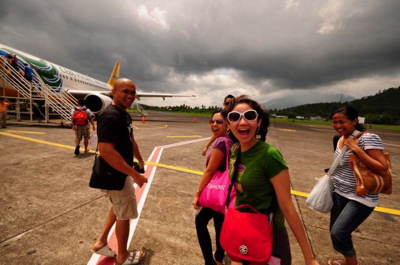 The whole trip was full of happy moments like this. <3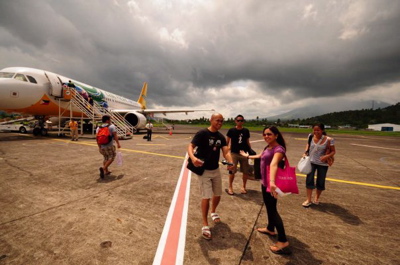 And it was as if Bicol was also sad that we were leaving that day. Cloudy skies, and a heavy shower poured as soon as the plane took off! :'(
Trip highlights:
Being pampered by Shella's entire family! They're truly one set of amazing people! A million thanks! <3
Shella's brother driving us around, and taking us to Doña Pepita Golf Course super early in the morning (despite only a few hours of sleep!), so we could get a nice and uncrowded view of the Mayon volcano. Thank you! :)
The numerous driving back and forth between Shella's MANY houses in Bicol! HAHA! I think that's what really tired us the most. LOL!
Unwinding in the Moyano beach house. It was a great way to rest and relax with the bunch.
Staying up late with the group, even if we had to be up really early in the morning. Great conversations are love! :)
Waking up to the lovely sunrise view of the beach. Something that I would love to enjoy every single day!
Our endless photo shoot moments. The click of the shutter could be heard almost every few minutes! The best visual memory of the grand time that we had! <3
Laughing. Laughing. Laughing. <3
Our Legazpi escapade capped off our entire vacation. It is of no question that we indeed had a ball of a time! We had so much fun that even weeks after the trip, we still have a big getaway hangover! <3<3<3
** More photos in my Multiply.
** Some photos grabbed from Carlo and Milo.