Throughout the ten years that I've been blogging, I've gathered quite a number of online friends already. Though I'm not as active in the current blogging scene, I still keep in touch with those that I've known for quite a while. A handful of them have actually turned into real life friends of mine. One of them is Rachel, or Nikz as she is popularly known online. :)
She was in the country for a several weeks last month, so we met up for late lunch the day before she left.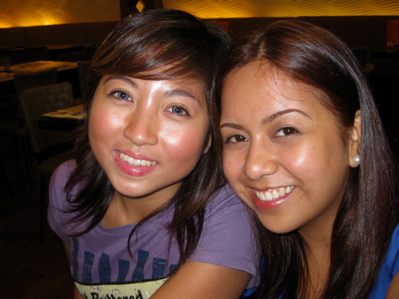 Nikz and I at Banana Leaf
We don't get to talk much nowadays (last time we had a long conversation was when we had coffee during her quick trip back in 2007), so seeing her was a great treat. It's always nice catching up with her, because we can just quickly pick up from where we left off. (: I'll see you again SOON, Nikz! Hehe!
In other news, my mom arrived back from Vancouver this morning. Stashed in her luggage was my pack of makeup orders! They've been sitting on my bed since early this morning, but I can't seem to get myself to open them yet. They're so pretty, I've just been staring at them all this time! HAHA! Will post them once I'm done ogling and maybe after I nap. Been up all night, I need to head off to bed and dream of sunsets and Orange beach hotels. XP