Last Saturday, typhoon Ondoy brought mighty rains that caused destructive floods in several towns and cities in Metro Manila. The normal amount of one month's worth of rainfall was experienced in a span of just six hours!
The Philippines, being an archipelagic country, is generally no stranger to occasional flooding; Especially during this time of the year when minor flooding is almost always expected in several areas. However, the entire metro was taken by surprise when Ondoy's wrath struck rapidly from city to city.
In Parañaque, half our village was submerged in murky water. In only a few minutes, water was already waist deep outside our gate! The water rose faster than we had imagined that we had to abruptly stop in the middle of our lunch to start lifting furniture and other equipments to higher spots.  Thankfully, both our houses were spared with the flood only reaching our garage and stopping a mere three inches below our front door.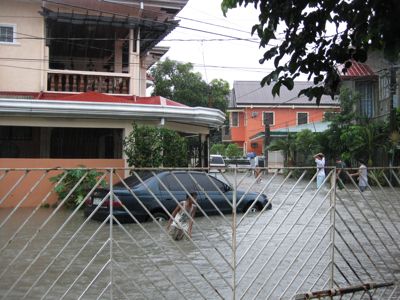 Outside our gate. Water rose a little higher after a few minutes.
It was an even bigger blessing for our village, because after only two to three hours, water began subsiding already. By then, we were able to walk outside of our house to inspect the damage to our village.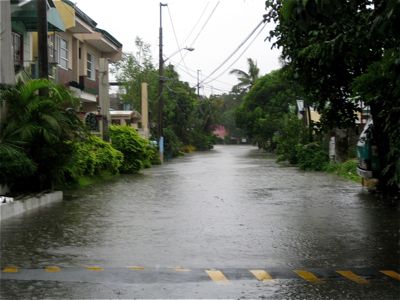 The street next to ours was still heavily flooded. If you can see our village chapel at the end of the street, water almost reached the roof!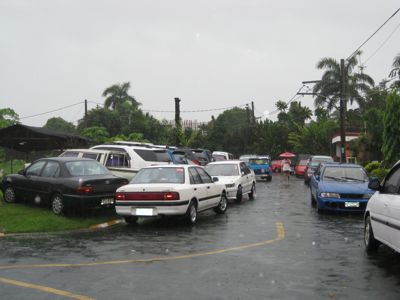 Dozens of cars were parked in this higher part of the village (to save themselves from having to hire car/rv towing services). Several people from BF were also caught in the flood, that they had to take temporary shelter in our neighbor's house until the water went down.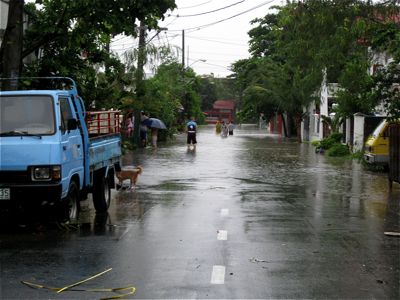 Our street, with about 40% of the water gone.
Dozens of our neighbors were  left stranded in their flooded homes. By our village gate, water was almost one storey high!
When the water started going down, we took two families, including a nine-month-old baby boy, into our home. They were stuck and locked in on the second floor of their houses, because grills were secured on their windows. To save themselves, they had to pull out their air conditioners and climb out of the tiny holes
They showered, rested and shared with us their stories and fears during the most crucial time of the flooding. And before they left (the water completely subsided by around 8pm), we shared a candlelit dinner.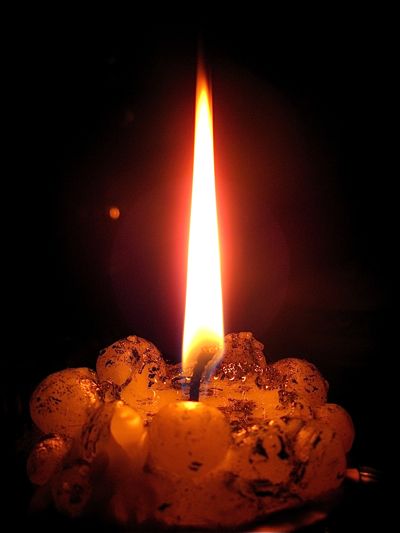 Waiting out the storm in the dark.
What our village experienced was nothing compared to the other areas affected. People were stuck in their flooded houses, some even on their roofs, two stories high. Others were even stranded in their submerged homes with no food to eat for up to three whole days!
Ondoy's Trail of Fury c/o gomanio. This video breaks my heart every time I watch it. :'(
Hundreds and thousands of Filipinos have been victimized by Ondoy's fury. As of this moment, death tolls have already reached 247! There are even areas that are still submerged in water.
What's even more saddening is that, less than a week after the tragedy of Ondoy, several other countries have already experienced natural disasters of their own. More flooding, tsunamis and earthquakes.
I am fervently hoping and praying that the worst is over. :'(