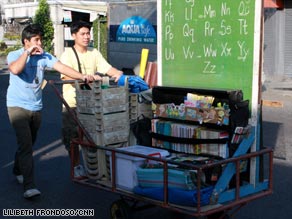 My Sunday afternoon was greeted with another bout of Filipino Pride upon hearing the news that Efren Peñaflorida was officially named the 2009 CNN Hero of the Year.
What an inspiration, not only to Filipinos, but to other nationalities all over the world too. In a world full violence, terrorism, corruption and greed, it is uplifting to know that there are still selfless people out there who truly care about helping others.
I reckon we all have hidden desires to be heroes ourselves. Most of the time, we're all just afraid to take that first step. Peñaflorida's speech was a great reminder that the desire and will to see change and do good is in our very own selves.
"Our planet is filled with heroes, young and old, rich and poor, man, woman of different colors, shapes and sizes. We are one great tapestry. Each person has a hidden hero within, you just have to look inside you and search it in your heart, and be the hero to the next one in need.
So to each and every person inside in this theater and for those who are watching at home, the hero in you is waiting to be unleashed. Serve, serve well, serve others above yourself and be happy to serve. As I always tell to my co-volunteers … you are the change that you dream as I am the change that I dream and collectively we are the change that this world needs to be."
– Efren Peñaflorida,
Filipino pushcart educator named 2009 CNN Hero of the Year.
Mabuhay ang Pinoy! :)