Only fifty-five minutes away by ferry from Singapore, Bintan Indonesia is quite a popular travel destination for Singapore residents. We've heard a number of good reviews about the small tropical paradise, so JR and I decided to take an overnight getaway for some rest and relaxation.
We booked a room at Bintan Lagoon Resort, and as soon as we got out of the ferry terminal, we hopped on the free shuttle service that took us to the resort.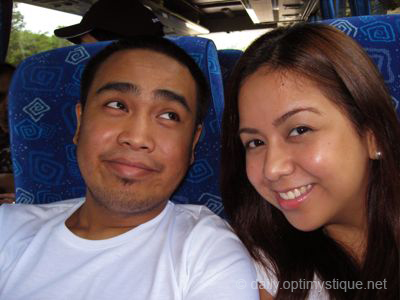 All throughout the twenty-minute ride to the resort, we were greeted with lush greenery left and right. We had our eyes glued to the pretty view outside our windows the whole time that it made the journey seem shorter. We were just admiring the sight of wild monkeys lounging by the side of the road, when our bus finally turned into the resort entrance.
And as soon as we got off the bus, we were served cold refreshments and greeted with welcome dancers.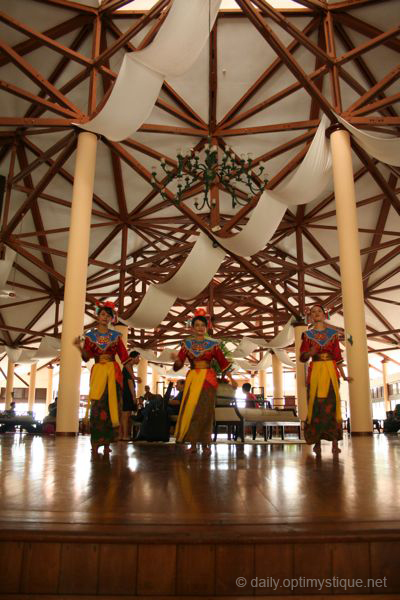 Our room was complete with a queen bed, LCD TV, writing desk, fridge, closet, a small lounging area raised on a platform, bathroom with a tub, and a balcony overlooking the beach. Aside from the bathroom, which looked like it could use some redecorating, the room was comfortable and cozy.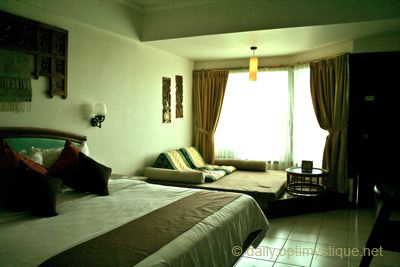 Cables were also provided for internet. We were expecting the connection to be complimentary, but unfortunately it had charges. Since we were just staying overnight, we subscribed to the 24-hour fee of $25SGD. Not too bad, since the connection was quite fast anyway.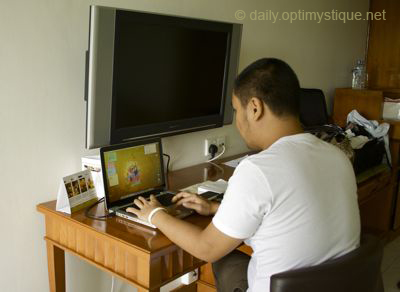 As soon as we got settled in, we headed to have an early lunch. We were disappointed to learn that almost all the restaurants were only open for dinner (the ones that served lunch weren't scheduled to open until another hour or so at the time), so we settled for the cafe by the lobby instead.
We had our sandwiches.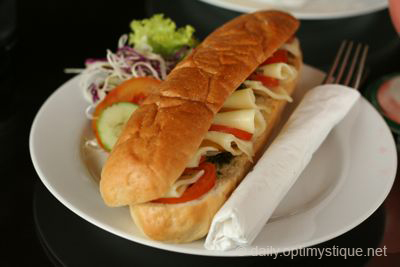 And our smoothies.
These we enjoyed with this breathtaking view in front of us.
And without wasting another minute, I dragged the boyfriend down to the beach right after we downed our meals.
The perfect moment to relax, unwind and take pictures! :)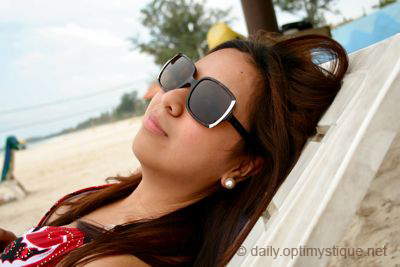 JR took shots of me.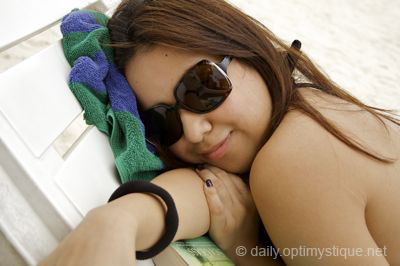 And I of him.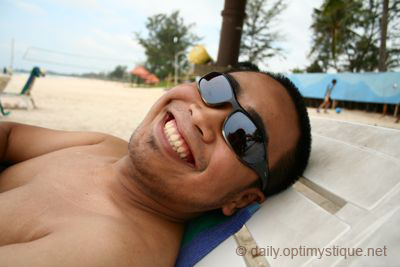 Well, actually I just wanted to take a shot of my reflection! LOL!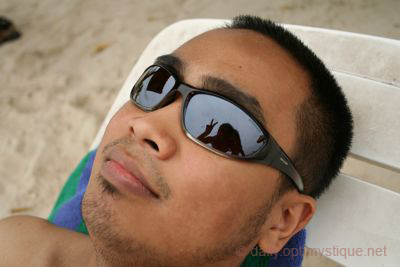 And like a true beach bum, I made sure to have these essentials with me: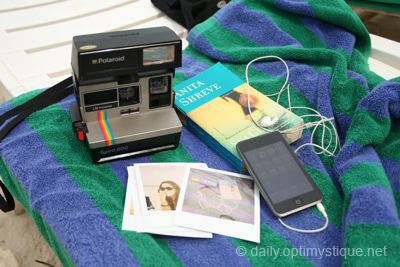 Camera (polaroid love!), book and iPod.
Oh, and of course I didn't forget the cold drink! :)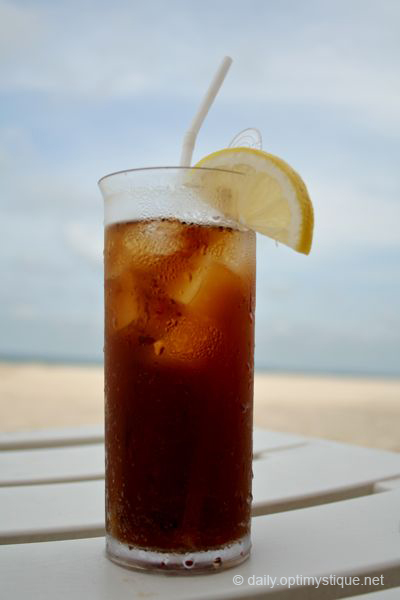 We were having such a great time!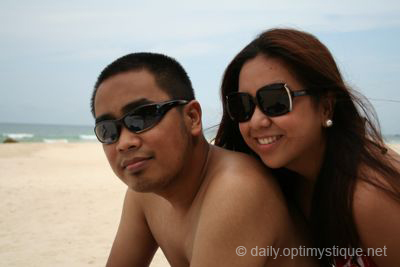 The afternoon weather was perfect for just lounging with our books in hand. But with this pretty view stretched out in front of us, it was hard resisting the water's call.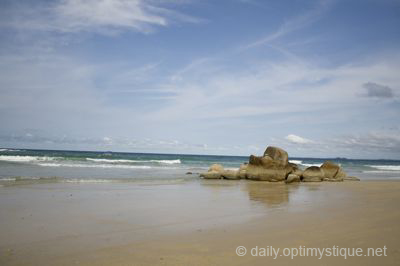 The waves were quite strong.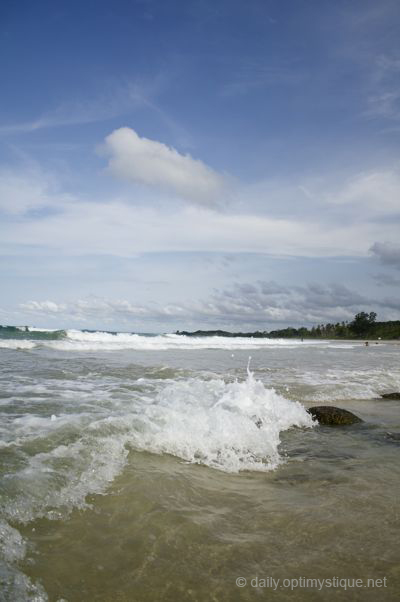 So I just went in and let the waves push me around for a couple of minutes.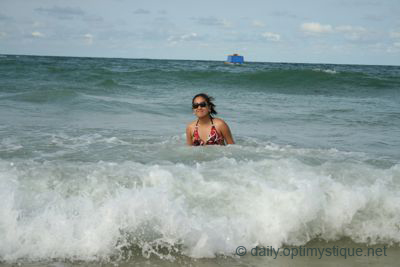 I would have loved staying in the water a little longer, but we had an appointment at the spa for our massage.
The massage was relaxing. Fifty five minutes on the table, where I think I dozed off thrice. It was so good that I even forgot to take photos of the massage room. We walked out so refreshed that we even had the energy to play a game of table tennis for thirty minutes.
It was only after we finished our game when we realized that we had missed the sunset, so we just headed back to our room to rest and freshen up for our belly-bulging dinner at Nelayan Grill.
The only thing on the menu were the main courses and beverages, everything else was serve buffet style. So, as we waited for our main course, we helped ourselves to some soup, bread, salad and appetizers.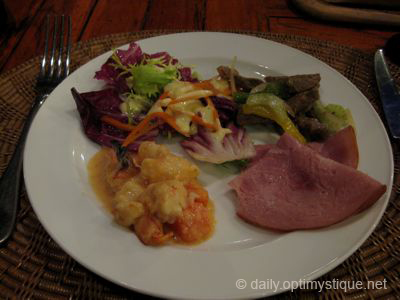 These we downed just in time for our orders to arrive hot on our plates.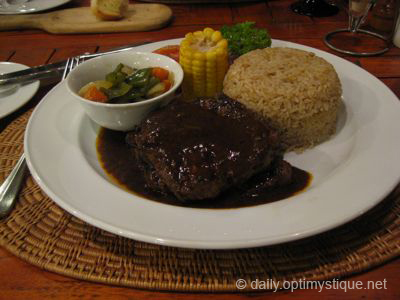 This was delish!
We had steak. So not beachy, but I just wasn't in the mood for seafood. =P
The serving was huge that I only had a tiny space in my tummy left for my dessert!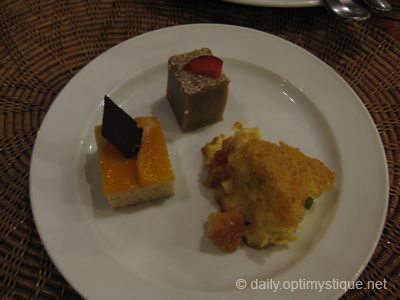 I wanted a bowl of ice cream topped with almonds and caramel syrup to cap the night, but my tummy just couldn't take any more. Besides, I still had my glass of Mai Tai to savour. =P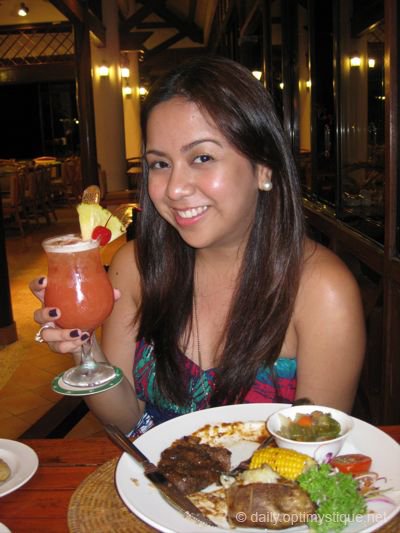 The dinner was filling, in the form of both food and conversation. The perfect end to our day. :)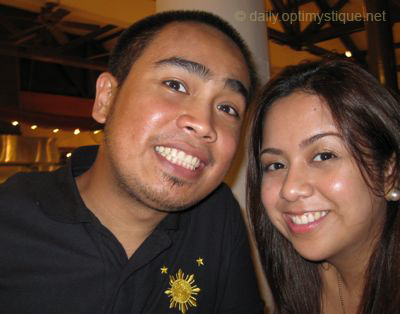 We initially planned to check out the Halloween party at Silk after our dinner, but we were so full that we decided to just call it a night.
Read about our second day adventure HERE. :)
** More photos in my multiply.