This blog and domain just turned seven years on the 4th of April! :)
Throughout the years (including the five years of posting in other domains before moving here), blogging has opened a lot of doors for me and has introduced me to whole lot wonderful people, some of which I can even call real friends now. But most importantly, blogging has brought me to where I am now–happily married to my wonderful husband, who nine years ago just happened to be someone I called a "blogger friend." :)
For seven years, this blog has chronicled a whole lot of experiences and noteworthy memories of my life. That's a pretty long time to be babbling about myself, but I know there are still a handful of people out there who still read my posts, no matter how mundane my adventures are. So in light of this blog's seventh anniversary, I figured it was time to actively involve my readers, including those silent ones too, by holding my very first blog giveaway.
If you're a loyal reader of this blog, I'm sure you know very well about my love affair with Moleskine notebooks. So, to share my love for these wonderful little things, I'm giving away two Moleskine notebooks FOR FREE! :)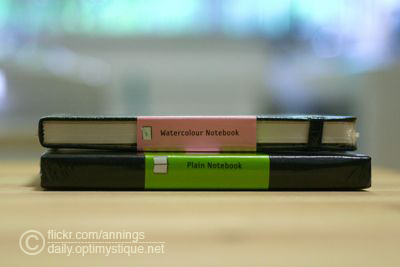 Free Moleskines! :)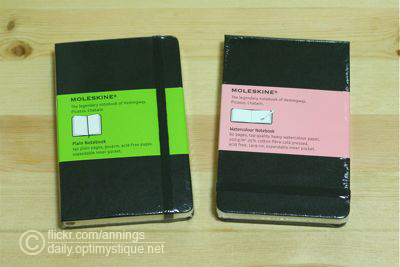 One (1) Moleskine Plain Pocket Notebook and One (1) Moleskine Watercolour Pocket Notebook.
There will be TWO WINNERS. The first will receive the Plain Notebook, while the second the Watercolour Notebook.
To qualify, simply follow these steps (at least the ones in BOLD):
Blog about this giveaway and make sure you add a visible link back to this post.
Subscribe/follow my blog through the Google Friend Connect (found on the right sidebar).
If you have a feed reader (like Google Reader), add/subscribe to my blog feed.
If you have Twitter, you can tweet about this too. Simply click the "retweet" button at the top of this post, then comment below and add the link of your tweet. :)
Post a comment in this blog with your name, email, country of residence, and state why you want a Moleskine and what you're planning to do with it if you win. Plus, paste the links to your blog/tweet about this giveaway too.

It's that simple! :)
Winners will be electronically selected based on this post's comments (so make sure you comment!), through random.org.
You have until Friday, April 30, 11:59 pm Manila Time (GMT+8), so hurry! :)
* I would highly prefer real readers to join this giveaway. If you're one of those people who plan on subscribing to my blog for the sole purpose of winning the giveaway and then quickly unsubscribing (or removing blog posts) as soon as the contest ends, then this is certainly not for you.