Thank you for all your photo requests for my Photos of My Life project. :)
The first set of photos, as requested by my sister Carla, will be my stash of makeup. Now, I don't really have that much makeup (not as much as my makeup artist sister, that is), but I reckon I have quite enough to satisfy my slight addiction to prettifying myself.
Here's my makeup stash: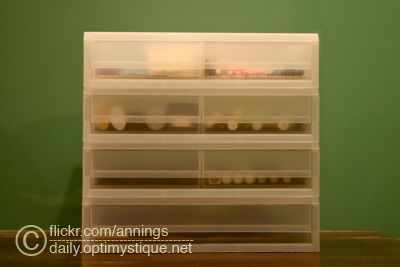 I keep my makeup in these drawers from Muji. If you read back to one of my blog posts almost two years ago, I revealed my neat-freak personality, pointing out my love affair with cleaning and organizing my stuff. Storing my makeup in a neat and organized way is therefore not a big surprise. Like I said in my post before, these drawers were love at first sight. I started out with only two layers, but since these are completely stackable (I can buy extras whenever I want!), I bought 2 more layers a couple of months ago.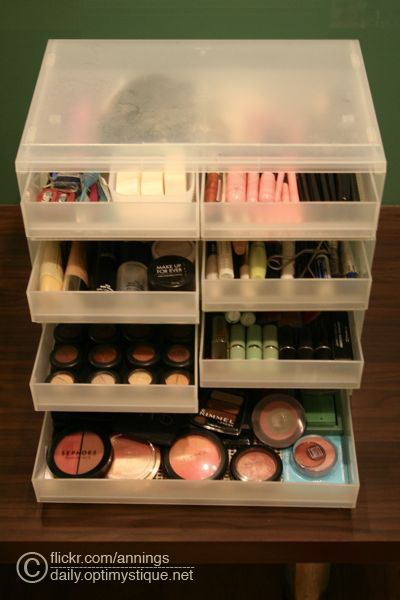 I keep different types of makeup in separate drawers, that way I know exactly where to find things when I need them.
Now, let me give you a tour inside my drawers. :)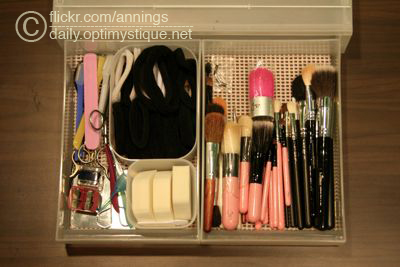 Top Drawers
Left Drawer: This is where I put my random beauty stuff. From hair ties, bobby pins, sponges, scissors, thinning scissors, palette, sharpeners, tweezers, etc.
Right Drawer: I like keeping my brushes inside drawers instead of pen holders. I'm afraid they'll just collect dust and other bacteria if I keep them out. My brushes include M.A.C., Bedazz, Charm, Clinique, Fanny Serrano, and other unbranded ones. Among all of these, I love using my Bedazz brushes the most. :)
2nd Layer Drawers
Left Drawer: Where I keep my skin products. These include M.A.C. Prep + Prime, M.A.C. Fix + (in a 30mL bottle which I got for free), Skinfood BB cream, Clinique foundation, MUFE HD Powder, Ellana mineral products, Paul & Joe Highlighting Powder, L'oreal Revitalift Eye and a Fanny Serrano compact powder, just to name a few.
Right Drawer: Several tubes of mascara (mostly Maybelline and L'oreal), Sephora Corrector Pen. eyelash curler, pencil eyeliners, eyebrow pencils, Mario Badescu samples, eyedrops, etc…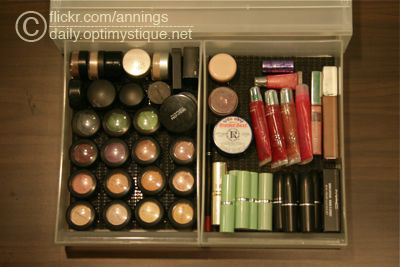 3rd Layer Drawers
Left Drawer: Several pots of M.A.C. eyeshadows (I should invest in Pro palettes soon so I can finally depot these), Mica Bella pigments/shimmer powders, Paul & Joe Pearl Powder, M.A.C Eye Prep + Prime, M.A.C. Paint Pot, M.A.C Fluidline, Cinema Secrets Concealer, M.A.C. Studio Finish Concealer…
Right Drawer: Lip stuff: Clinique lipsticks, M.A.C. lipsticks (Touch, Captive, Hug Me, Retro, etc…), L'Oreal lipstick, Victoria's Secret lip glosses, Clinique liquid lipstick, Nina Ricci lip gloss, Urban Decay lipstick, etc..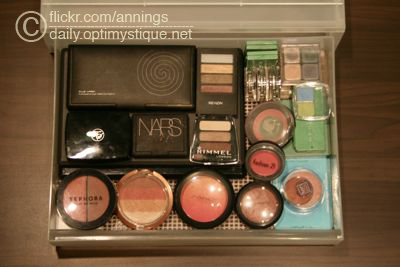 Bottom Drawer: 88 Eyeshadow Palette, 28 Neutral Eyeshadow Palette, $ U 2 I-Pro Palette, Fanny Serrano Eyebrow Powder, Revlon eyeshadows, Rimmel eyeshadows, Red Earth eyeshadows, Body Shop eyeshadows, Clinique eyeshadows, Silky Girl eyeshadows, Body Shop blush, Fashion 21 blush, Sephora Duo Blush, Prestige Bronzing Powder, NARS Blush, M.A.C blushes…
I'm thinking of getting another set of these drawers, because they're starting to get a little crowded already. Plus, I need to make more room for future makeup goodies. Plus, I'm praying for free makeup to fall on my lap too. *cough*sister*cough* Hahaha!
So there you go, that's Photos of My Life No. 1: Makeup. For more photo requests, please comment in my Photos of My Life post.