The disadvantage of not owning your own house/apartment is the restriction of designing your space as you please. Renting means no renovation or any major changes to the structure of the unit. You just have to make use of what you have.
The husband and I are quite lucky, because our rented flat is pretty well designed. All we needed to do was to add several accessories and decorations, and we were all set.
For my fourth Photos of My Life, an anonymous reader requested a room tour. But since that person's request didn't indicate any particular room, I'll just show you the first thing you'll see as you enter our flat–The Living Room.
Click the images to view larger size.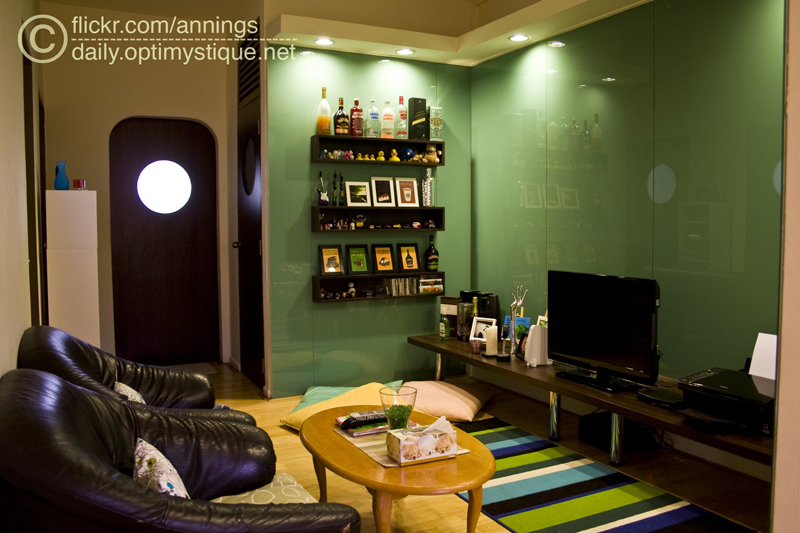 Our small living room, composed of two leather armchairs, a coffee table, a built-in entertainment console/ledge against three glass walls, bulit-in shelves, floor pillows, and a small bookshelf. All the built-in fixtures (shelves, entertainment console, glass walls) together with the armchairs and coffee table, were already in the flat when we moved in. Everything else is ours.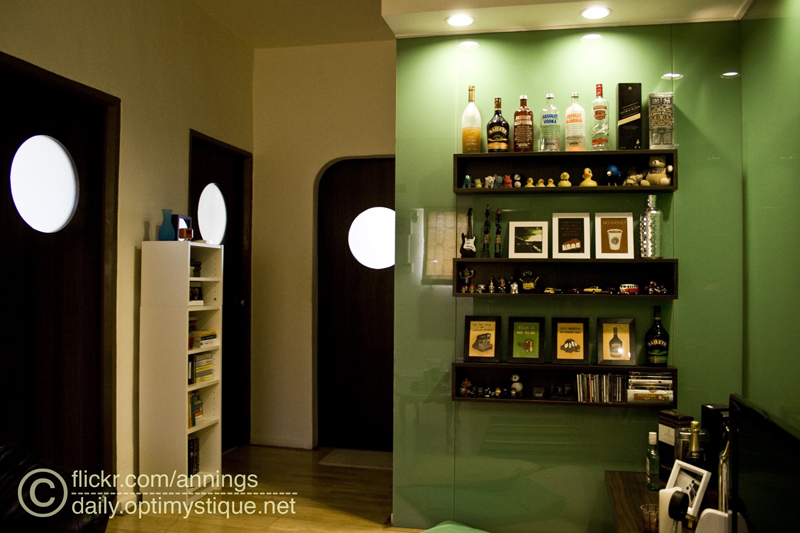 Towards the left are the doors leading to the two rooms, while the door to the far wall slides to the kitchen and the extra bathroom. Behind the glass wall with shelves is the storeroom.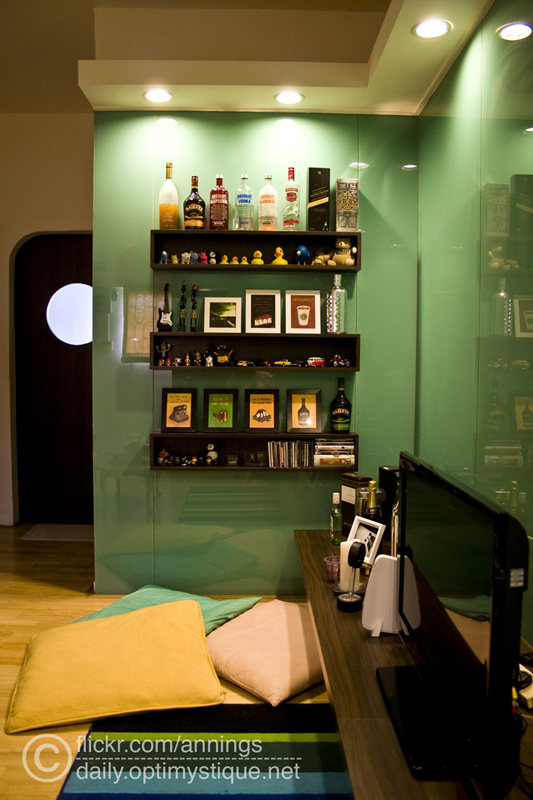 This is my favorite corner in the living room. Sometimes I lounge on the pillows and read for hours.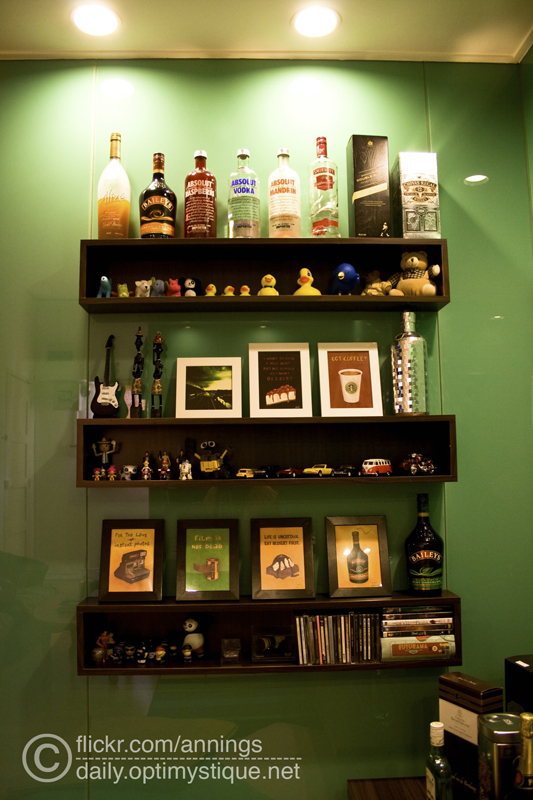 The Booze & Art Wall. This is where we house our CDs, DVDs, alcohol, display toys, miniature cars,  travel trinkets, and several of my framed art.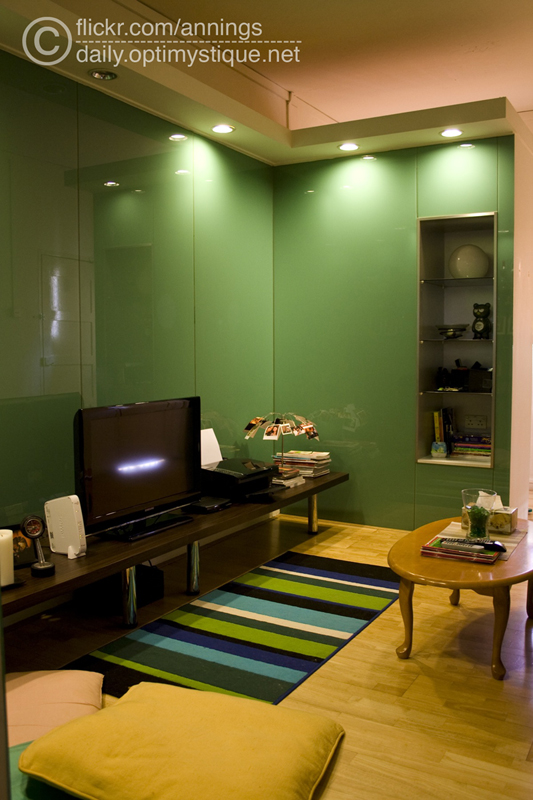 The other corner has another built-in shelf. Behind the wall is our shoe cabinet.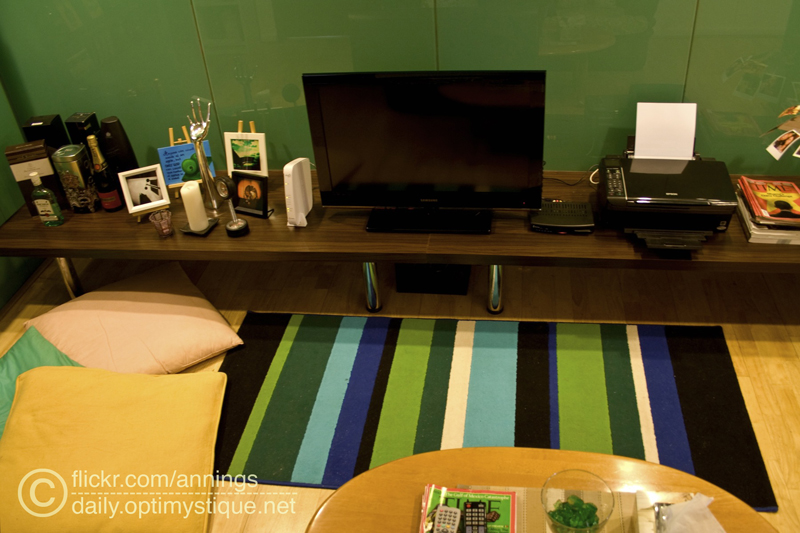 The entertainment console is a three and a half meter ledge that houses our LCD TV, wireless printer, magazines, more bottles of alcohol and a few more of my framed artworks.
Left side of the entertainment console: more alcohol on the left, and some art pieces on the right. If you're wondering, no we're not alcoholics. But drinks are crazy expensive in Singapore, so we always buy at the airport whenever we fly back in from elsewhere.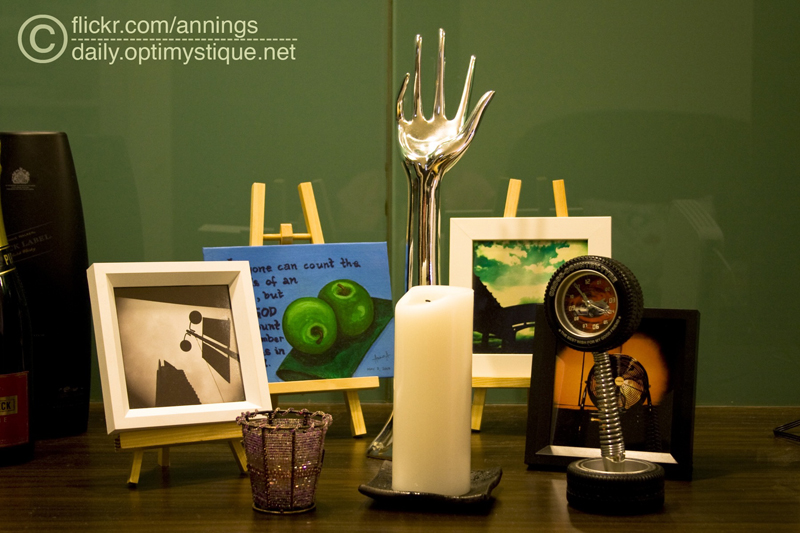 Three of my lomo prints in frames, and one of my gouache paintings on canvas board. The silver hand is meant to be a necklace holder, but I like keeping my jewelries in drawers, so I use the hand figure as decoration instead.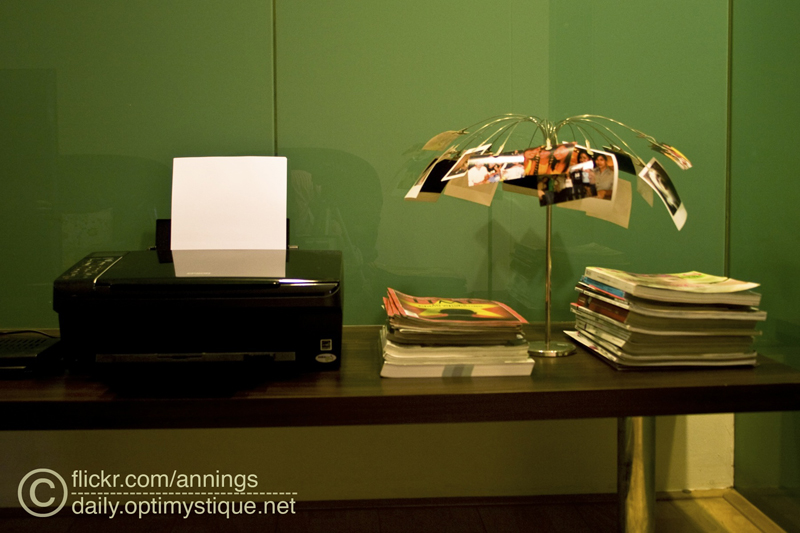 Right side of the entertainment console: wireless printer, stacks of magazines and my Photo Tree.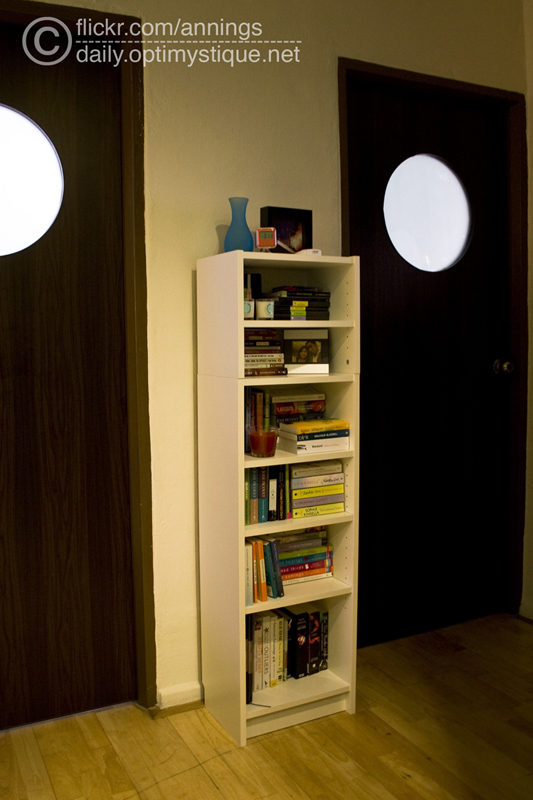 The door on the left is our study/computer room, while the door on the right leads to our bedroom and bathroom. In between the two doors is my crowded bookshelf. The books on this shelf are just the ones purchased here in Singapore (in a span of two years!). I'm such a bookworm, and one of my ultimate dreams is having my own floor to ceiling bookshelves one day. :)
There you go. That's our living room.
Being a foreigner in Singapore, our living arrangement is quite temporary. This means that it's not really practical to spend a hefty amount on furniture and other expensive embellishments. So with very little resource, I try to make use of what's there in order to make our space a little more homey. :)
** For more photo requests, please comment in my Photos of My Life post. **