Setting aside all wedding posts for a while to make a little announcement: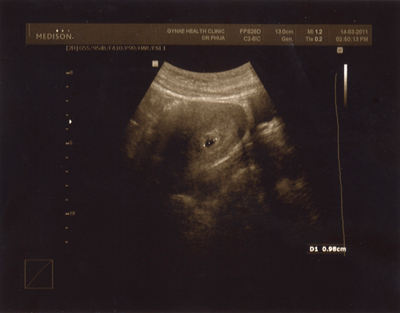 We're pregnant!
:)
Call it woman's intuition, but I already had a feeling that I was pregnant as soon as we arrived back in Singapore. I had been very sluggish and all I wanted to do was sleep all day. Heightened sense of smell, tummy cramps and a missed period, the signs where there. But for almost two weeks, I just pushed the thought aside, thinking that I was just extremely tired from the wedding. That, and I seriously thought I was just being my lazy self again. =P
When I finally woke up feeling dizzy and nauseous, I knew it was time for a home pregnancy test. Two positive sticks and a trip to the Ob-Gyn later, it was finally confirmed. :)
We're about 5 weeks into the pregnancy (we think it's a wedding night baby), but I'm still not used to being bloated all the time. I have a slight baby bump, but not yet big enough for plus size intimate apparel. LOL! The past week was quite difficult, with the morning sickness hitting me practically all day, everyday. For once in my life, I didn't want to eat anything, because everything I put in my mouth just wanted to be hurled out again. I'm finally better now and I think my appetite is back. I just have to remember all the pregnancy no-nos, because apparently there are a gazillion and one of them.
We still have a long way to go, but we're already very excited to meet the little one in November. <3<3<3