These past couple of months, raves about the beauty of Caramoan Islands in Camarines Sur have been sprouting the internet, that I mentally took note to add it to one of the places I want to see before I die. It was quickly ticked off my long list when I gladly accepted my friend's invitation to join them on a trip there last month. It was a decision that I made on a whim, without even having to think twice. Another one of my carefree/happy-go-lucky spasm attacks, where I couldn't have been more right, because not even a split second of disappointment lingered throughout the entire trip.
Two days and two nights was simply too short a time to be able to see all the islands in the area, but we managed to squeeze several in our agenda, experiencing the best adventure of our lives while at it.
The whole getaway was filled with surprising adventures left and right. From long boat rides, yellow wonderlands, tiresome hikes, motorbike rides, swimming under the rain, to heart-pumping tricycle rides on bumpy tracks of giant potholes. And of course, it was also filled with wonderful sceneries, joyous laughter and happy moments that will surely be etched in our memories forever.
And because I truly believe that pictures speak a thousand words, here are a ton of photos for your viewing pleasure. :)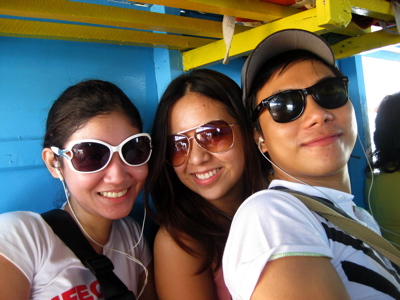 We survived the two-hour (+) boat ride from Sabang port to Guijalo port with our iPods and endless cam whoring. =P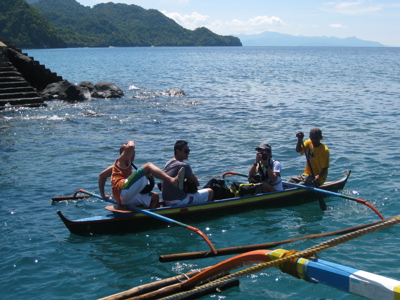 Finally at Guijalo port, but since it was low tide, we had to be transported to the dock in tiny boats. Here are the boys with Mr. boat man.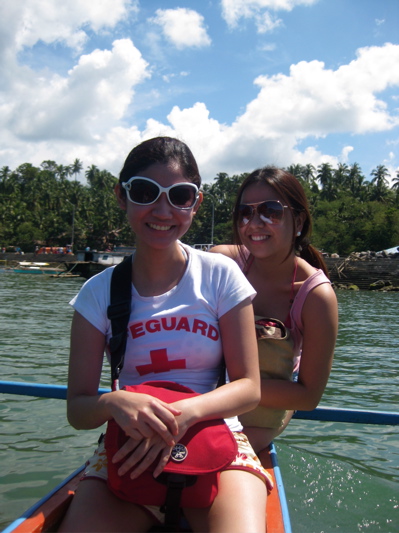 Nina and I under the lovely blue sky. :)
Photo-overload under the cut: