I've sort of been on a makeup-frenzy hiatus these past couple of months. Been battling the urge to make trips to cosmetic counters, because I know I'll just end up splurging. I try not to go to the mall, because even if I attempt to control myself, my legs just don't listen. They end up walking the familiar route to my favorite makeup stores anyway.
I thought staying at home would do the trick, but because of my addiction to the internet, it wasn't such a wise thing after all. A few weeks ago, I let temptation lure me into purchasing the following: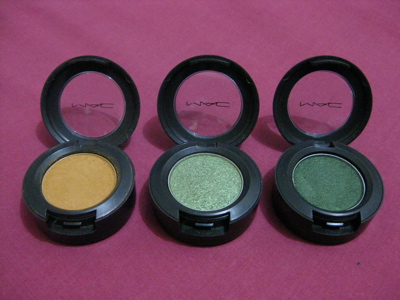 MAC eye shadows in: Juiced, Sprout and Humid from Gem. I was actually eyeing the pot of Humid eye shadow at the MAC counter in Changi Airport back in July, but I passed. Good thing, because I got these babies at great prices, thanks to Gem! :)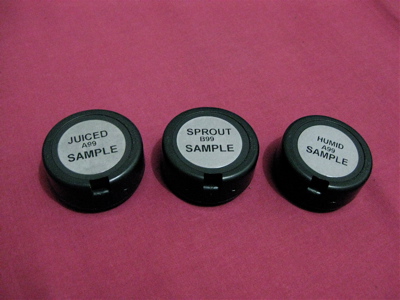 She sold them priced really low, because they are actually pots of MAC eye shadow samples. Apparently, hollywood stars get these type of sample freebies from makeup giants like MAC. Lucky!!! Gem's aunt who works for one hollywood star gave it to her. They are exactly the same as the commercially available pots of MAC eye shadows in the market, except for the labels which are marked samples.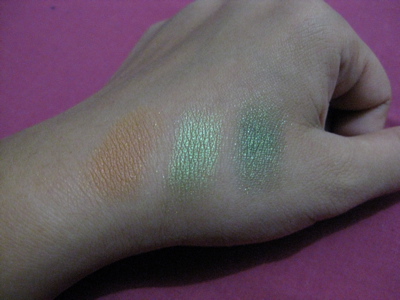 Swatched without flash: Juiced, Sprout and Humid. I haven't played with these babies yet, because I've been somewhat lazy to put on makeup these past couple of weeks. But anyway, thanks again, Gem! :)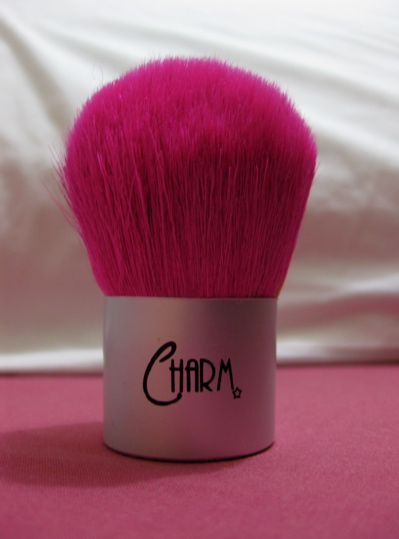 And because of Beauty and Minerals' Great Big Charm Mid-Year Brush Sale a few weeks ago, I finally bought this hot pink Charm Kabuki at 25% off! I love love love how pink it is! :)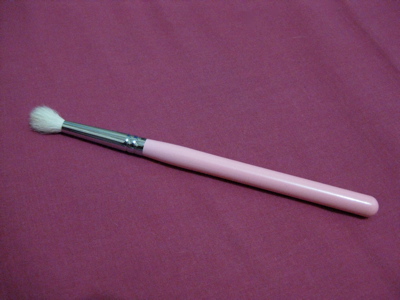 I also bought this Charm Blending Brush on sale, so that I don't overuse my MAC 217 Brush too much. This brush already sells at the most affordable price of Php300, but thanks to the Charm Sale, I got it for only P200! Sweet deal, I must say! :)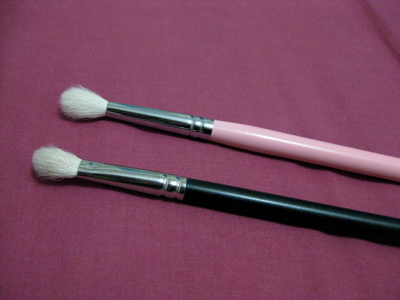 The Charm Blending Brush next to my MAC 217. I have to say that it's the best alternative to the 217! It does the same job as the MAC brush, with very little to no difference at all. I already stored my MAC 217 to use only on special occasions, and have kept my Charm Blending Brush in my makeup bag for my daily usage.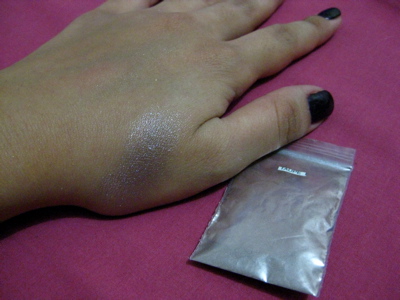 Sophie also added this Monave eye shadow sample in Taupe as a freebie when she sent me my Charm goodies. Thanks, Sophie! :)
I wish I could have this same urge to spend on other things like interior accessories and fittings (some nice Grohe faucets, maybe?), but those will have to wait for when we start renovating our house. Hehe! However, I will try to make this my last makeup splurge for a while, because my mom is coming home from Canada with a stash of my makeup orders next week. I can't wait! :)