In the years that I've been blogging, I can generally count with my fingers the number of times I've gone out to meet other bloggers. I've never really been active with blogger events. In fact, in the last couple of years, I hardly even visit new blogs. I still visit and read those that I've been constantly reading for years, but I don't bloghop much anymore.
But eversince I moved here in Singapore, meeting other bloggers has somewhat become more fun for me. Perhaps having a great time meeting Ederic, Alex and Leonard last December made me more excited about meeting new people.
So last week, I was glad to meet with other Pinoy plurkers/bloggers over dinner and a round of drinks after. I met up with April, waited for JR to get off work (web programming jobs, yo!), then walked to The Esplanade. I'm happy we went, because it was a definitely one great night with yummy Thai food, free dessert, free wine too (!!!), and fun (funny? =P) company.
Here's the bunch: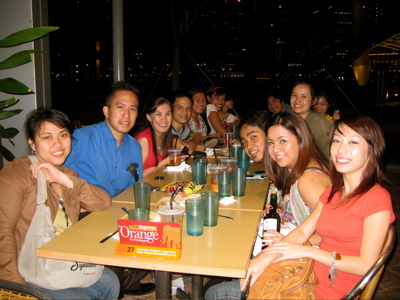 Jing, Alex, Aileen (who was visiting from Manila), Drew, Jaren, Kat, Kates, Bel, Jansci (the one in yellow, hiding behind Bel =P), JR, me and April. Missing in this photo is Carl. =P