If you're a regular visitor of my blog, then you would know how much I love painting in my moleskine sketchbooks. My first moleskine art was exhibited at the London Book Fair last April 2008, while my second set has been exhibted around several European cities (Milan, Rome, Turin, Frankfurt) and is still currently with Moleskine Italy.
Two weeks ago, Moleskine Italy contacted me to do another project for them again. A new set of moleskine notebooks will be available in the market by mid-April, and they sent me one to fill up in time for this year's London Book Fair (which is next month already!!).
The new moleskine notebooks (called Moleskine Folio) will come in two new sizes: A4 and A3. Perfect sizes for artists who enjoy the freedom of space. They sent me an A4 sketchbook, and at first I was a little hesistant drawing on a bigger space that I'm used to (I used the pocket size in my previous moleskine art), but I quickly fell in love with it. I like how I don't have to squeeze my illustrations in the small pages anymore. =)
Here's a comparison of the different moleskine sizes: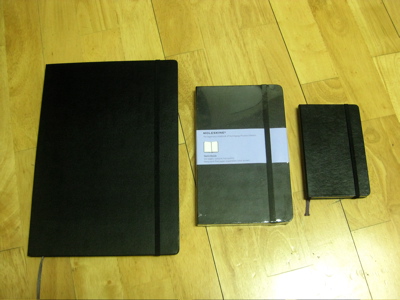 A4, Large, Pocket
See how big the A4 is compared to the pocket? =P
Anyway, I've been quite busy filling the pages up these past few days. Here are two of my recent works:
Done in gouache and soft pastels. I love my polaroid! Digicams are also great, but I tend to snap too many photos with my digicam. It's probably one of the reasons why my mac's hard drive has been suffering! I really need to clean up its memory soon. Or maybe get a new dell memory or something. Polaroids are great, because they print instant memories. Each photo is always unique and personal. <3 Save Polaroid!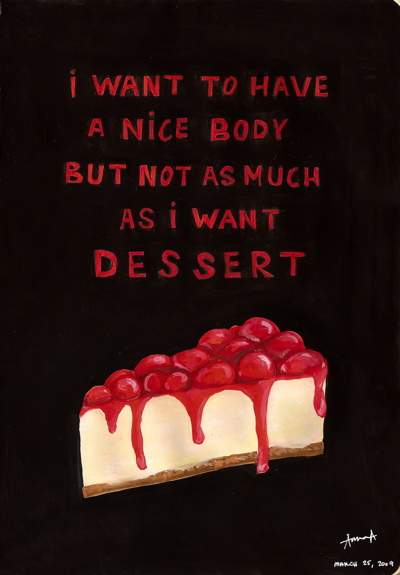 Done in gouache. You can never be too full for dessert! =P This is my second edition of this illustration. See the first one here. :)
To view the rest of the pages (it's still a work in progress, though) head on over to my flickr.