Among my very long wishlist for Christmas (maybe I'll blog the entire list one of these days) is a Miss A Kit in Radiant Rose: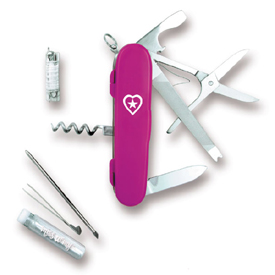 It's so handy with its sixteen tools: flashlight, keychain, needle and thread, safety pin, corkscrew, mirror, pen, tweezers, perfume bottle, bottle opener, screwdriver, scissors, ruler, nail file, pill box, and knife. It's so womanly manly! And it's in PINK! <3
I've been wanting to get one since last year, and ever since I saw the Victorinox booth (I never knew there were Victorinox swiss army watches already) in Bugis last week, I've been dreaming about it more. I need to find where they sell them here in Singapore, or maybe I'll just wait when I go back to Manila.