Hours before our flight back to Manila, we were roaming around Orchard for some last minute shopping. I still needed to buy a few more goodies for my family, and I also wanted to check out the newly opened Sephora before leaving.
The range of makeup brands at Sephora was rather disappointing. No Nars or Urban Decay. Sad, because those were the two brands that I was really looking forward to. =( At least they brought in their house brand, which were  priced quite reasonably.
I only had little time to check out their entire range, so I only walked out with two things: a Sephora Ultra Shine Lip Gloss in #28, and a Sephora Blush Me! Trio in Brun 12. These are going to my sister (because she begged for them), so I'll have to make another trip to town to get my own. =P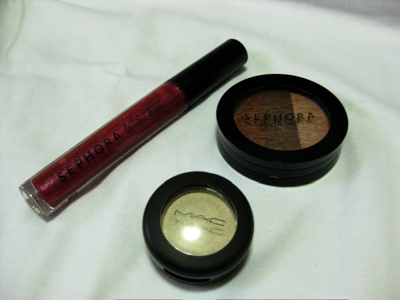 I bought the Mac eye shadow in Shroom at Changi Airport. They were only selling at SGD22.90, as opposed to the SGD28 in town, so I just had to get a pot! Now I'm tempted to drop by there again when we fly back on the 3rd! =D Sorry for the not-so-pretty photo, the lighting in my room isn't so nice. =P
This pretty brush set was also waiting for me when I arrived back home: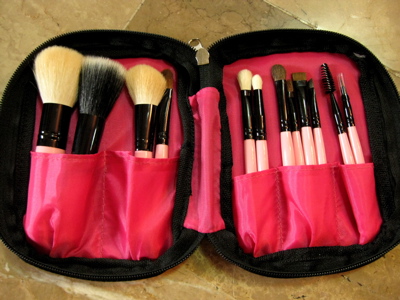 My Charm Travel Pro Set! They're so pretty in pink! =)
I haven't shopped for myself since we arrived in Manila, but I'm definitely going to treat myself before we leave.