It is of no question that JR and I both love food. We enjoy treating ourselves to scrumptious meals together, whether it be home cooked, fast food or fancy dining. Even in the early stages of our relationship, we were always happy eating together. That's why, to celebrate our sixth year together last Friday, food was of course a big highlight of our day. :)
I started the day early by getting up while JR was still snoring away in dreamland. I whipped up a meal for both of us, and surprised him with breakfast in bed: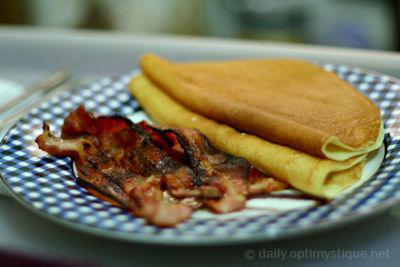 Our favorite breakfast treat: bacon and pancakes!
The smell of the food wafting from the kitchen had  already jostled him from his sleep before I even brought him the tray of goodies, but he stayed in bed and let me surprise him anyway. :)
For dinner, we wanted something a little more fancy, so we reserved a table at Novus.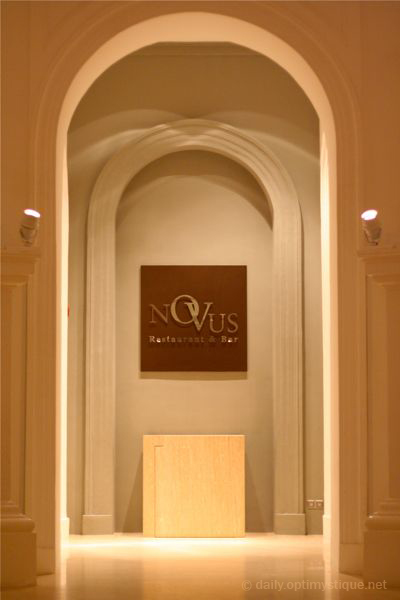 We hadn't really heard of the restaurant until only a few days before. Nestled inside the Singapore National Museum, we quickly agreed that it was just the perfect place to celebrate our relationship.
What a wise choice it was, because we were definitely not left disappointed.
The food was delectable! We chose our meals a-la-carte, and started off by sharing our starter: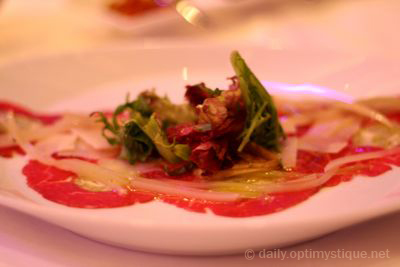 Angus Beef and Buffalo Mozzarella Carpaccio garnished with Parmesan Flakes and Celeriac Julienne with Hazelnut Dressing.
This was simply divine! The mozzarella cheese snuggled at the center of the thinly-sliced beef was a surprising treat that got us emptying our plates in no time!