Less than two weeks after the awesome Coldplay concert, the boyrfriend and I were back in the Singapore Indoor Stadium for yet another rocking concert. This time for that British band who was very much a part of my teenage years: Oasis!
Oasis was probably the first rock band that I really enjoyed listening to back in High School. That was the time when my musical universe revolved around the Spice Girls, Backstreet Boys, 3T and Michael Jackson, just to name a few. I was mostly a popstar-loving teenage girl, who swooned over Howie D. and TJ of 3T, and idolized all the different persona of the the Spice Girls. Yes, I was that girl who loved to dance and performed on stage to the tunes of Wannabe, Stop, and Get Down! LOL!
But then there was Oasis. The band who managed to make me appriciate rock music a little better. I had an Oasis craze back in High School and overplayed their tapes (recorded copies only, because my sibs and I had no allowance back then) in my yellow Sony Walkman for months. Sometimes I would take my walkman, walk around the garden, close my eyes and pretend I was standing in the middle of an actual Oasis concert. I always dreamed of hearing and seeing them live, and was beyond thrilled that it finally came true last Sunday.
I have to admit that I'm not the biggest Oasis fan anymore. To be honest, prior to the concert I wasn't so familiar with their latest album. It was only about three weeks ago when I actually listened to their new stuff. But that didn't stop the boyfriend and I from seeing one of the greatest music legends from our younger years. And I was really happy that we did.
I thought the concert was great!
A lot of people commented that it wasn't as good as they hoped it would've been, and certainly not as grande as Coldplay's concert just a few weeks before. Frankly, I think the two bands should simply NOT be compared. Coldplay is Coldplay. They are known to perform "full-on" concerts with their bouts of jumping and running around the stage. While Oaisis, on the other hand has always been the reserved type of band. They go on stage, play great music and talk very little. That's how they've always been, and that's what makes them Oasis. I paid to go to an Oasis concert and frankly, that was exactly what I got. :)
Here are a few photos of the whole experience: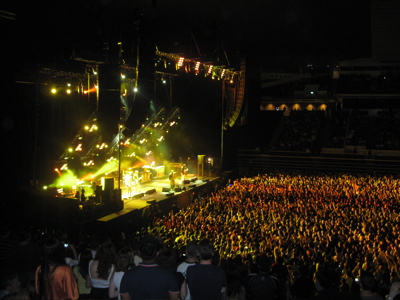 I thought the lighting was awesome. There were massive lighting equipments (like those big outdoor lighting) strategically positioned behind the band. The effects gave just the right mood for the different songs that they played. I also wished that we had been downstairs with the rest of the standing crowd. The energy seemed so alive down there, and I wish we could've jumped around with them too. =P