We generally spend a third of our lives in bed. To be honest, I enjoy sleeping just as much as I love art, reading and eating. I am one of those people who can literally spend an entire day snuggled under my covers. However, getting a good rest doesn't really come that easily, especially when you don't have the perfect mattress to pair it with.
The fiancé and I have been suffering from back aches and poor sleep for the past couple of weeks. The foam mattress that comes with our flat had already worn out its lifespan. It was sagging in all corners, and since we also have a leather bed frame, having a foam mattress made it a little too warm (even with the air-conditioner on full blast!) to sleep. So, we finally quit putting off buying a new mattress for our own sake.
We initially wanted the same Ikea sprung mattress we bought for JR's old single sized bed almost three years ago. But considering that we don't really live in our own place and that our housing is somewhat temporary, we figured it would be better to scout for a more affordable alternative.
After searching online, I found www.beds.sg, an online store that carries affordable beds and mattresses. Now, I normally wouldn't entertain the thought of buying a mattress without seeing and trying the actual product, but seeing the number of positive feedback on the site and the numerous blogs boasting about their products and service, JR and I agreed to try it out.
The Wasaly Luxury Mattress caught our attention. With over 360+ positive reviews, we knew it was already a winner even if we hadn't even tried the actual mattress for ourselves. For only SGD150 (about Php4,900+ or USD106), complete with free delivery, we quickly made our online order with just a few clicks. Aside from the convenient ordering process, another advantage is its payment option. Unlike most online shops, payment for beds.sg orders are not done online (yes, no credit card details needed!).  Instead, cash or check payments are more than acceptable upon delivery.
Delivery of our mattress was scheduled between four to five in the afternoon last Friday (less than forty-eight hours after we made our online order!). The delivery crew ran a bit late, and from my own experience with deliveries in my old job in Manila I know there are a million and one unforeseen circumstances that can happen during delivery, so I wasn't the least bit peeved at the delay. Instead, I just called customer service to find out about the tentative time of delivery. The lady I spoke to was more than gracious and helpful to call me back to let me know the delivery status, and after another call from the actual delivery crew, our mattress finally arrived.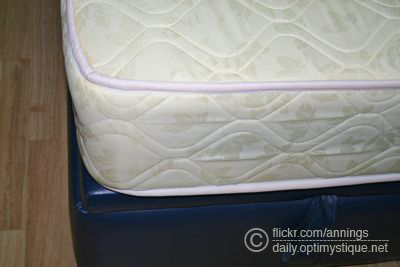 We're happy to report that our new mattress does not disappoint. No more back aches! It's not too firm, nor is it too soft. Every night has definitely been a good night's sleep for both of us. The only down side is that it's more difficult to get out of bed every single morning! =P
Our new Wasaly Luxury Mattress was certainly worth every cent. :)