Waking up early in the morning has become somewhat of a chore for me lately. Why burden myself with less sleep if I have the luxury to lounge in bed the whole day, right? Right. My new motto is "sleep all day while I still can." I believe it's the wisest thing at the moment because we all know I'm going to miss it and will probably end up eating the words in my previous post about being tired of doing nothing. Just wait 'til I start work for my mom on Monday.
But anyway, today was different. I mustered enough effort and energy to actually drag myself out of bed to run some errands.
Having the car for the day was probably why I didn't have to think twice about going out so early. I love driving around alone. Whether its at the mall I'm heading or just running short errands for my mom. Being alone in the car helps get my mind running. Every step on the gas and every turn I took was actually a moment spent daydreaming about random things.
I dropped by my orthodontist, sat in the chair and had my braces adjusted. The whole procedure didn't take long and I was already back on the road after 15 minutes.
My next stop was the BIR. Waking up early does pay off, because unlike my previous visit, I wasn't greeted by a long line of tax payers at the counter. It was such a hassle-free time and I was overjoyed that I got my TIN confirmed in only 10 minutes! The whole drive even took longer. Hah! Luck must've been with me when I woke up today. :)
Right after, it was off to the supermarket for me. I went down the aisles, grabbed what I needed to buy and ticked them off my list. Grocery shopping is definitely love!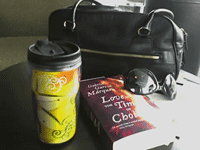 Before heading home, I ran off to Starbucks to treat myself. I did wake up early and I did finish running a couple of errands, it was time to reward myself. It was perfect, because I really enjoy sitting on my own in a corner of a coffee shop. Nothing beats spending a whole hour with yourself, armed with only a book in one hand and a cup of coffee in the other.
The whole morning was definitely a great "me time." I'm a very outgoing person. I enjoy going out and spending time with friends (and making new ones too). But, as much as I like socializing, I also love spending quality time with myself. And today I'm glad I did one of the things I love doing.