Lookie, I have new toy!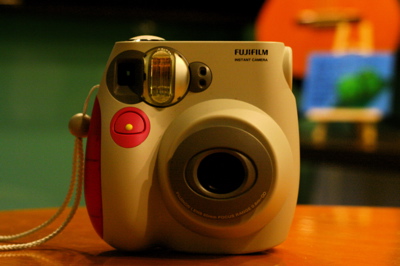 My new Fujifilm Instax Mini 7S in pink! <3
Finding film for my Polaroid Spirit 600 has been very difficult ever since Polaroid ceased its instant film production. I haven't seen a single store in Singapore/Philippines (they don't sell them at Dansko either) who have any stock left! The prices of the ones being sold online have even gone up, and that doesn't even include shipping yet! It's just so sad, because I really think Polaroids are great. They print instant memories, and each photo is always unique and personal.
While searching for cheap Polaroid 600 films online, I stumbled upon an LJ spree who sold the Fujifilm Instax Mini 7S for a lower price. I had been wanting one for months, and I finally gave in, because it was a really good deal. :)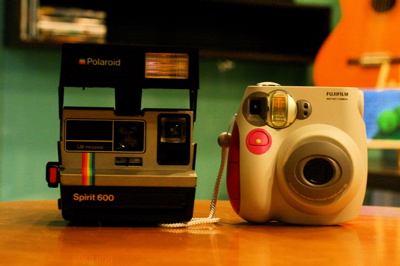 My new toy next to my beloved Polaroid Spirit 600.
The Instax Mini 7s is definitely no Polaroid, but it's still a wonderful alternative. I still get that instant gratification upon seeing the result a few seconds after clicking. What can I say, I just love instant photos! <3
Fuji has even made additions to the basic experience of the classic Polaoroid. Unlike the Polaroid where the battery is part of the film cartridge, the Instax Mini has it's own battery compartment (for 4 AA batteries) that's part of the camera. The quality of the prints have also improved, with its automatic built-in flash, infinity focusing, a high quality Fujinon lens and a simple exposure control which you can switch according to your light conditions.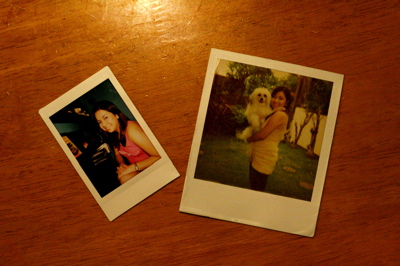 Instax Mini film vs. Polaroid 600 film.
Instax Mini films come smaller than the Polaroid 600 films. About the size of a credit card, they're great to stash inside a wallet. To top it off, the films are also a lot cheaper than the Polaroid 600!
I just found out that the films are cheaper in Manila, so I'm gonna go stock up when I fly back. ^_^