Being exposed to numerous different cultures while my family lived in another country gave us the opportunity to try out and appreciate various delicacies. From Asian palates of Malay, Thai and Vietnamese, to those of French and Mediterranean, among others.
From the variety of flavors, I have to say that Indian is one of my favorites. There's something about its distinct tang and aroma that makes my mouth water, even with just the thought of it.
During the weekend, I took JR and Andrea to an appetizing palate adventure. Andrea, who was back in Manila after studying in Canada for 2 years, was craving for Indian cuisine. I thought it was just perfect, because I had been craving for the same taste since our last Indian dinner in Singapore.
We thought about going to Bollywood in Greenbelt 3, but decided otherwise because we didn't want an overly commercialized restaurant. Then I remembered a small kitchen hidden among offices along Rada St. in Makati (my brother brought us to dinner there 2 years ago, I think) that served Indian cuisine, prepared as-you-order by the owner herself – SWAGAT!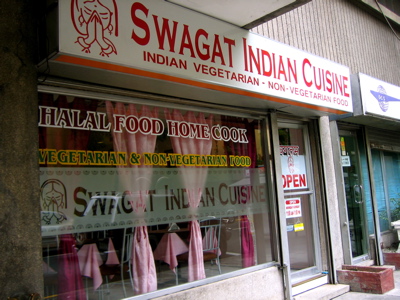 Our adventure started as soon as we entered its door.