These past couple of months, raves about the beauty of Caramoan Islands in Camarines Sur have been sprouting the internet, that I mentally took note to add it to one of the places I want to see before I die. It was quickly ticked off my long list when I gladly accepted my friend's invitation to join them on a trip there last month. It was a decision that I made on a whim, without even having to think twice. Another one of my carefree/happy-go-lucky spasm attacks, where I couldn't have been more right, because not even a split second of disappointment lingered throughout the entire trip.
Two days and two nights was simply too short a time to be able to see all the islands in the area, but we managed to squeeze several in our agenda, experiencing the best adventure of our lives while at it.
The whole getaway was filled with surprising adventures left and right. From long boat rides, yellow wonderlands, tiresome hikes, motorbike rides, swimming under the rain, to heart-pumping tricycle rides on bumpy tracks of giant potholes. And of course, it was also filled with wonderful sceneries, joyous laughter and happy moments that will surely be etched in our memories forever.
And because I truly believe that pictures speak a thousand words, here are a ton of photos for your viewing pleasure. :)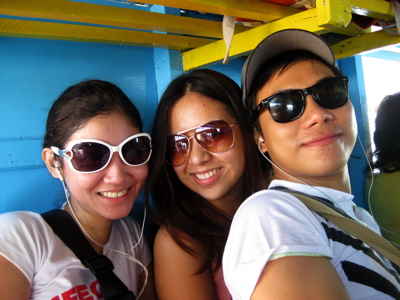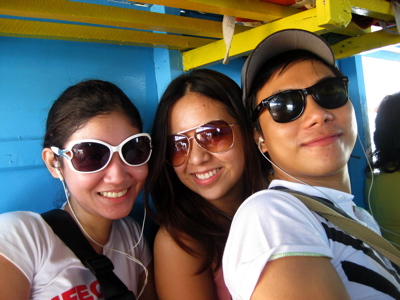 We survived the two-hour (+) boat ride from Sabang port to Guijalo port with our iPods and endless cam whoring. =P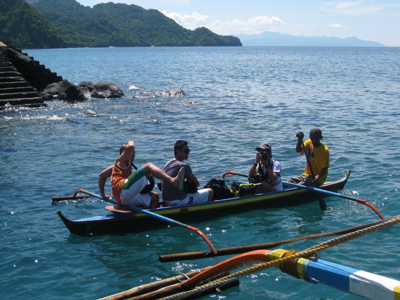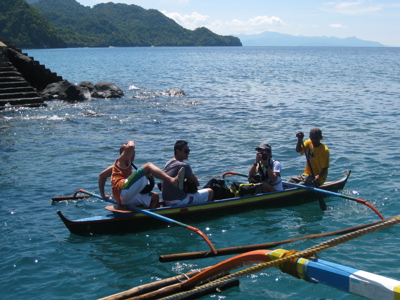 Finally at Guijalo port, but since it was low tide, we had to be transported to the dock in tiny boats. Here are the boys with Mr. boat man.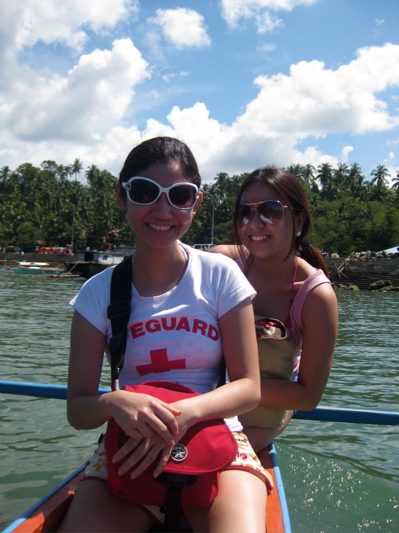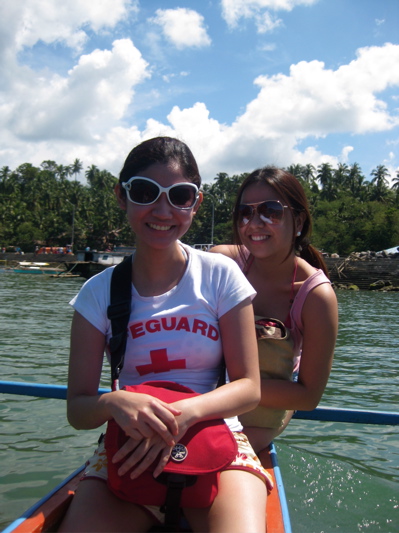 Nina and I under the lovely blue sky. :)
Photo-overload under the cut: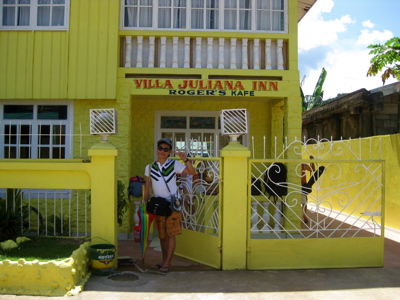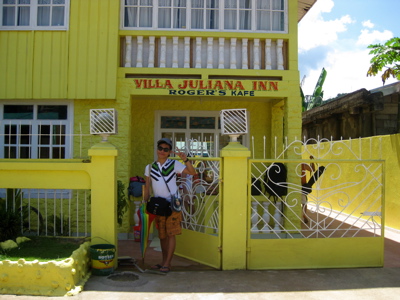 Our home for two nights. Our yellow wonderland. It was the most affordable Inn on the island. Not too bad, except for the tiny bathroom… and the fact that the color yellow was practically following us everywhere. HAHA!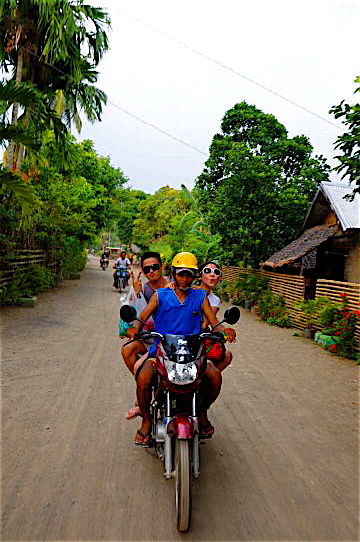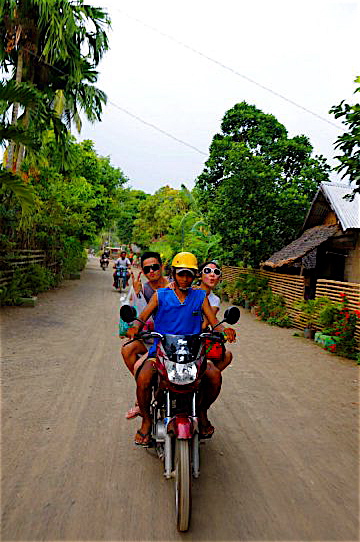 On the way to Paniman beach for our first afternoon of island hopping. Impromptu motorbike ride =  Fun Rush!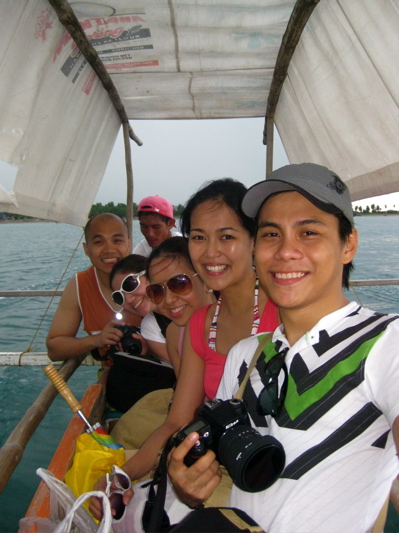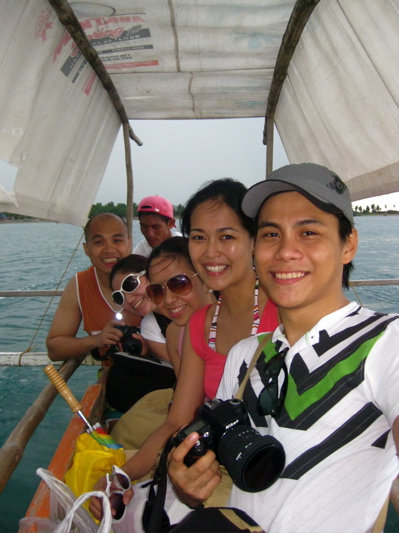 On our rented boat, ready for the lovely beaches!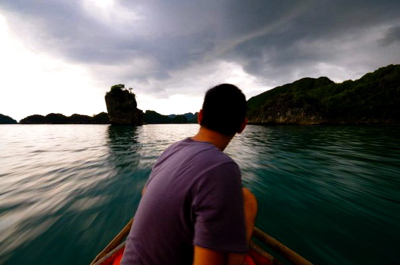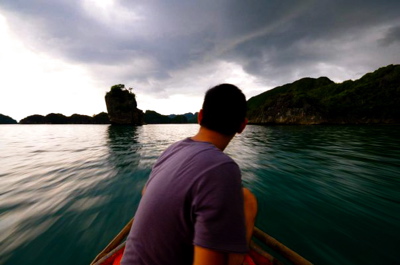 Abed, with the breathtaking view.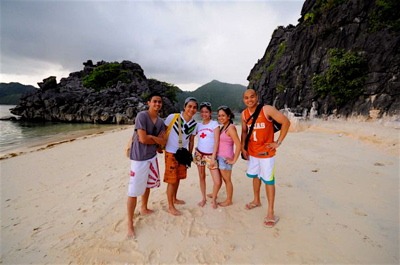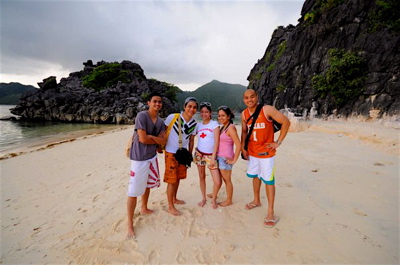 Our first stop: Matukad Beach. We didn't stay here long, because the crew of Survivor Bulgaria was setting up on one portion of the island.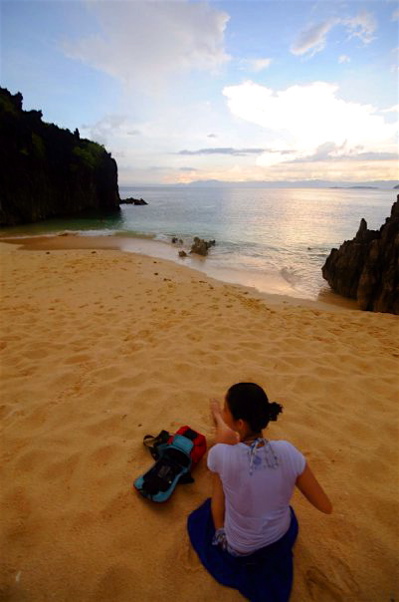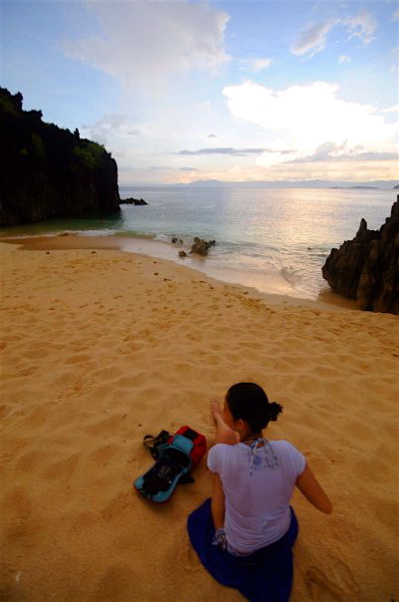 Our next stop: Lahos Island. It rained when we got here, but it didn't stop us from enjoying the beach.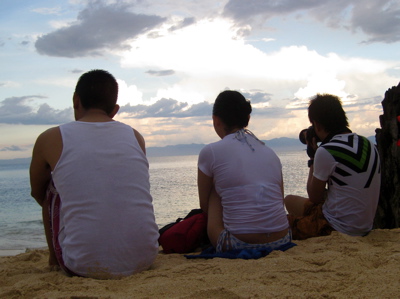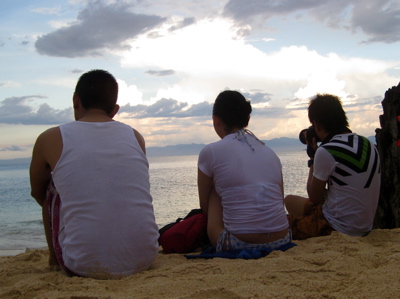 Good thing we stayed, because soon enough, the clouds cleared up to a lovely pre-sunset sky. <3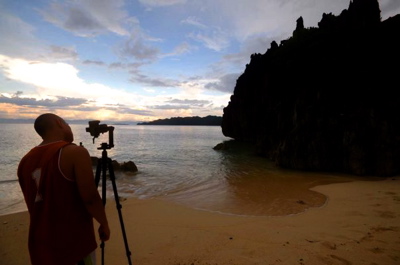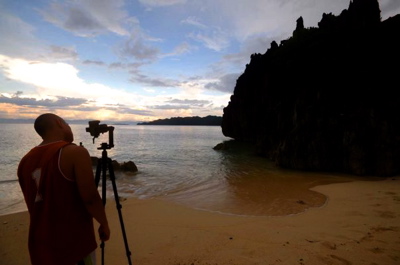 Perfect weather for photo-ops. Here's Milo, busy taking 360 panoramas of the island. Check out his amazing shots of Caramoan Islands here. 360 of Lahos beach here. :)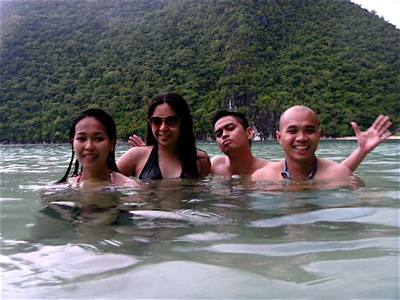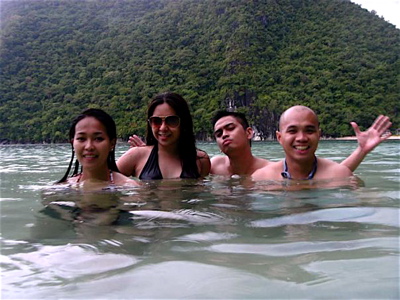 Our last stop for the day: Minalahos Island. Since it was already high tide by the time we arrived, there was only about 3sqm of the beach left visible. We ended up just enjoying the water before heading back to the Inn for dinner and an early night in bed.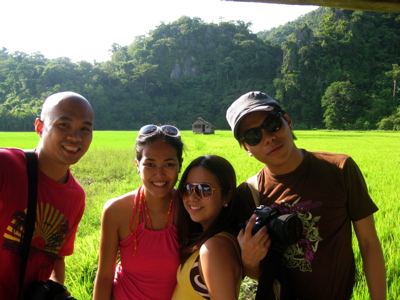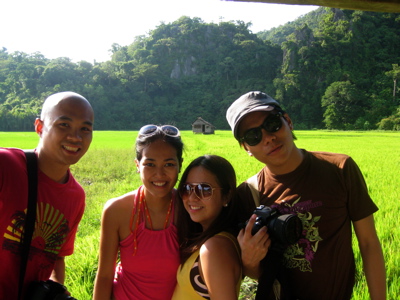 Day 2: After quite a heavy downpour that made us fret another wet weather, the lovely sun finally appeared to greet us. :)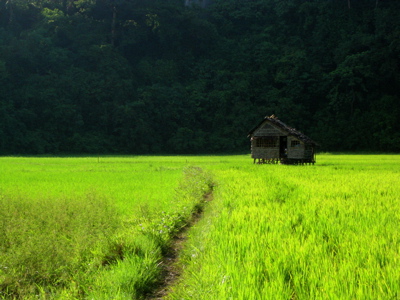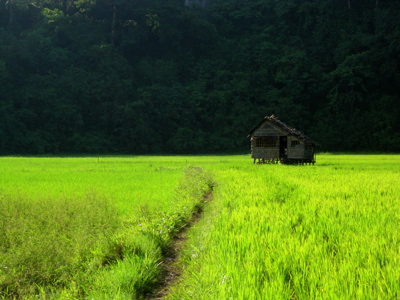 The beautiful countryside view that made us stop for a quick photoshoot. <3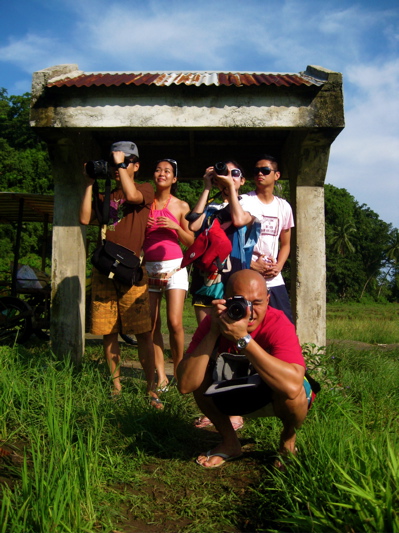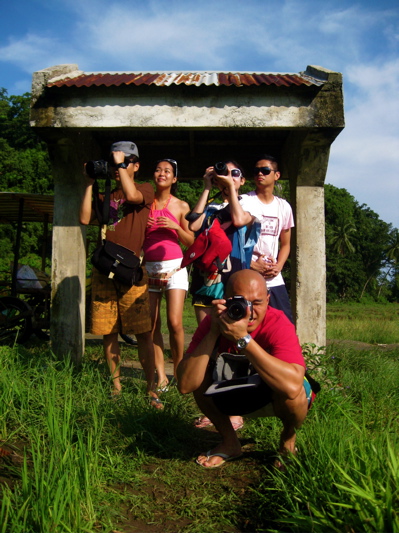 Carlo, Shella, Nina, Milo and Abed.
I believe that 90% of any trip or vacation's success goes to the company that you are with. These guys made me enjoy our Caramoan adventure more. Breathtaking views and beautiful adventures are nothing without fun friends to share them with. <3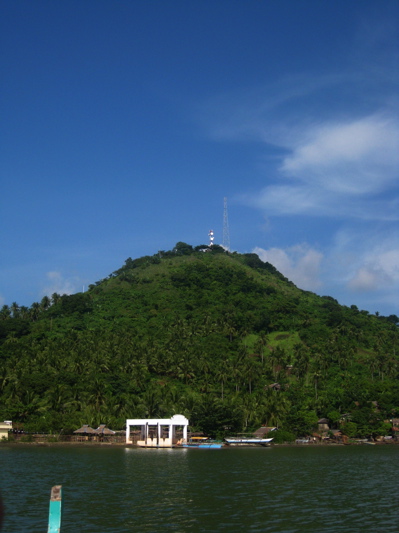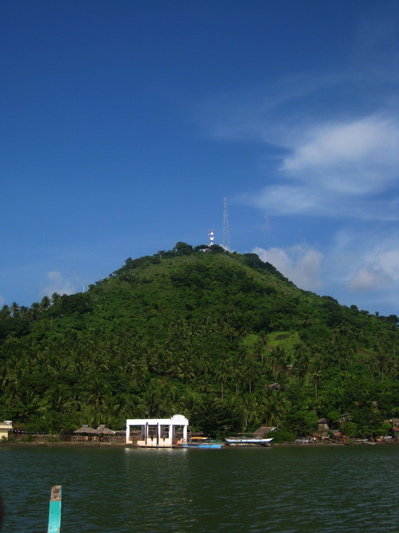 Our first stop for the day: Barangay Tabgon, where we climbed to the top of Caglago mountain to see the Mother of Peace Grotto. See the top of that mountain above? We climbed the 524+ steps all the way up there!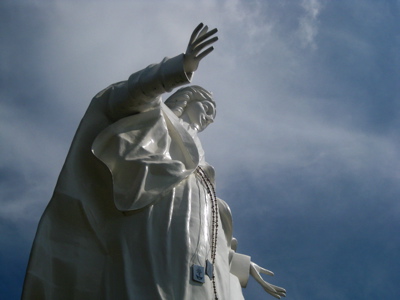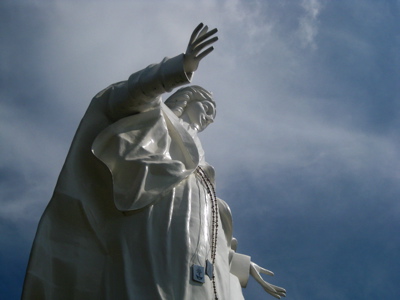 It was an extremely tiring climb. I already wanted to roll down the steps at one point! But we were persistent enough to reach the top (no exit signs!), so we continued until our efforts were paid off. Seeing this made it all worth it!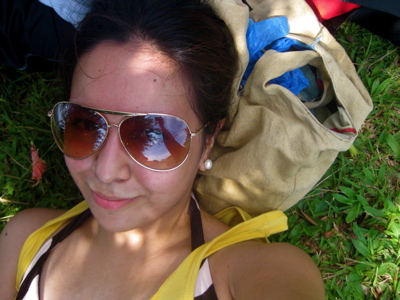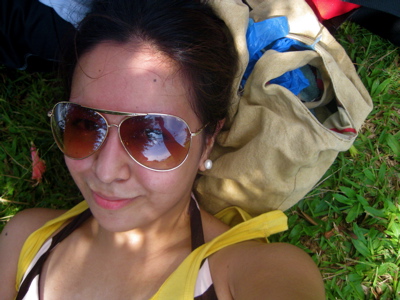 And of course, putting all the poise aside, I immediately flopped down to the grass as we reached the foot of the grotto. =P See how red my face turned? HAHA!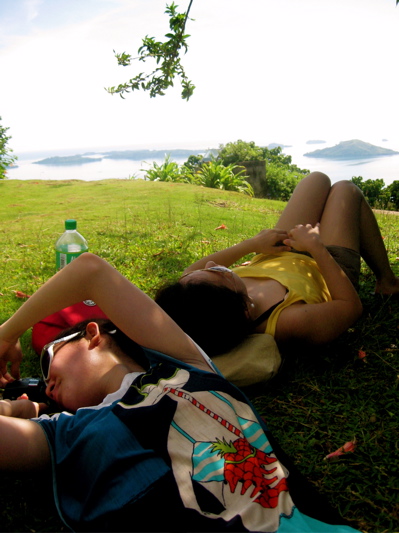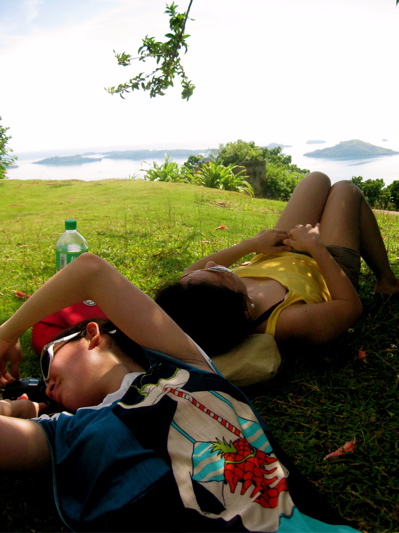 We were really tired! =P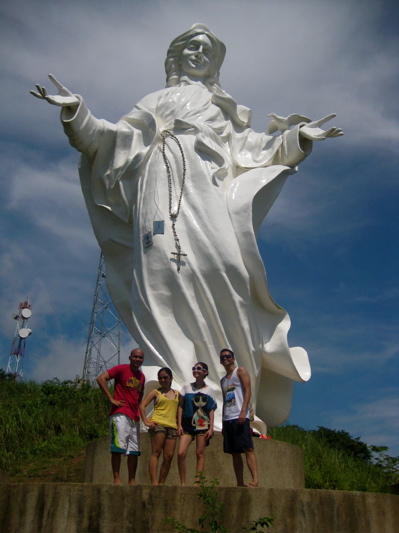 Only four of us made it to the top. Carlo and Shella barely made it to 100 steps, so they opted to walk back down and just wait for us. HAHA!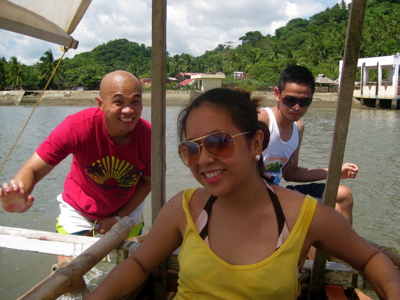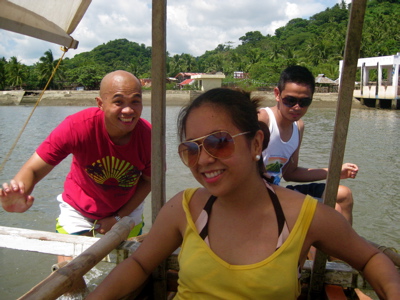 Several times during the day (during low tide), Milo and Abed had to get off and push the boat. Yay to having strong men with us! LOL!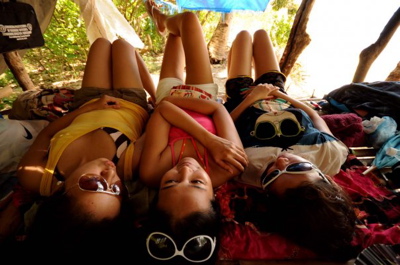 At Cotivas Island, where we ate our packed lunch. A quick siesta before heading out to burn under the sun.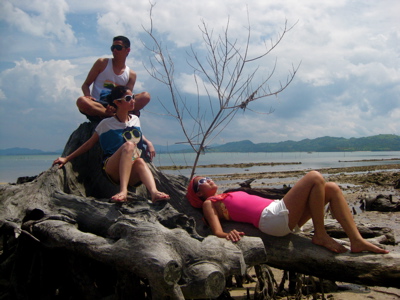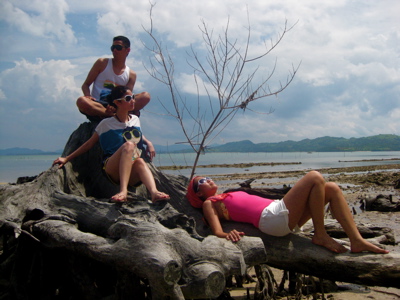 Photo-op by the dead tree. FHM? LOL!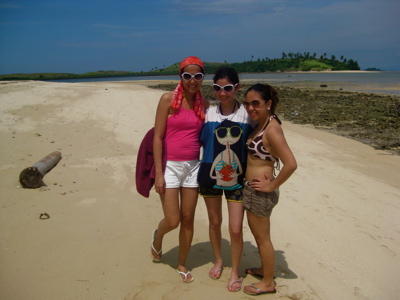 Shella, Nina and I under the sun.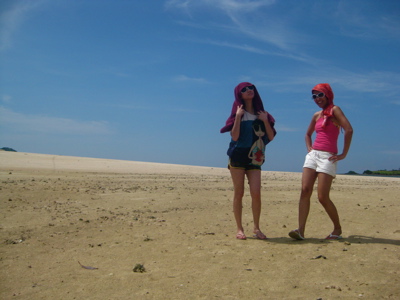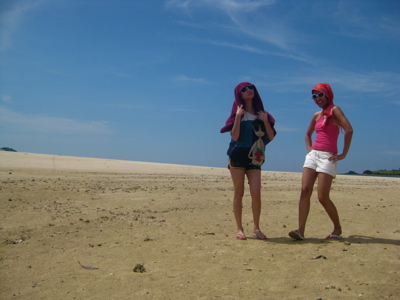 I LOVED the weather that day!!! <3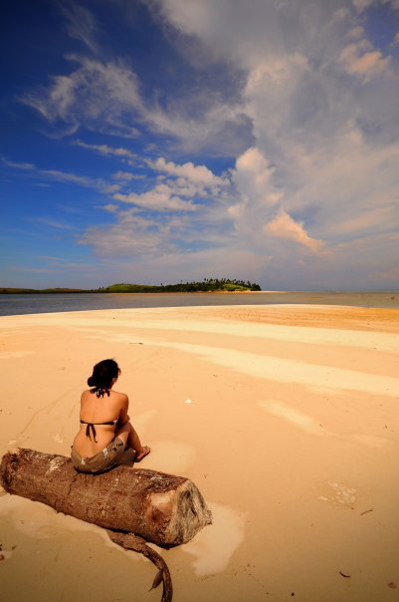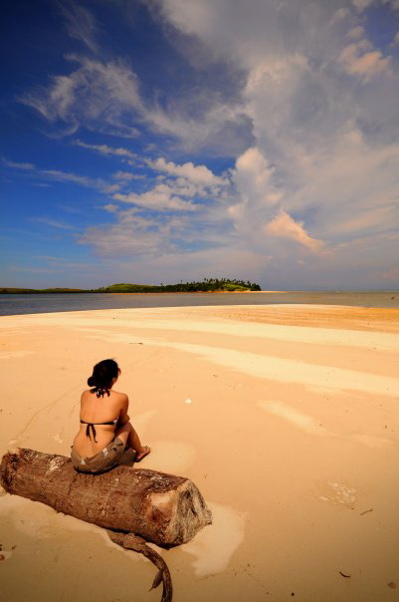 The gorgeous Cotivas Island!!! <3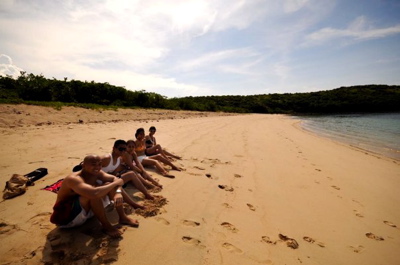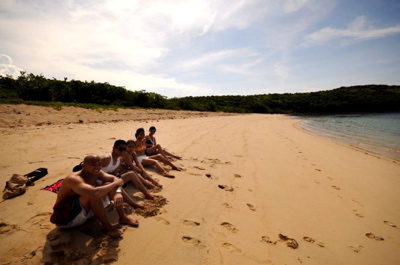 Our third stop: Bugtong Beach.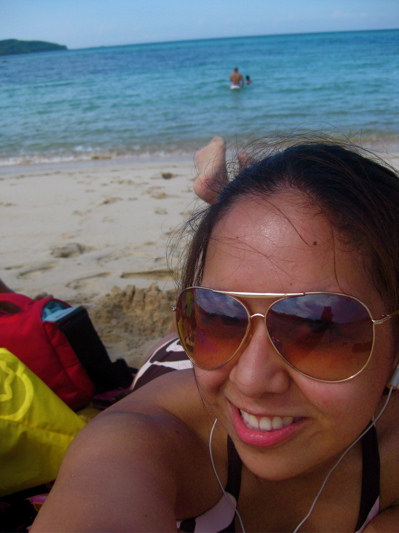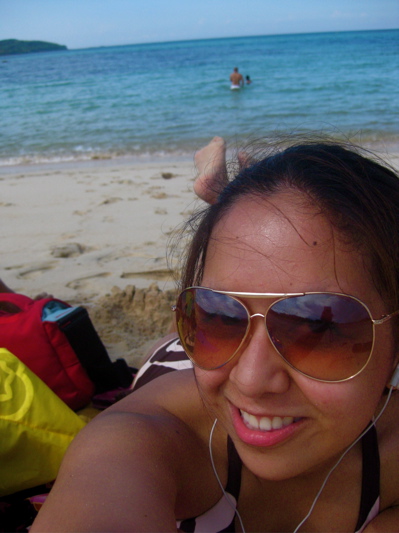 It was the perfect time to lounge on the sand with my book. <3 I eventually joined the rest of the guys in the water after I had enough of the skin roasting.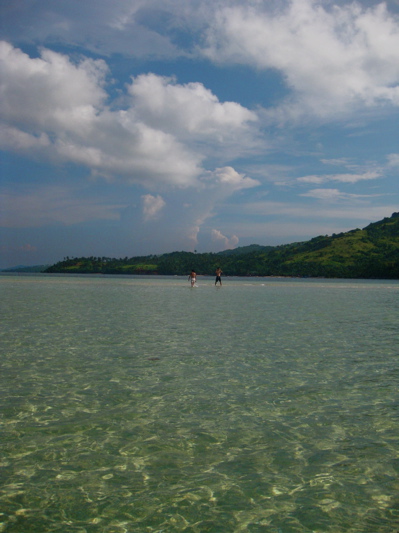 Our final stop was the Sand Bar in front of Barangay Gugon. Situated several kilometers away from the nearest island, this sand bar is only visible during low tide. It was beautiful!!! <3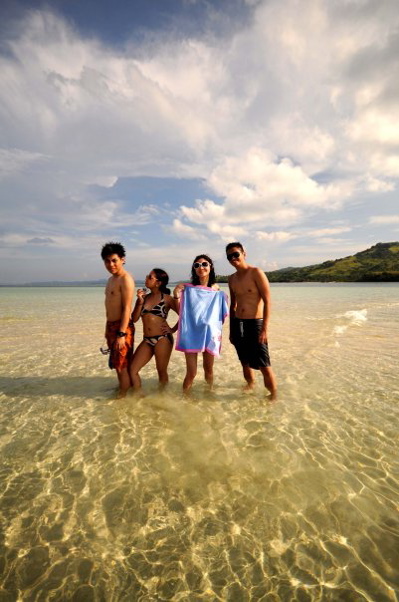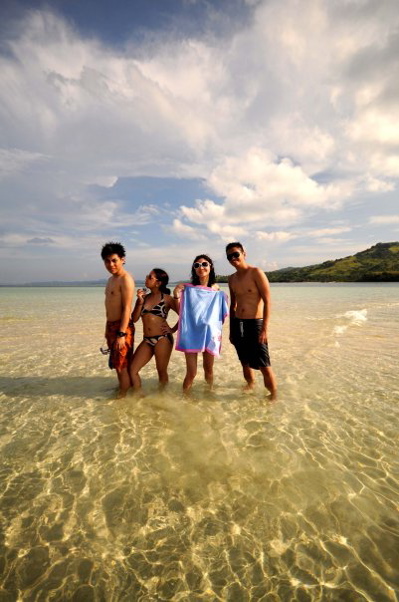 I'm not kidding, it was really beautiful! So beautiful that we opted not to go to any of the other islands and just enjoyed our time there instead. It was the best spot for our beach shoot. =P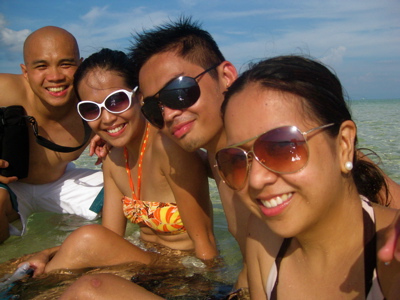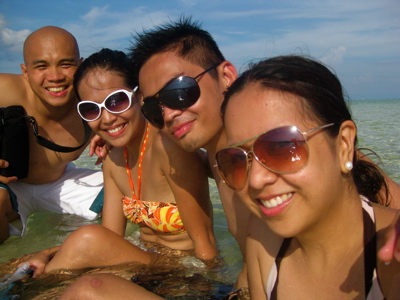 With Milo, Shella and Abed. :)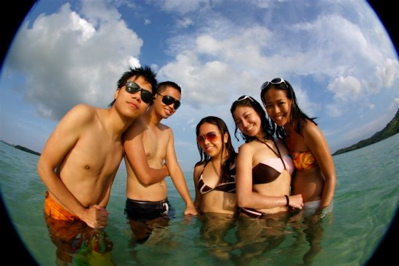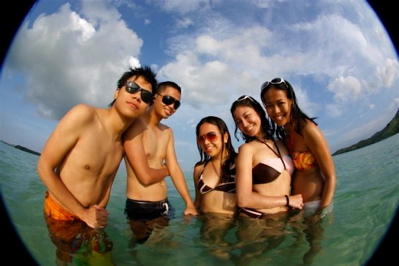 Carlo, Abed, me, Nina and Shella.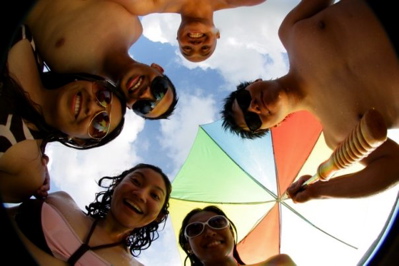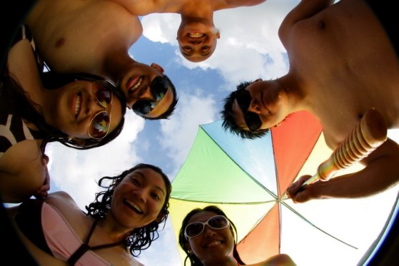 I love this group shot! :)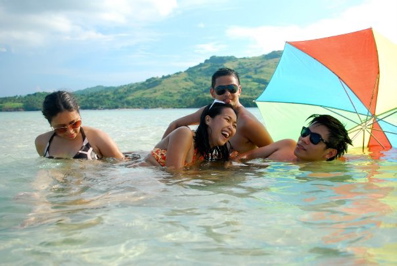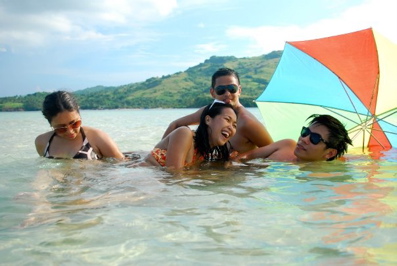 That beach made us so happy, we wished we didn't have to leave! :'(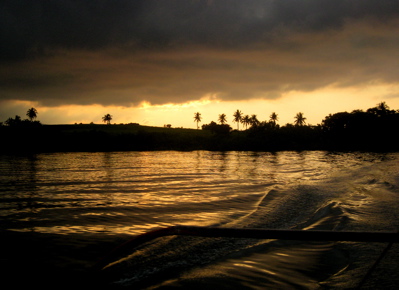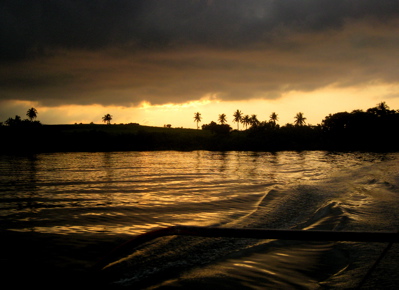 It was quite sad and painful having to end our island hopping and leave with this lovely sunset behind us. :(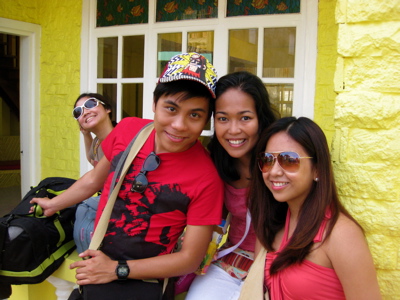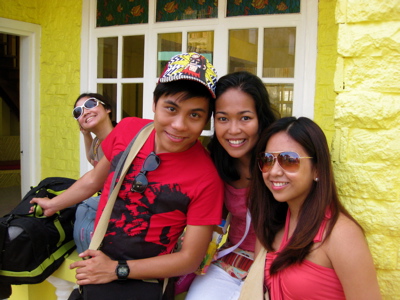 We left early morning the following day. Last photo in yellowland! =P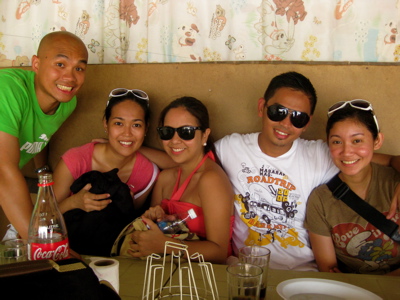 Left the island a little tanned, and extremely happy. :)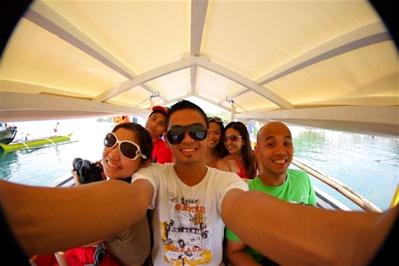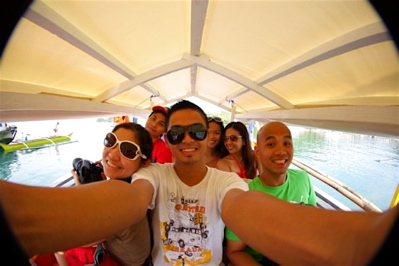 The Caramoan crew on our last boat ride. It was one helluva trip, and these guys really made it more awesome! <3 <3 <3
We took a gazillion photos during the getaway (we had five cameras with us!) and frankly, it was quite difficult having to pick only several to share here. I was itching to post all of them! Haha!
Some note-worthy memories:
We managed to bump into one of the locals who happened to be a distant relative of one of Shella's friends. He took us around and showed us the nice and less populated spots.
I loved how the islands weren't packed at all. We managed to spend time in ALL of the islands we visited all by ourselves. It made the whole experience more intimate. Definitely better than overcrowded beaches like Boracay.
The tricycle ride to Paniman beach (and back) where the unpaved road was full of huge muddy holes! It left us clinging to each other, silently praying that our ride wouldn't topple over. =P
Playing pusoy dos in bed after dinner. Then managing to squeeze the six of us in two queen size beds, where we slept like sardines for two nights. HAHA!
Taking loads of underwater photos and videos! Thanks to Carlo's lovely camera! :) I compiled some of them into the music video that I made with all the other videos. View video here.
Our laughing spells. I just loved spending every minute with the bunch! :)
Sigh. Our Caramoan Adventure was truly one vacation to remember. <3
But, our expedition didn't really end with Caramoan. A post on our Bicol escapade will follow. SOON. :)
** More photos in my Multiply.
** Some photos grabbed from Carlo, Milo and Nina.