About The Optimist and The Blog

content /uploads/minime-01.jpg" border="1″ alt="" width="60″ height="75″ />


Name: Anna
Nationality: Filipino
Current Location: Singapore

Anna, is an optimist who lives her life by the day. She has many dreams and aspirations, but tries hard not to worry about what lies ahead, because she believes that everything happens for a reason.
She is a person with many passions in life: Dancing, art, design, adventure, making people happy, touching people's lives, as well as loving and being loved. She is a happy-go-lucky who lives her life with full charisma and enthusiasm.
She has gone through many experiences in life, experiences that are both good and bad. Each time, she has managed to stand up, smile and live on. This is because she believes that every moment and experience, may they be happy or painful, should be cherished. Experiences are what moulds a person into what he is and what he will become. That's Anna. Always ready to face the world and its trials with full confidence and optimism.
When she's faced with problems beyond her control, she chooses not to be too affected as she remembers her favorite cheer-up piece:
"Everything happens for a reason. Nothing happens by chance or by means of good or bad luck. Illness, injury, love, lost moments of true greatness and sheer stupidity all occur to test the limits of your soul. Without these small tests, if they be events, illness or relationships, life would be like a smoothly paved, straight flat road to nowhere; safe and comfortable, but dull and utterly pointless."
Believing that everyone's life is a masterpiece in progress, Anna continually creates her own. Driven by the optimism in her, she knows that her life will eventually reach its greatest potential.

Anna has been blogging since late 1999. After jumping from different blogging engines and hosts, she finally opened and set up her own domain (www.optimystique.net) in the first quarter of 2003.
This blog jots down Anna's many interests in life. From art, design, music, movies and books, to makeup, fashion, food and travel.
Current layout: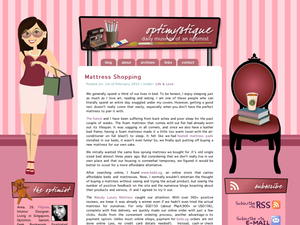 This layout has been live since February 4, 2010. All images, graphics and the entire layout was designed from scratch by Anna herself, and turned into a wordpress theme with the help of husband JR.
** Graphics, images or content may NOT be duplicated in any form without permission from the Webmaster.**

Find Anna's various homes all over the internet: