I never thought planning a wedding would require so much effort. I've spent so many nights researching online for tips and suggestions for my dream wedding, and I can't believe that in just a little over four months, all that will finally materialize. I'm glad we hired Christine Ong-Te's full coordination services, because she has definitely made handling all the little details a breeze!
JR and I were a little hesitant about getting an expensive photographer for the wedding at first, but Christine was very persistent in recommending John Mateos Ong. Jong's rate was a little more than what we had initially planned on spending, but being the photography enthusiasts that we are, it only took a little effort to convince us to finally book him.
We had our pre-nup shoot with Jong last week, and all I can say is WOW. WOW. And WOW again. He truly knows his craft!
JR and I love photography, but thinking up of poses in front of the camera is definitely not our cup of tea. During the shoot, Jong was there to guide and direct our every pose. He made modeling feel so easy! Almost four hours of hopping from one location to another with him was actually fun. :)
The theme of our wedding in February is Nostalgia, so we also wanted our pre-nup to be vintage-inspired. We styled ourselves in 40's/50's clothes and accessorized with pearls, fascinators, vests, suspenders and hats. And to complete the nostalgic feel, we had our shoot around Singapore's City Hall area, where beautiful colonial architecture are well-preserved.
Here's a preview of our photo shoot: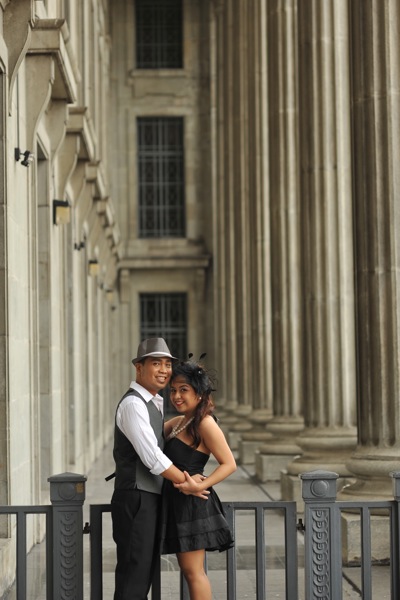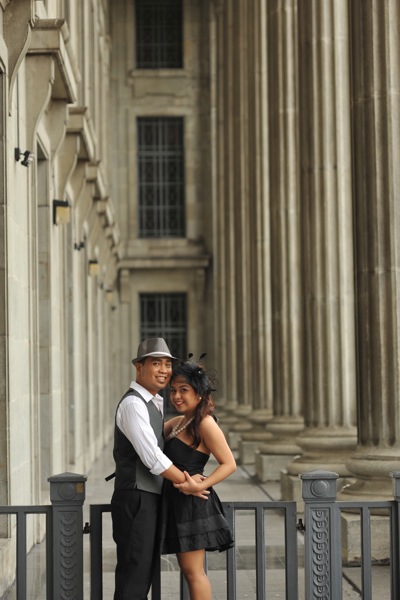 At the Old Supreme Court.
Photo by John Mateos Ong.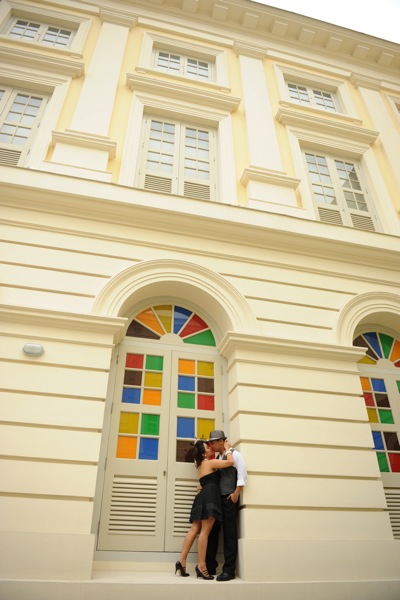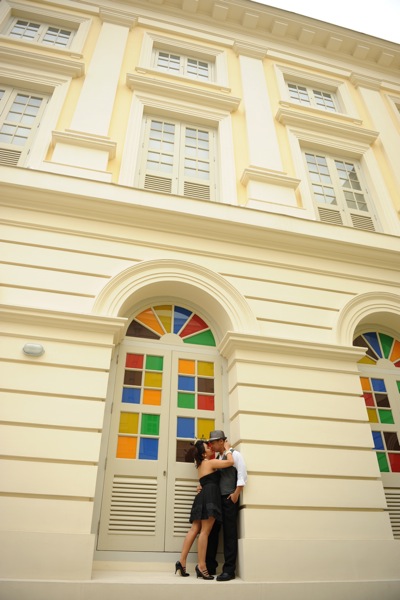 On Me: Black tube dress (Forever 21), Black Mary Janes (Charles and Keith), Fascinator (Bugis), Pearl accessories (Forever 21 and Far East Plaza).
On JR: Black slacks (G2000), White long sleeves (Uniqlo), Vest (Topman), Black leather shoes (Doc Martens), Fedora (Bugis).
Photo by Wenting Li (c/o John Mateos Ong).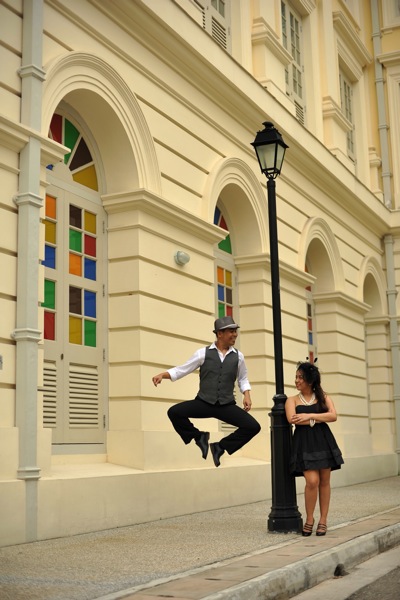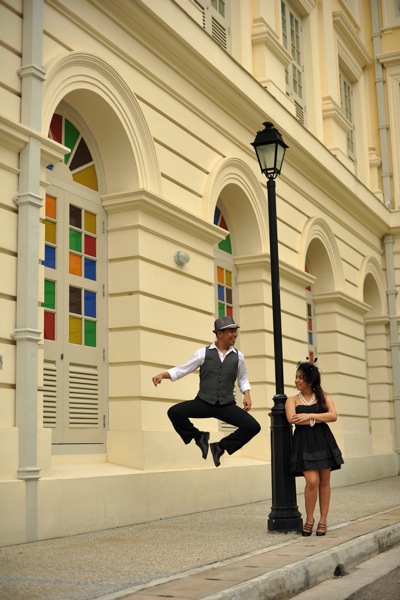 One of my favorite photos during the shoot. <3
I didn't know JR could jump that high! LOL! :)
Photo by John Mateos Ong.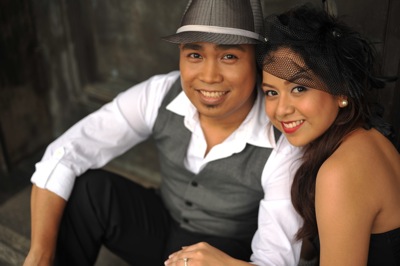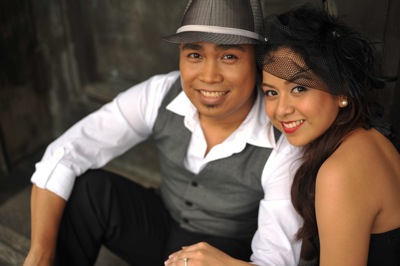 Photo by John Mateos Ong.
I also did my own makeup. :)
Face:
MAC Prep+Prime, MUFE Camouflage Cream (Orange for my under-eye circles, and green for my blemishes), MUFE HD Foundation (#123), MAC Studio Finish Concealer (NC30), MUFE HD Powder, Sephora Blush Me Twice (used to contour), MAC Blush Ombre (Ripe Peach).
Eyes:
MAC Paint Pot (Painterly), MAC Eyeshadows (Ricepaper, Honey Lust, Sable, Nocturnelle, Sketch, Black Tied, Shroom), MAC Fluidline (Blacktrack), MAC Powerpoint Eye Pencil (Engraved), Maybelline The Colossal Volum' Express Waterproof Mascarra, Nichido Eyebrow Pencil, Fanny Serrano Eyebrow Powder.
Lips:
Sephora Lip Pencil (Royal Rose), MAC Lipstick (Russian Red).
We ended up with almost a thousand photos during the shoot. It was quite hard picking out only a few to post online, because I loved all of them. =P
Definitely no regrets that we booked John Mateos Ong. :) Even my mom was thrilled to see the photos, she was bugging me the whole day after. =P So excited for the wedding day! :)
A few more photos on my flickr and FB. :)
** Oh, and yes, I did go a little crazy on the details in this post (plugging my outfit and listing every single makeup I used!), but that's just what happens when I go blog-less for over two months. I missed it. And my fingers just wouldn't stop typing as soon as I started this post. =P