For my third set of Photos of My Life, an anonymous reader requested a look inside my bag. The last time I posted the contents of my handbag was way back in 2007 when I did the Face Your Pockets Project, so I had fun doing this.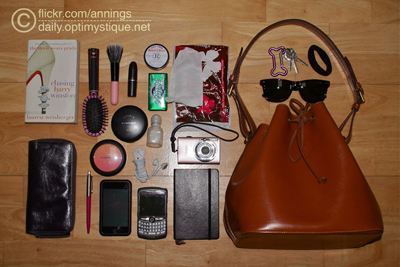 Click image for a slightly bigger size.
Bag: Louis Vuitton Epi Leather Petit Noe (Brown). I love this bag, because I can use it with almost anything in my closet. It's big enough to carry a lot of my junk too.
Inside: Book (I read everywhere, so I always bring a book with me), Aldo wallet, hairbrush, Charm stippling brush, M.A.C. lipstick in Brick-O-La, M.A.C. Blush Ombre in Ripe Peach, M.A.C. Studio Fix in NC35, Smith's Rosebud Salve, mints, a tiny bottle of lotion, travel pack tissue (I always stock up on these when I'm in Manila… they don't have this size here!), house keys, Cotton On shades (my sensitive eyes can't live without sunnies), hair tie, metal Parker Jotter pen in pink, iPod touch (I use this mostly to play games. Current addictions: Scramble, Words with Friends and Angry Birds), iPod earphones, BlackBerry Curve 8320, Canon Ixus 80is, moleskine notebook.
This is already a scaled down version of the things that I usually stuff in my bag (I usually carry more makeup). I try to bring only the essentials now.
I also enjoy peeking inside other people's bags, so show me what's inside yours too. :)
For more photo requests, please comment in my Photos of My Life post.