For my sixth Photos of My Life, Faye requested a photo of my favorite non-fiction book.
If you don't already know, I am a bit of a bookworm. For the past couple of months, I have set aside shopping for clothes, shoes and makeup, and replaced it with trips to the bookstore instead. Every single week I buy about two to three new books to add to my reading pile. It's such an expensive hobby (which is why I love book sales and coupons!), but something I just can't seem to live without. My goal of books to read this year is fifty, and I'm glad to say that I am already on my thirty-first book. That's already past my twenty-seven books for the whole of 2009. :)
Most of my reads are fiction, but I do pick up several non-fictions from time to time. My current favorite is Elizabeth Gilbert's Eat Pray Love.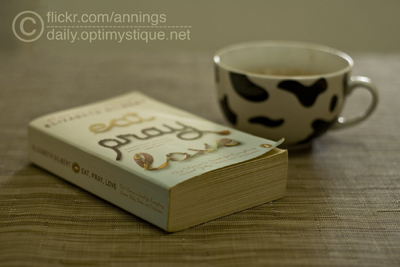 Eat Pray Love by Elizabeth Gilbert
I read Eat Pray Love two years ago, and it was one exciting book that I just couldn't put down. It was a delight to experience the author's path to self-discovery through her adventures of food, travel, love and inner peace. A book filled with both humor and positive life realizations. It made me itch to pack my bags and go on a year-long travel around the world.
The movie adaptation of the book coming in August is definitely something that I'm looking forward to. I normally find movie versions of my favorite books a letdown, but I think experiencing Eat Pray Love visually would still be a nice treat for a travel junkie like me.
What about you guys? What's your favorite non-fiction book? :)
** For more photo requests, please comment in my Photos of My Lifepost. **